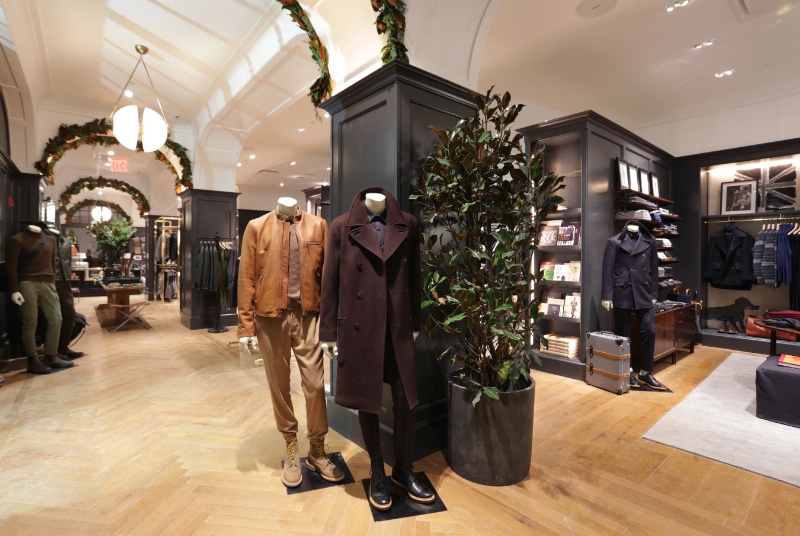 New York City — Todd Snyder opened the doors of his Manhattan store on December 6, 2016 on Madison Square Park North. The location will offer Todd Snyder apparel alongside curated selections from partners including: Champion, Timex, Mackintosh, Globe Trotter, Tricker's and Alden.
An urban boutique meets gentleman's general store, the store will house a Persons of Interest barbershop operated by Steve Marks; a café/bar helmed by Nick Morgenstern of El Rey Coffee Bar & Luncheonette; and shop-in-shops stocking Moscot eyewear and Aesop products.
"Every collection starts with inspiration from the worlds of art, architecture and design, made to fit the modern man and his lifestyle," says Snyder. "We created the New York store to embody that lifestyle down to the smallest detail, all hand selected from resources and vendors we love. It's not just a clothing store — it's a great place to come for a seasonal wardrobe upgrade with a personal stylist, to get fitted for your next suit while enjoying an espresso or a beer, or to hang out with friends while getting a haircut and a shave."
Located just steps from the brand's studio and headquarters, the space was designed in collaboration with James Mills, and mixes traditional homegrown elements with inspiration from Snyder's travels in Europe. Guests will be welcomed by a handsome façade detailed with vintage brass door handles sourced in London from Anthony Outred Antiques. Inside, collector-quality modern and midcentury furniture set the easygoing yet elegant tone. British artist Luke Edward Hall, fresh off collaborations with Christie's, Burberry and Liberty London, created the opening visual installation; limited edition, signed and numbered prints will be available exclusively in the store. Additional design touches include lighting from Apparatus Studio, custom flooring from LV Wood and vintage rugs from ABC Carpet & Home.
The café/bar area features custom-designed terrazzo floor by New York-based artist Zackery Tyler, a vintage 1960s Italian chandelier and vintage Thonet chairs. The Persons of Interest barbershop-in-shop is decked out with classic Jo Hammerborg Nova pendant lights and bespoke barber chairs made in Japan.
Iowa native Todd Snyder launched his eponymous menswear collection for fall 2011. Inspired by Savile Row craftsmanship, military tailoring and a distinct New York sensibility, the line has garnered wide critical and commercial praise in the U.S. In 2015, American Eagle Outfitters, Inc acquired Todd Snyder and his premium collegiate apparel line, Tailgate. With four Tailgate stores opened across the country in 2016, Snyder now turns his attention to his New York-based Todd Snyder store on Madison Square Park North.
SOURCE: Todd Snyder
Tagged under