New York City — WHP Global, the parent company of Toys"R"Us, has partnered with leading omnichannel retailer El Puerto de Liverpool, SAB de CV to launch the toy brand in Mexico for the very first time. The partnership will bring Toys"R"Us to Mexican customers through standalone flagship stores and e-commerce.
Toys"R"Us has experienced significant growth since its acquisition by WHP Global in 2021, doubling its footprint by 50% in 2022 with the national rollout in the U.S. at all Macy's stores and recent launches in India, United Kingdom and Australia. The momentum will continue with a digital e-commerce launch and the first Toys"R"Us flagship store in Mexico planned for holiday 2023.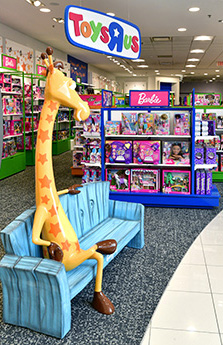 "We are very proud of partnering with WHP Global to bring the iconic Toys"R"Us brand to Mexico. At El Puerto de Liverpool, we always seek to bring the best brands and products to Mexican families, and we are sure that this new partnership will bring value to them through new spaces and the best and latest options of toys," says Charles Johnson, general manager of Liverpool International and Boutiques at El Puerto de Liverpool. "Toys"R"Us is a beloved brand around the world, and we are confident that it will quickly become a favorite of Mexican families as well."
The partnership between WHP Global and Liverpool will see the opening of multiple Toys"R"Us flagship stores in key locations across Mexico, as well as a robust e-commerce platform.
"We are excited to introduce Toys"R"Us in Mexico with a powerful partner like El Puerto de Liverpool," says Stanley Silverstein, chief commercial officer of WHP Global.
"Toys"R"Us has been the authority of toys and play for generations of children and families around the world, and the expansion into Mexico marks an exciting new chapter in its history," adds Jamie Uitdenhowen, executive vice president of Toys"R"Us at WHP Global.
Toys"R"Us has been a global leader in the toy category celebrating the joys of childhood and play with kids of all ages for more than 70 years. For more information, visit www.toysrus.com.
El Puerto de Liverpool is a Mexican omnichannel company, with a leading presence in department stores and a solid e-commerce platform. It is present throughout Mexico with 303 stores, including Liverpool and Suburbia stores and 112 specialized boutiques, along with 28 shopping centers in 18 states of Mexico.
WHP Global is a leading New York based firm that acquires global consumer brands and invests in high-growth distribution channels. For more information, please visit www.whp-global.com.
SOURCE: WHP Global