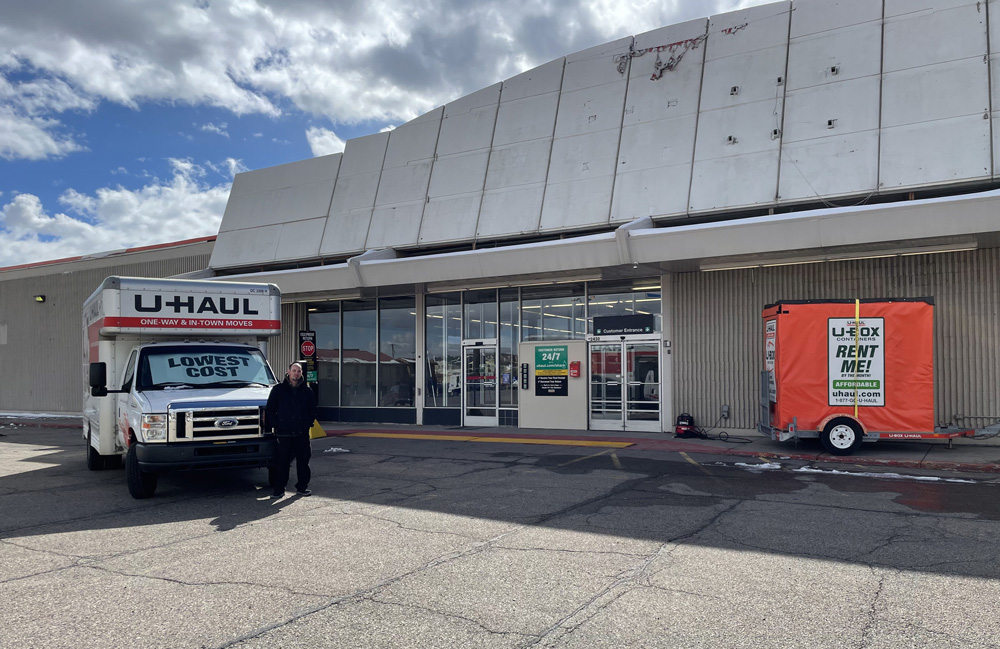 Rock Springs, Wyo. — U-Haul Moving & Storage now occupies the former Kmart® building in Rock Springs, Wyo., and is offering truck and trailer sharing, boxes and moving supplies, and U-Box® portable storage containers out of a temporary showroom. Towing equipment, hitch accessories and bike racks, professional hitch installation, propane and much more will soon be available.
Renovations to the 89,792-square-foot facility will lead to a variety of storage units. U-Haul plans to create more than 700 indoor climate-controlled self-storage rooms. U-Haul acquired the 8.19-acre property on Dec. 17, 2021.
"Big-box stores like this tend to sit on the market for a long time because they're so large and only suit a certain type of business," says Paul Johnson, president of U-Haul Company of Wyoming. "U-Haul is unique. We can fully utilize a property of this size, and we can do it without the environmental impact of building a new facility from the ground up. Our adaptive reuse program is a green initiative that cities love — and for good reason."
Acquisition of the former Kmart was driven by U-Haul Corporate Sustainability initiatives: U-Haul supports infill developments to help local communities lower their carbon footprint. The adaptive reuse of existing buildings reduces the amount of energy and resources required for new-building materials and helps cities reduce their unwanted inventory of unused buildings.
This is the fifth U-Haul-owned and -operated store to open in Wyoming. There are two stores in Casper, one in Cheyenne and one in Gillette.
"U-Haul is all about sustainability and responsibility," Johnson adds. "About 70% of our stores are a product of adaptive reuse. We're proud to do business in a way that benefits the planet and enhances the communities in which we operate."
Johnson plans to hire at least 12 team members to staff the new facility. U-Haul will look to hire locally to promote job growth within the Rock Springs community. U-Haul actively recruits military veterans and gives them preference in the hiring process. For more information, visit www.uhauljobs.com.
While the property is being renovated, U-Haul dealers in and around Rock Springs are available to serve DIY movers. For more information, visit www.uhaul.com/dealer.
Since 1945, U-Haul has been the Number 1 choice of do-it-yourself movers, with a network of more than 23,000 locations across all 50 states and 10 Canadian provinces. The U-Haul fleet has grown to approximately 176,000 trucks, 126,000 trailers and 46,000 towing devices. U-Haul offers nearly 825,000 rentable storage units and 71.6 million square feet of self-storage space at owned and managed facilities throughout North America. U-Haul is the largest retailer of propane in the U.S., and continues to be the largest installer of permanent trailer hitches in the automotive aftermarket industry.
SOURCE: U-Haul
classic-editor-remember:

classic-editor

bs_sponsor_advertiser_id:

103702

bs_sponsor_advertisement_id:

bs_ads_disabled:

abkw-text: