Pasadena, Calif. — Wetzel's Pretzels is introducing Twisted by Wetzel's, a never-before-seen street concept that amplifies the iconic brand's classic pretzels to satisfy today's millennial and Gen Z generations. From savory to sweet, the menu features new creations that are stuffed, topped and drizzled to ultimate pretzel perfection. The new concept will debut in California this spring.
"Twisted by Wetzel's embraces the magic or our core brand and elevates it to a whole new level, providing a bigger, bolder, more imaginative expression of Wetzel's," says Kim Freer, chief marketing officer. "Building upon our legacy, we're reimagining how and where these twisty treats are enjoyed. By bringing an innovative menu and engaging in-store experience to neighborhood locations, we're making pretzels more fun and more accessible than ever before. We're proud to debut this new concept in our home state of California, bringing our vision of a Wetz Coast Wonderland to life."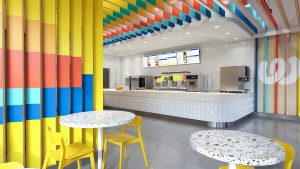 The new store design provides guests with a vibrant, immersive, 360-degree experience. Its bright, energetic interior matches the brand's fun, playful persona and its open kitchen highlights its heritage of artisan craftsmanship. Twisted by Wetzel's "brings pretzels to the people" through a prototype that is suited for power shopping centers in densely populated urban, suburban and college town settings. Targeting optimal sites at 1,200 square feet with strong street visibility and the potential for outdoor seating, its locations will be optimized for both dine-in and online ordering occasions.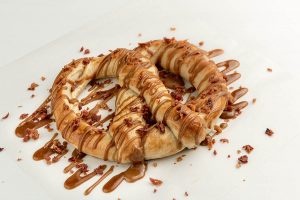 "We're always looking for growth opportunities for new and existing franchisees to evolve with Wetzel's," says Jon Fischer, chief development officer at Wetzel's. "We've shown our ability to adapt to a variety of flexible formats, and the addition of Twisted by Wetzel's helps us to unlock a powerful new pathway for expansion. Adding storefront locations to our portfolio allows us to bring pretzels to the people, wherever they are."
Debuting this spring, the first Twisted by Wetzel's location will be located in Orange County at 1331 W Imperial Hwy. in the La Habra Marketplace.
For more information, visit www.twistedbywetzels.com.
Wetzel's Pretzels was founded in 1994 by Bill Phelps and Rick Wetzel in Pasadena, Calif. Today, Wetzel's Pretzels has grown to more than 370 bakeries, including premier locations like Disney Springs® at Walt Disney World® Resort, Downtown Disney® District at Disneyland® Resort and Universal CityWalk™.
SOURCE: Wetzel's Pretzels