Atlanta, Ga. — To invest in the future of Your Pie and offer greater support to its franchise owners, the nation's original fast-casual pizza brand has appointed several new hires to its corporate team.
Most notably, Your Pie has added Justin Patterson as vice president of operations. A Your Pie franchise owner for more than 7 years, Patterson brings a wealth of industry experience and expertise to the brand's leadership team. Patterson will be responsible for leading both franchise and company restaurants to grow sales, customer counts, margins and continue to embed the company values within the Your Pie community.
In addition to tapping the former franchisee to optimize operations, the fast-casual brand selected Joshua Fedoruk as its new director of technology. Now more than ever, technology is fully integrated in the restaurant industry. As such, Fedoruk will work alongside franchise owners to seamlessly integrate tech improvements across all Your Pie locations in an effort to meet the evolving needs of consumers.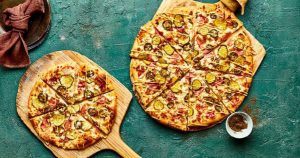 "Your Pie continues to place a priority on investing in resources for our current and future franchise owners," says CEO Dave McDougall. "As we look to the future of our brand, Justin and Joshua will improve the support franchise owners receive, enhance the training of our entire team and ultimately help to grow the overall business."
Accompanying the new additions, Your Pie has promoted seasoned team members Pearson Clark and Leah Arp to director of development and director of innovation roles, respectively.
"With the addition of our new leadership, I'm confident we have built a strong team with an unparalleled passion for Your Pie and its mission," says McDougall. "We want to continue making everyday moments better with pizza and that can only be accomplished by investing in talent and expertise to support our franchisees and their success in the neighborhoods where they serve."
For more information, visit www.franchise.yourpie.com.
Founded by Drew French in 2008, Your Pie is inspired by family recipes from the Italian island of Ischia. Your Pie has more than 70 locations open across the United States. For more information, visit www.yourpie.com.
SOURCE: Your Pie