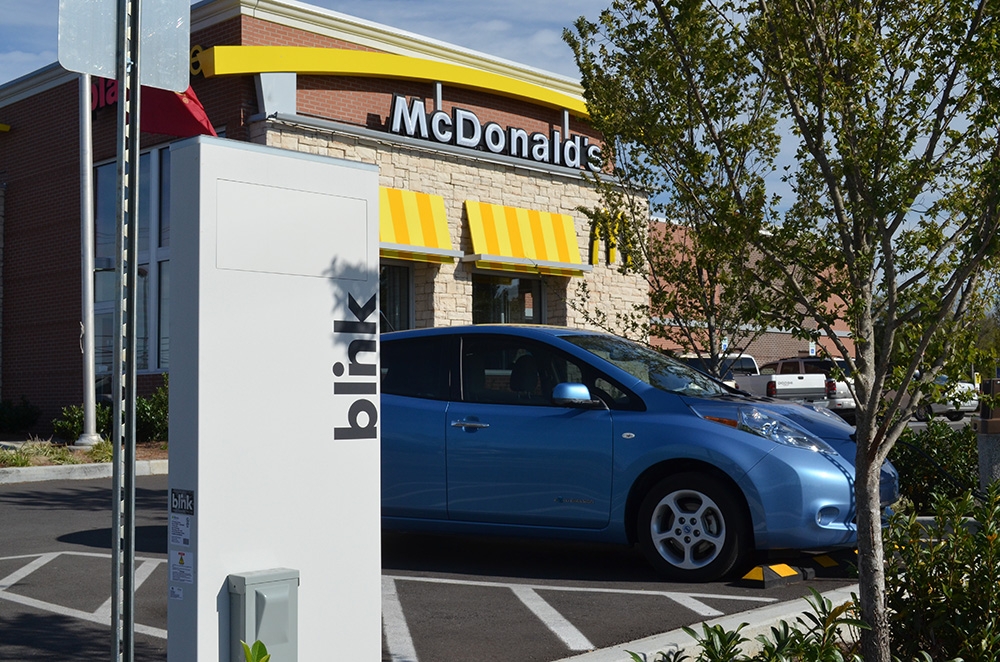 San Francisco — The San Francisco Bay Area will now have access to 41 enhanced industry-leading electric vehicle (EV) charging stations owned, operated and provided by Blink Charging Co. at 16 area McDonald's restaurants. These stations are an additional example of Bay Area McDonald's commitment to sustainability. In January, McDonald's announced new packaging and recycling goals, and in March, McDonald's became the first restaurant company to set an approved science-based target to reduce greenhouse gas emissions.
The 41 charging stations are replacing stations that have already saved more than 42,000 pounds of carbon dioxide (8,000 gallons of fossil fuel) since their installation in 2013. This translates into approximately $20,000 in savings for customers.
"It is our job to be everywhere EV drivers are so that they never have to worry about how to fuel their cars," says Blink Charging's founder and executive chairman, Michael D. Farkas. "We've refitted several Bay Area McDonald's with the best technology in the industry so local drivers can charge while enjoying a meal."
"We are constantly looking for ways to better serve our communities in the Bay Area," says Chuck McKay, director of operations for Bay Area Restaurant Management, the franchisee of 36 McDonald's locations in the region. "This is one of the many ways we are committed to sustainability and reducing the carbon footprint we leave behind."
Blink Charging is one of the leaders in nationwide public electric vehicle (EV) charging equipment and services, enabling EV drivers to easily charge at locations throughout the United States. Headquartered in Florida with offices in Arizona and California, Blink Charging's business is designed to accelerate EV adoption. For more information, visit www.BlinkCharging.com.
McDonald's expects to prevent 150 metric tons of greenhouse gas emissions from being released into the atmosphere by 2030. To accomplish this, McDonald's will partner with franchisees to reduce greenhouse gas emissions related to McDonald's restaurants and offices by 36% by 2030 from a 2015 base year. Additionally, through collaboration and partnership with our suppliers and producers, McDonald's has committed to a 31% reduction in emissions intensity (per metric ton of food and packaging) across our supply chain by 2030 from 2015 levels. For more information about McDonald's commitment to climate, click here.
SOURCE: Blink Charging Co./McDonald's