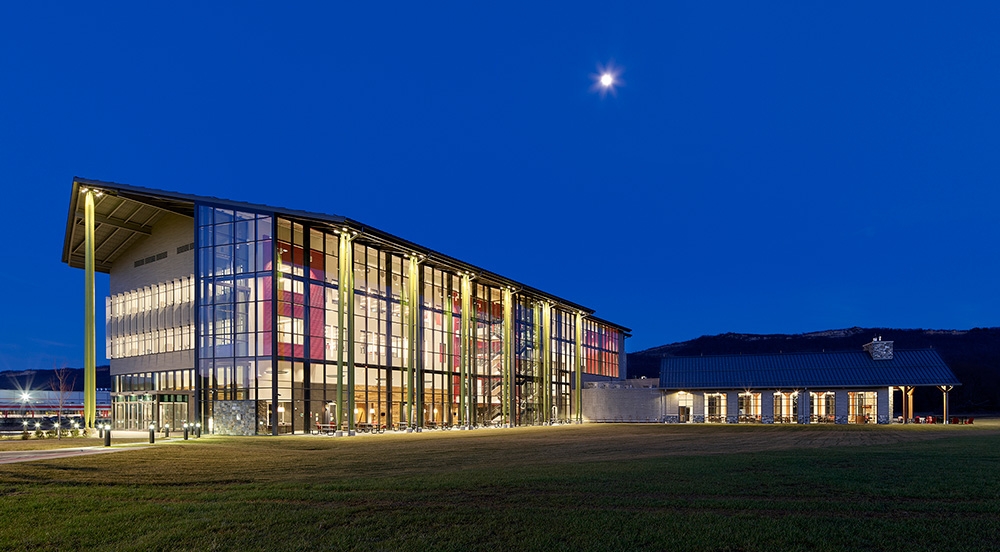 Philadelphia — On April 19, 2018, convenience store giant Sheetz, Inc. opened its new operations support center in Claysburg, Pa. Designed by CDI Studio One, the architecture division of L.R. Kimball – a CDI Company, the project includes a modern, 115,000-square-foot corporate office building and an adjacent 13,000-square-foot daycare center on a site midway between Harrisburg and Pittsburgh.
"Sheetz is a rapidly-growing company that cares about its employees," says Gary Lapera, FAIA, principal of CDI Studio One, "which is why it is consistently named among the Fortune 100 Best Companies to Work For. Connection to nature, abundant sunlight, healthy building materials are key elements, as are flexible workspaces and areas for collaboration. The building is a combination of global best practices in workplace strategies, and most importantly the physical embodiment of the Sheetz DNA: innovative, collegial and rooted in the community."
The long axis of the building is sited between two protected wetlands, providing a pastoral view from the majority of workspaces. The building's massing is based on a simple, flexible, rectangular floor plan, reminiscent of the farm structures that dot the Western Pennsylvania landscape.
"This building is phenomenal; we are so happy to add it to what we can now call a campus," says Sheetz President and CEO Joe Sheetz. "We wanted a building that was modern and has longevity to it and we wanted something more collaborative and open. The idea of what a workplace should look like has changed. You need a lot of energy and light. That is what members of today's workforce want and demand."
The dining room is an independent pavilion that extends into the lawn, with exposed timber columns and a natural stone, gas-burning fireplace against the wall. The chimney is shared with a wood-burning fireplace on the outside patio that will be used for special events. A large, southern-facing glazed porch brings the outside in, encouraging employees to experience nature during the workday.
In addition to the dining room, the first floor also contains state-of-the-art test kitchens, data center and training rooms. Above the first floor, a mezzanine will accommodate future expansion. The second and third floors are devoted to flexible open plan offices, with conference rooms and common open spaces to encourage collaboration and camaraderie.
Adjacent to the headquarters, the new Little Sproutz Early Childhood Learning Center is a one-story wood-framed structure with a pitched roof, reminiscent of homes in the region. The entryway features a magnetic message center, family conference room, stroller storage and access to a large multi-purpose room and children's library. The nine classrooms for infants to preschoolers are equipped with training toilet rooms, countertop sinks and storage. Each classroom has an exterior door leading to a fenced playground and natural play area. There is room for 146 children, grandchildren and dependents of Sheetz employees.
Established in 1952 in Altoona, Pa., Sheetz is one of America's fastest growing family-owned and operated convenience retailers. Sheetz operates 568 stores throughout Pennsylvania, West Virginia, North Carolina, Ohio, Maryland and Virginia.
The design team for the new Sheetz office complex / operation center includes CDI Studio One – design architect; CDI/L.R. Kimball – architect of record; Daroff Design – interiors; Keller Engineers – site/civil engineering; Poole Anderson Construction – general contractor.
CDI Studio One is built from the storied legacies of CDI Corporation and CDI LR Kimball, companies with more than a century of leadership in industries that affect every aspect of our lives, from aerospace to education. For more information, visit www.cdistudioone.com.
SOURCE: CDI Studio One