— By Jason Hlewicki —
It's a new day in retail and restaurant construction: here are 3 realities today.
As consumers are changing the way they shop and dine, the way restaurant and retail spaces are being designed and built is also evolving. New footprints and new prototypes mean fresh challenges and opportunities in both architecture and construction. A learning curve is at play today as build-and-design professionals catch up to the realities of the newest environments.
By considering these three realities impacting the restaurant and retail industry, developers, restauranteurs and retailers alike can create solid foundations for successful projects.
1. Trends Are Evolving
Experience drives both the restaurant and retail trends.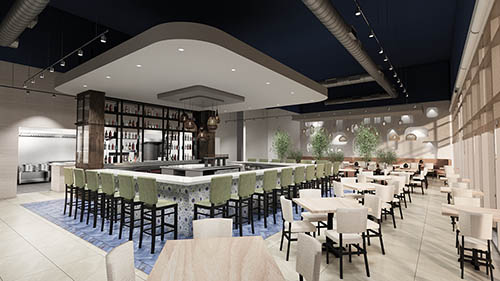 As the lure of big box fades, restaurants have emerged as the anchors to many shopping centers. One of the biggest trends impacting restaurant design is the infusion of athletics into the foodservice industry — today, namely pickleball and golf. Both sports are replacing pool tables, bowling alleys, ping pong tables and video games at "eater-tainment" venues.
In greater Atlanta alone, two pickleball-themed dining establishments have been announced, and North Kansas City, Missouri-based Chicken N Pickle is expecting to have 20 locations within the next 2 years.
Golf simulators, driving ranges and putting greens are also emerging as hot commodities within the restaurant sector. One only has to witness the continued success of TopGolf to know that this sport is enjoying a renaissance. Puttshack, an indoor mini-golf bar and restaurant, is adding locations in the United Kingdom and throughout the United States.
How do you mesh these environments? Architects and builders must work to ensure a proper separation between the dining area and the physical activity in order to avoid safety hazards. It's also important to consider how the build might be retrofitted or redesigned if the trend loses favor.
When it comes to retail, design and construction trends also focus on experience. Shoppers may not be wielding a pickleball paddle, but personal digital devices are bridging the in-person experience with the retailer's online platform, according to a recent trend report from architecture firm Gensler. The report also shares that agile spaces that can transform to fit different needs — from seasonal displays to guest activities — are the future of retail.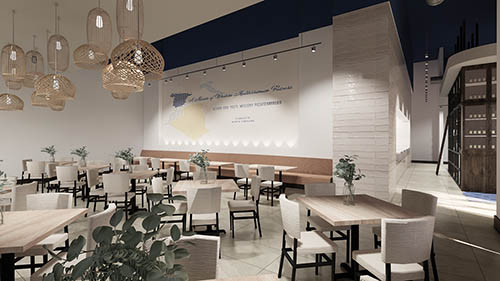 A growing number of restaurants and retail spaces are seeking opportunities to blend inside and outside environments. Biophilic elements such as natural light, organic materials such as mass timber and living features such as plants, are proven to benefit the overall mental and physical health of a space's occupants — employees as well as guests. Roll-up, glass garage doors, skylights, living walls and other features are just a few examples that invoke nature in a space.
One of the newest restaurants in Charlotte, North Carolina, Chapter 6 from Rare Roots Hospitality, opens its airy interior to the exterior amenities with roll-up doors that connect to a patio overlooking a pedestrian trail and green spaces. However, it's important to know that outdoor spaces require more than just a concrete pad for tables and chairs. An awning system offers shade on hot days, and heaters extend usage into the cooler months. And keep in mind the need for separation between the restaurant patio and public space.
Further, the recent pandemic also introduced new build requirements for both retail and restaurants intended to help consumers feel safer and healthier. Such features include antimicrobial surfaces, improved air circulation or filtration, more open traffic flow and touchless interactions at the point of sale. It is important that these factors, coupled with the installation of new digital technology, be considered at the project's onset to avoid any pitfalls or delays.
2. Technical Elements Are Always Significant
Restaurants are very technical builds, and it takes time to successfully design, plan and execute these systems. At least 50% of a typical restaurant budget is dedicated to elements that end-users never see, such as air scrubbers and dishwasher exhaust ducts, but require proficient coordination and engineering to execute.
Understanding that technical nuances exist, an essential first step brings the entire design and construction team together to build a construction timeline. Client vision and preferences need to be communicated early to ensure proper budgeting and timing for critical components such as the kitchen, the MEP (mechanical, electrical and plumbing) system, and exhaust and fresh air intake systems. A comprehensive schedule also prevents contractor overcrowding and timely planning and scheduling of inspections.
Yet, technical nuances exist elsewhere too. Builds in adaptive reuse projects or renovations in older buildings amplify these challenges.
In Durham, North Carolina, the newest restaurant for Emmy Squared is in an early-1900s former warehouse. For that project, we demolished the existing MEP mezzanine and relocated the electrical and HVAC systems. The extensive work, while perhaps not evident in the finished design, not only opened the space and preserved and highlighted unique architectural elements, but also allowed for more efficient system functionality and operations, ultimately saving utility costs.
Retail builds in adaptive reuse projects across the country encounter similar challenges. Understanding how to preserve and highlight historic features while adding modern and efficient HVAC, electrical and other systems, is crucial to maximizing unique, redeveloped spaces for commerce.
3. Early Communication and Collaboration a Must
It is never too early to communicate and collaborate with all professionals involved in the successful completion of a restaurant or retail build. Perhaps it is the Number 1 thing retailers and restauranteurs — and property owners — can do to ensure success.
Developing a good working relationship with the architects and designers, general contractors, building supervisors and other members of the team ensures open communication channels at the start and minimizes unforeseen obstacles during construction.
Early meetings save time and money. Regular pre-planning meetings provide an opportunity for team collaboration, brainstorming and discussion of best practices and potential, more efficient alternatives. This foundation better enables the team to pivot or flex when faced with setbacks, delays or other issues.
Early and consistent communication also extends to the local county and city jurisdictions. By connecting the property owner, general contractor and governing officials, many delays can be avoided. These conversations ensure that extra steps, applications, inspection and other factors are considered upfront to prevent delays and needless waiting.
Finally, early communication also allows for the early deployment of system packages so that timely fabrication of components such as the HVAC and mechanical systems is ensured, upgraded electrical gear is considered, and timely delivery and installation of necessary equipment is possible.
It's a brave new world for restaurant and retail construction. Keeping a pulse on the experiential trends impacting the built environment, understanding the technical complexities of every build and establishing communication and collaboration at the onset will equip the bravest for success.
— Jason Hlewicki is director of special projects in the Charlotte, N.C., office of Swinerton, which provides commercial construction, construction management, design-build and self-perform services throughout the U.S. Swinerton is headquartered in Concord, Calif., with regional offices nationwide. Hlewicki has over 25 years of construction experience with expertise in project and design development management. Email the author at [email protected].