CLM Midwest uses its self-performing model and partner approach to elevate retail and restaurant facilities and relationships.
By Brian A. Lee
The building is the main thing in the retail and restaurant facility maintenance industry. That is obvious to service leaders like CLM Midwest.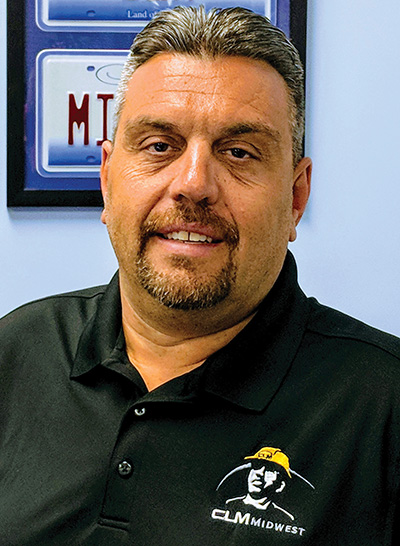 "What it really comes down to is building relationships," says Guy Lollino, CEO and founder of the 20-year-old River Grove, Illinois-based company, which self-performs nearly 90% of its work and almost 95% of break-fix jobs.
How well has CLM Midwest's hands-on, partnership approach worked? In the past 5 years, its restaurant client base has tripled, due in no small part to the increased demand for quality self-performing providers, according to Lollino.
He adds, "Having our own technicians visit the same facility locations on a regular basis allows the store manager to develop a strong comfort level with the technician [and see] the concern they have for the store's needs, their attention to details and the desire to control costs. All of that combines for the peace of mind that is so essential to today's facility managers."
Based just outside of Chicago, CLM Midwest provides the retail and restaurant industry with expert carpentry, handyman, plumbing, electrical, locksmith/door repair, concrete and asphalt, power washing, flooring and even graffiti removal services across the region. Lollino and his wife Rose started the business in their living room two decades ago, expanding it now to more than 100 technicians and support personnel across two offices, including one in the Detroit metro area.
"The key is hiring quality people who understand partnership and driving towards quality results," he states. "I enjoy solving problems for my clients. And I have a strong team that allows us to be very successful in doing just that."
In Time of Need
Having experienced personnel throughout its six-state operating area — Illinois, Michigan, Ohio, Indiana, Wisconsin and Missouri — enables CLM Midwest fast response times when clients encounter major operational issues. Its preventative maintenance program featuring dedicated technicians per market has won continuous positive feedback.
"Our setup allows us to provide high levels of quality and timeliness," Lollino says. "It comes down to the communication between us and our client partners to craft the right program to handle the facility manager's needs."
In the event of natural disasters, CLM Midwest has helped to reduce retailer and restaurant downtime through first response work, emergency power support, and intermediate and final remediation efforts. A vendor's IT platform better be good, whether it's emergency response or data analytics to anticipate future facility needs.
"We designed and built our own CRM system to seamlessly handle dispatching, and have tied it into our internally developed phone application to track the key parts of job performance," Lollino says. "Between these components and our fleet GPS tracking and interactive voice response actions, our team continuously works to find the most efficient way to respond to our customers' needs."
Friendly faces and high-tech bells and whistles won't matter much if the facility maintenance job isn't done right. "One and done — correctly" is the company slogan. Facility managers will look to things such as 24-hour responsiveness, third-party systems integration and data storage, but CLM Midwest's CEO asserts that the most important piece is a provider's ability to complete the job on the first trip.
"While response time, reliability and cost are all important, the key factor in this decision really centers on partnership," Lollino says. "When the facility manager has an open and continuous dialogue with us, we are able to craft even better programs in response to their needs. Numbers are never the complete story in providing service. It is answering that emergency call at all hours of the day and night, and then being able to quickly pull together the appropriate response to the need. This communication and partnership is the foundation of a successful facilities maintenance program."
Self-Performing vs. One-Stop Shop
The more the merrier may not apply to the views of retail and restaurant facility managers toward national vendors. One-stop shopping at a full-service maintenance company is a nice, convenient thought, but all too often service coverage and quality for the retailer or restaurant gets lost in the crowd. In order to provide a wide range of trades, national aggregators, as Lollino calls them, usually must subcontract out the work to hundreds, if not thousands, of other companies.
"An important consideration there is understanding who controls the people doing the job," Lollino says. "When work is subcontracted, the aggregator has now moved another step away from the person doing the job. They are forced to rely on a different company to ensure your values on performance, integrity and efficiency are being addressed. If that subcontractor subs out the work, you have now moved further away from controlling the end product."
It's hard to please everyone. Self-performing companies control the entire service delivery silo, from hiring and training the technician to ensuring all service-level agreements are met completely, Lollino asserts. CLM Midwest stays ahead of the aggregators by hiring experienced tradesmen and then keeping them sharp through continuous training. On the rare occasion that CLM doesn't cover a retail or restaurant facility need or can't immediately dispatch a tech crew, it will rely on a network of preferred vendors with a minimum of 5 years of experience teaming with CLM, which still controls the output.
Lollino maintains that the trend in facilities maintenance seems to be swinging back to more regional players and self-performing vendors. Facility managers realize that this focus allows for better quality, control and customization. A true high-touch partner satisfies these needs while understanding the importance of greater facility trends, such as the protection of both bricks and brand in this Internet age where so much is competing for the attention of consumers and it takes so little for a bad experience to go viral.
"Success in our industry comes from creating strong and meaningful partnerships," Lollino says. "The more communication and discussion of options to meet needs, the better the program that can be created. As we proved ourselves to be true partners to our customers, the positive results CLM Midwest continually produced allowed us to grow year over year."
For more information, visit www.clmmidwest.com.
Tagged under