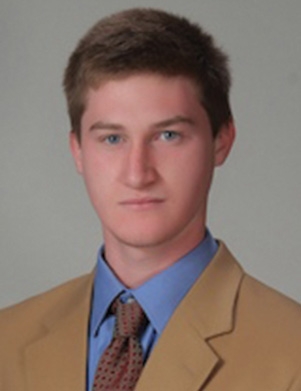 Identify parking lot ADA issues early to protect your business.
By Steve Winter
Now more than ever it is becoming increasingly important to identify the Americans with Disabilities Act (ADA) problems with your property before they become an issue. According to the Equal Employment Opportunity Commission, more than $135 million was collected in 2017 through the ADA monetary relief program. Ignoring or failing to identify ADA issues as they arise results in a higher chance of the penalty exceeding the cost to address the issue. The best way to avoid these costly penalties and potential lawsuits is to thoroughly train your front-line management to identify the most common ADA issues and address them accordingly. The most common ADA issues that your front-line management will need to look for include: proper ADA parking space design, signage, parking space location, and the number of ADA stalls required.
Proper ADA parking space design is something that can be easily overlooked due to how technical the laws are, but here are the basics. The minimum requirement for the width of an accessible spot is 8 feet or 11 feet for a van accessible space. These spaces will also typically have an access aisle attached to them that has a minimum width of 5 feet. These access aisles must be marked/painted with hash marks to discourage parking on top of them. Additionally, these areas must be level and clear of all obstructions. In the industry, we find some of the most common infractions are the slope and width of the accessible stalls. The ADA stalls must not exceed 2% slope in any direction. There are also other state and city requirements that may differ from federal requirements to help benefit the ADA accessibility further.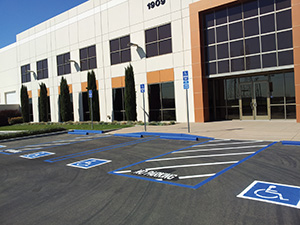 Signage is fairly straightforward. However, infractions are more common than you would think. In short, the main rules for signage are that the international symbol of accessibility must be displayed and for van accessible spaces the symbol must also include the phrase "Van-Accessible.'' The signs for these spaces must also be at least 7 feet above ground, easily seen and not obstruct walking paths. We commonly see signs that are obstructed by plant growth or signs that are too low.
Parking space location issues can be easily corrected but are not always easily identified. Accessible spaces must be located as close to the entrance as possible and must have a hashed walkway to the entrance that does not cut behind other accessible locations. Parking spaces must also have access to the sidewalk or store entrance through a ramp. The slope of this ramp cannot be too steep and a good guidance for slope is there must be 12 inches of run for every 1 inch of height on the ramp. Some ramp locations must also have a truncated dome mat installed at the base of them. Typically, the ramps that require truncated dome mats are transitions from public sidewalks to roadways.
Maintenance of the parking lot is extremely important and unfortunately can be easily forgotten until it is too late. Without routine inspections from on-site managers, parking lot hazards can quickly turn into lawsuits. The most common hazards one will see in the parking lot are uneven surfaces that can be described as trip hazards. These trip hazards could be anything from uneven pavement to debris in the parking lot. The implementation of a proper maintenance plan for the parking lot is important to prevent potholes and uneven pavement from forming. Potholes can form very quickly in parking lots that are not maintained and someone can easily cause harm to themselves or their vehicles if they come across a pothole. A temporary fix for potholes or uneven pavement surface is to place a metal plate over the uneven surfaces. This temporary repair will serve as just that — a temporary repair — and is by no means a substitute for a true-graded professional repair.
In conclusion, the best course of action a business owner can take is to thoroughly train his or her staff to identify the most common ADA issues. Once the ADA violation has been acknowledged, it is extremely important to take action to remedy the infraction as quickly as possible in order to prevent legal liability. The best thing to do is to reach out and have professionals assess your parking lot for ADA infractions and/or necessary upgrades.
— Steve Winter and Mike Aceti have years of industry knowledge pertaining to ADA compliance as well as parking lot maintenance through their sales representative roles at All County Paving. All County Paving is your one-stop shop for all of your paving, sealcoating, concrete, striping and asphalt repair needs. Additionally, contact All County about its CEU course for CAM credits. For more information, email info@allcountypaving.com.
Tagged under