Aéropostale's dynamic corporate culture helps to foster store growth and teamwork.
Give credit where credit is due. For the folks at Aéropostale, this isn't just a saying — it's something they actually do. Whether it's the operations and purchasing departments patting each other on the back after another successful store opening, or service providers being praised at the retailer's annual Award Summit, Aéropostale truly walks the walk. This is exactly the kind of corporate culture that attracted Lori Averso to the operations team 5 years ago.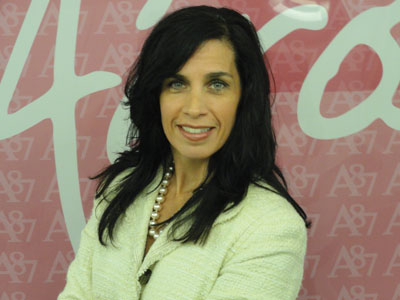 Averso (pictured above) had spent the majority of her career with Verizon Wireless, logging 14 years there until she became a mom and took a couple years off. After a 2-year stint with Bed Bath & Beyond, Averso found her home at Aéropostale. "I really enjoy the Aéropostale culture," she says. "Being in corporate for over 20 years, there's no company like Aéropostale. We all get along like family — I hate to sound corny, but we do."
As director of operations for the mall-based specialty retailer, Averso manages two departments. First is the operations/facilities maintenance team, which includes overseeing facilities trades like HVAC, utilities, preventative maintenance programs, plumbing, electric, etc., for the company's more than 1,000 stores, as well as operational issues like security guards, store relocations and renovations, disaster relief/restoration, storage leases, keys/gates, signage and glass repair. The second department overseen by Averso is the purchasing team, which handles all non-merchandise supplies such as mannequins, hangers, lockers, safes, window hanging kits, gift boxes, merchandise bags, office supplies, housekeeping supplies, specialty fixture launches, marketing and visual support.
When it comes to facilities maintenance, Aéropostale has an efficient setup. "We're pretty lean at Aéropostale," Averso says. "I have an assistant manager and a manager (in each department) and we support over 1,000 stores with all of their facilities and maintenance: carpentry, cleaning, electrical, fire prevention, glass, HVAC, locksmith, plumbing."
For the past decade, everything had been handled internally through an intranet system in which the stores could log in to report any type of operational situation or maintenance issue. Averso's team could then extract the problem and send it through the system toward the appropriate vendor. In March of this year, Aéropostale partnered with FacilitySource to help streamline its maintenance process even more.
"For over 10 years, our intranet internal system has worked very well, both strategically and operationally, but now we've taken it another step: We've partnered with a national facilities company, FacilitySource, to streamline our process and capitalize on a lot of the vendor benefits that they have relationships with," Averso says. "My department still manages the vendor base, and we still have relationships with vendors we've used for 10 years, but with FacilitySource, we can combine both of those relationships."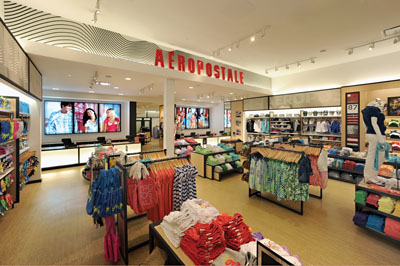 In 2011, Averso says her team handled — internally — more than 13,000 facilities maintenance calls. Now its national partner can take over a lot of that volume. "Our vendors really embrace our future growth, and they respect us as partners," Averso says. "We don't work with anyone unless they really work with us well."
When it comes to vendor selection, Aéropostale rates the companies internally using a vendor scorecard on a quarterly basis.
In keeping with its corporate culture of reward and recognition, Aéropostale also hosts an annual Award Summit for its vendors. Top vendors attend and are rewarded for their quality and delivery of work, innovation and partnership, as well as customer service. Vendor teams from the company's more than 80-store children's division that launched in 2009, P.S. Aéropostale, also attend. "The vendors love coming to the Award Summit because they get to see our corporate office and the team, and some of them don't get the opportunity to see us face-to-face all year," Averso says.
Whether it's outside vendors or her own team members, Averso says she tries to inspire them to manage the business as if it were their own. "What I mean by that is I say to them, 'Think about what we represent as a department, as an operational team, and what the stores really need,'" Averso says. "We negotiate contracts, keep cost containment down, improve processes, and provide the stores the tools that they need."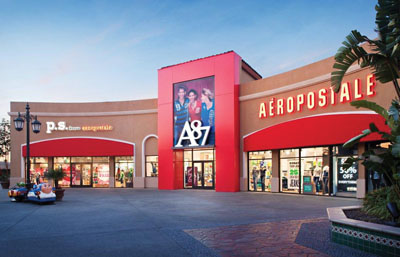 Aéropostale maintains a healthy growth. International expansion continues with stores in Canada, Puerto Rico, Dubai, Turkey, Singapore, as well as plans to open in additional countries by 2013. The company also continues to open P.S. Aéropostale stores — marketed to kids aged 4 to 14 — at a rapid pace. The Aéropostale division, which appeals to older teens, is still opening new stores nationwide, but it is also relocating and renovating stores to improve spaces and keep up with the latest store design.
"We're very involved with the relocations and renovations, supporting what the stores need to relocate or when a store gets renovated, we manage the temp space," Averso explains. "We get the temp space designed to make it look warm and fuzzy and appropriate for the customers to come in and still enjoy our brand and purchase our products."
This culture of teamwork is what makes Aéropostale a great place to work, says Averso. "The culture is amazing; they really listen to your ideas, your concepts, your vision. They allow you to launch new projects, and then recognize your success by giving you a lot of credit. Internally we all partner together: our construction team, our real estate team, our visual team, our marketing team, our communications team, our IT department. When we all work on a project, we all have a piece of it. So when there is success, we've all made it happen.
"I love coming to work everyday," Averso continues. "I have a great team, they inspire me, and hopefully I motivate them every day."
— Katie Lee is editor of Retail Facility Business magazine. She can be reached at [email protected].