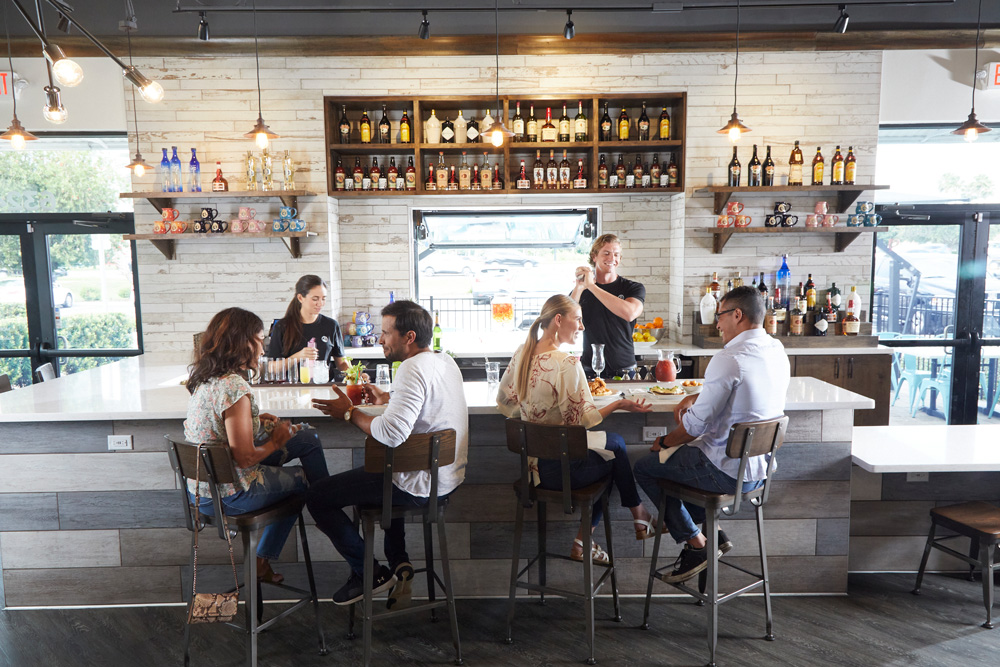 Orlando, Fla. — Another Broken Egg Cafe, a full-service breakfast, brunch and lunch franchise that specializes in Southern-inspired menu options and creative cocktails, has now opened over 20 new cafes with its New South design prototype and completed 13 remodels of existing restaurants. The new and remodeled cafes are outperforming the system, and plans are underway for more company and franchise remodels throughout next year and beyond.
First introduced in spring 2019, Another Broken Egg Cafe's new design significantly highlights the brand's full bar and doubles bar seating by providing access to patio diners. Additionally, it creates space to accommodate the rapid rise in off-premises business and adds seating to keep up with the brand's same-store sales increases, which are up over 20% this year. In 2020, Another Broken Egg Cafe completed a test remodel of a company cafe using the New South design, which also modernizes the color palette and updates decor with a brighter, airier look. Remodeling efforts have now ramped up, as the brand has committed to 11 more company cafe remodels next year and the announcement of a financial incentive to franchisees that complete early remodels by the end of 2022.
"We now have over 2 years of operational and consumer insights from our new design prototype, which has exceeded our expectations in elevating the bar experience and driving overall sales," says Paul Macaluso, president & CEO of Another Broken Egg Cafe. "It is a rare occurrence that a franchisor is willing to contribute to the remodel expenses of its franchise units, but we are big believers in this initiative, our franchisees and the future of our brand. We look forward to continuing to revitalize our existing cafes with these modern updates and working with franchisees to support them in their remodeling efforts as well."
Franchisees like Jake Alleman have already seized the opportunity to remodel, recognizing an opportunity to update the overall look of the dining room and take advantage of the popularity of Another Broken Egg Cafe's bar-forward approach. Alleman, who opened his first of eight Another Broken Egg Cafes in 2007, recently finished remodeling his Panama City, Fla., location to reflect the New South design.
"Our guests and team members are thrilled with the updated, modern farmhouse look," says Alleman. "Since the remodel was completed in mid-September, our sales at the Panama City cafe have seen an uptick from what was already double-digit increases over 2019 levels. The company stepped up to help us with the remodel package, which shows their belief in the remodel program and commitment to the long term success of the brand."
Another Broken Egg Cafe currently has 77 locations in 14 states and is looking to grow significantly in markets across the U.S. The franchise owner, Another Broken Egg of America Franchising, LLC, plans to have more than 200 cafes open by the end of 2026. For more information, visit www.anotherbrokeneggfranchise.com.
SOURCE: Another Broken Egg of America Franchising, LLC
classic-editor-remember:

classic-editor

abkw-text: