— By Flavia Da Silva-Benson —
Disrupting facility cleaning traditions.
The public places a great deal of trust in the restaurants and retailers they patronize. They feel safe in the assumption that these facilities maintain clean and hygienic environments and, for the most part, they do. However, the reality is, traditional cleaning methods used by most businesses aren't effective enough to eradicate all pathogens — particularly today's more virulent bugs. Germs and viruses continue to live on surfaces even after they've been cleaned. Current processes simply don't allow for the time and labor necessary to clean and disinfect every aspect of an establishment, leaving many areas untouched.
Brick-and-mortar outlets, shopping centers, big box stores, chains, dining establishments, quick-service restaurants, cafeterias and the like may all be doing their absolute best to meet health and sanitation requirements, yet could still inadvertently become the source of an infectious outbreak. Not only would this be harmful to patrons and employees, it could lead to a serious drop in business reputation and sales, potentially even invite lawsuits.
The business might be considered the culprit, but the real fault lies with outdated cleaning industry protocols that are long overdue for disruption and improvement beyond the limitations of existing tools.
No Surface Left Uncleaned
One of the chief concerns has been the inability to achieve more complete surface coverage within a restricted timeframe. The job of facility cleaning and maintenance isn't an easy one. Using conventional tools like mops, buckets or rags takes an unrealistic amount of time to effectively clean, sanitize or disinfect all surfaces thoroughly enough to eliminate pathogens, food-borne or otherwise. At a time when the stakes are higher than ever before, addressing time constraints, reaching more spaces and increasing compliance are critical to continued business success.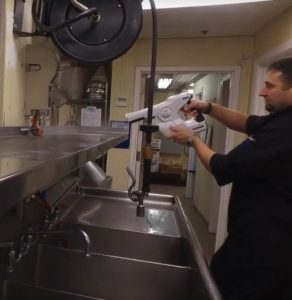 The emergence of electrostatic spraying technology, which creates a magnetic attraction between spray droplets and targeted surfaces, resulting in wraparound coverage, has now become more portable, economical and simple to use — making it a very practical option for businesses, facilities services companies and service contractors to consider. This new technology could vastly enhance disinfection measures and help proactively prevent infectious outbreaks from occurring.
New electrostatic technologies offer promising potential for 80% faster disinfection time and 3X greater surface coverage per ounce. The ability to apply disinfectants at a rate up to 10X greater than traditional tools is a winning proposition for retail operations and restaurateurs.
Safer Disinfection
The chemicals used by the cleaning industry is another sector ripe for disruption. Hypochlorites like bleach have long been the status quo for sanitizing and disinfection, regardless of their toxicity to humans, corrosiveness to materials or detriment to the environment. Until recently, viable alternatives didn't exist. Now, sodium troclosene (NaDCC) food contact surface safe chemistries have arisen, which create an organic chlorine that forms a hypochlorus acid (HOCl) solution when mixed with water. Studies have shown HOCl-based disinfectants deliver four times the antimicrobial killing power of hypochlorites (bleach), yet are safer for staff, patrons, surfaces and equipment, as well as being environmentally friendly. Facilities can now implement high performance disinfection without using harsh chemicals.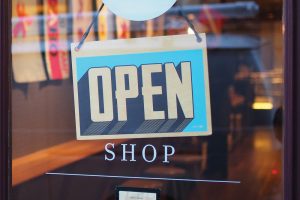 These "smarter" chemistries have the added benefit of being a universal broad-spectrum disinfectant that works for every stage of the cleaning process. Less chemical variation in cleaning, sanitizing and disinfection increases worker safety, eliminates chemical hazards and exposure, while also ensuring a higher level of regulatory compliance. Standardizing cleaning processes around one chemistry, rather than multiple products, will also help reduce expenses.
This same chemistry is available in multiple forms, including tablets that are specifically designed for electrostatic sprayers. Electrostatic application uses 60% less chemicals per square foot to cover more surface areas, which translates to lower environmental impact and even more savings.
Proof of Concept
The Gables at Winchester, a Five Star Senior Living community, was experiencing infectious outbreaks that required frequent 1- to 2-week closures of its restaurant-style dining room. Reactively responding to the crisis was hard on guests and very costly for the facility, including staff shortages due to illness and new admissions losses during the shutdown. The cost of one resident moving ranges between $30,000 and $40,000 per community, and over $100,000 for a skilled nursing patient.
The Gables took action and tested a new sanitizing and infection control program that utilized electrostatic sprayers together with an HOCl-based disinfectant. Staff quickly learned how to use the system and began sanitizing the dining room 3 to 5 times a week during the winter months, when infection rates tended to be highest. The results were conclusive: From November to January, there wasn't a single dining room closing.
According to a Gables staff spokesperson: "The infection control intervention was a huge success. The program is now part of our weekly sanitation in the dining area, as well as in housekeeping."
The president and CEO of Five Star Senior Living was convinced the investment return on their new program would reap priceless rewards by keeping residents and employees healthy.
Measurable Results
Best practices for cleaning protocols that combine scalable processes with leading-edge electrostatic technologies and healthier, more powerful disinfectants will ultimately lead to greater efficiencies.
More importantly, it will raise cleanliness and safety to the highest standards for retail establishments and eateries, protecting both patrons and reputations.
— Flavia da Silva-Benson is senior vice president of operations and general counsel for EarthSafe Chemical Alternatives in Braintree, Massachusetts. Benson joined EarthSafe in 2016; her role was integral to the development and successful launch of its new EvaClean Infection Prevention System, overseeing all SOPs, compliance regulations and processes. Since then, Benson has emerged as an expert authority on healthy and environmentally safe disinfection protocols. For more information, visit www.earthsafeca.com and www.evaclean.com.
classic-editor-remember:

classic-editor

abkw-text: