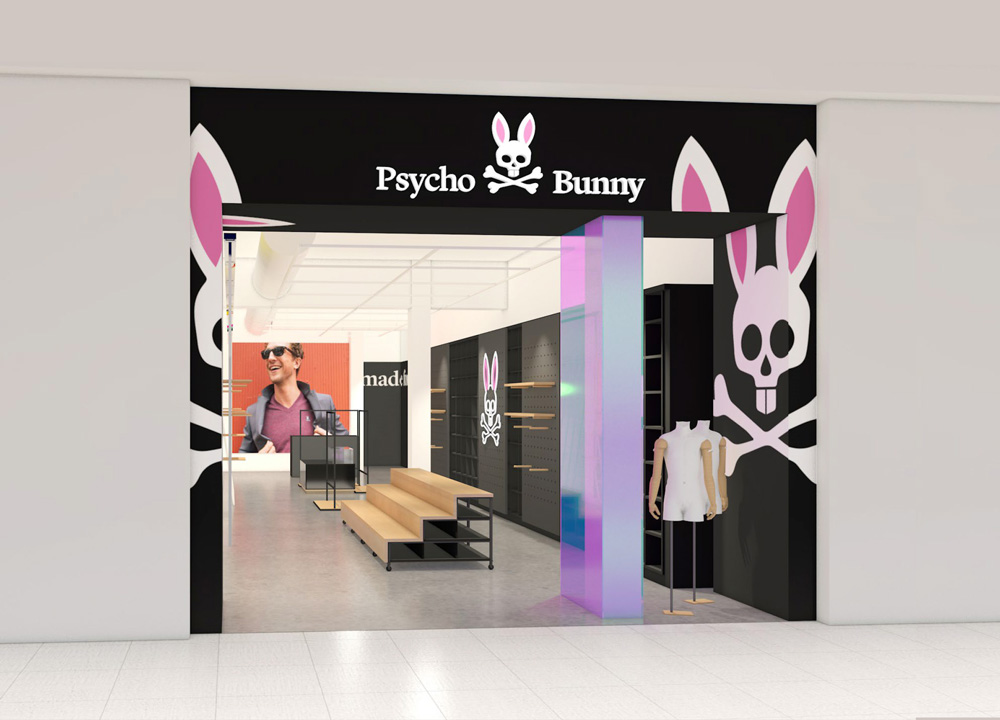 Atlanta — Psycho Bunny, the men's contemporary and golf clothing brand, has opened its second stateside retail location at Lenox Square in Atlanta. The brand's successful pop-up-to-permanent retail strategy was applied to the Atlanta market with the opening of an interactive pop-up in October, followed by a permanent space that opened on November 6, 2019.
The 12×20 pop-up and 1,500-square-foot permanent store were designed and developed in partnership with international architecture and design firm, Adelifca. Launched in fall 2019, the pop-up showcases the brand's fall collection, in a unique mobile setting. The pop-up is part of Psycho Bunny's retail strategy of testing key markets and will travel to different regions, specifically in mall locations. The space incorporates Psycho Bunny's colorful touch with elements including an oversized bunny graphic installed on acrylic panels, pink fluorescent lights throughout the space, and some furniture pieces from the award-winning Aventura, Fla., store concept, remodeled to fit the space, including an oriented-strand board table. The brand is able to display 307 units of product within the pop-up, spread across hanging units, folding units and accessory tabletops.
The 1,500-square-foot permanent store is centrally located within the mall's main hall. The store design concept will continue the evolution of the Psycho Bunny retail concept, infusing art with mischief, for a unique shopping experience. Signature elements of the first retail location in Miami have been optimized and updated to give consumers in the Atlanta region a unique experience. Notable elements include a gallery wall that is fully customizable to display an array of merchandise, an LED wall that is a showcase for the brand to promote different collections, and a catwalk table displaying the brands newest products. A giant neon art bunny motif is placed within the center of the store, offering many social media moments from visitors.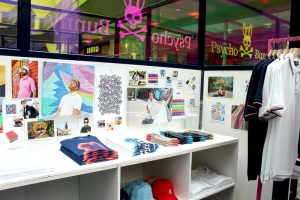 "Following the success of Aventura, we focused on top markets for our continued retail expansion," says CEO Alen Brandman. "The pop-up-to-permanent model has proven to be a successful model to test markets and ensure we properly engage with our core consumer. Atlanta is one of our fastest growing e-commerce markets and customer profile, so it was a natural fit for us."
The Psycho Bunny pop-up opened in October and will remain open throughout the end of the year. The permanent retail location opened on November 6.
Founded in 2005 by Robert Godley and Robert Goldman, Psycho Bunny is a men's contemporary and golf clothing brand based in New York. Psycho Bunny has a global presence with dedicated retail stores in Japan, South America and the United States.
SOURCE: Psycho Bunny
classic-editor-remember:

classic-editor

abkw-text: