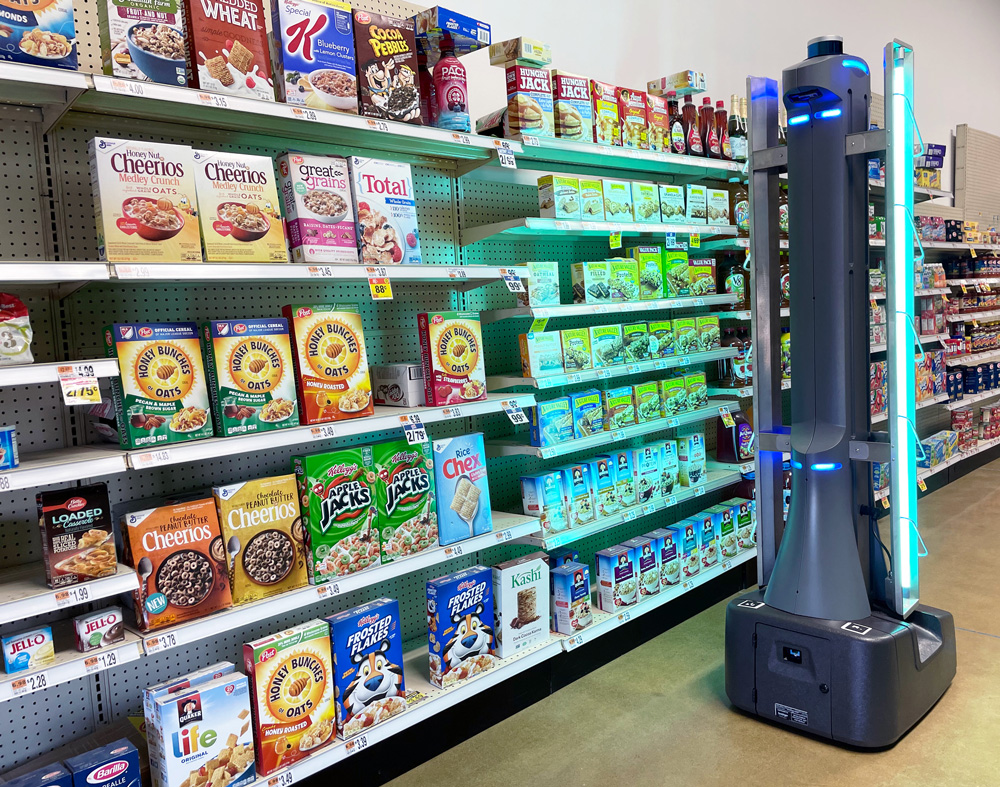 Nicholasville, Ky. — Badger Technologies, a product division of Jabil, introduces the Badger™ UV Disinfect robot, an autonomous ultraviolet (UV) disinfecting robot designed to combat COVID-19 and high-risk pathogens commonly found in grocery, foodservice and retail environments. The latest in the lineup of Badger Technologies® autonomous robots, the Badger UV Disinfect robot is equipped with advanced UV-C technology developed by UltraViolet Devices Inc. (UVDI), a leading provider of air and surface disinfection solutions.
Early testing of the new Badger Technologies autonomous robot with UVDI's 254nm UV-C technology indicates 99% and greater inactivation of coronaviruses, E.coli, Salmonella enterica and Influenza A. Testing results also show that the Badger UV Disinfect robot can decontaminate 40,000 square feet in about 2 hours, enabling rapid disinfection of typical store spaces, including shelves, aisles and checkout areas.
"Disinfecting retail stores is an ideal job for our robots as they can navigate aisles effortlessly," says Tim Rowland, CEO of Badger Technologies. "We're pleased to work with UVDI to help grocers and retailers quickly address COVID-19 contamination concerns while supporting long term strategies for more effective infection prevention in retail environments."
To advance retail automation and infection prevention, Badger Technologies and UVDI will conduct micro-efficacy testing and in-store pilots of the Badger UV Disinfect robot during the first quarter of this year.
Badger Technologies is a product division of Jabil, a manufacturing solutions provider that delivers comprehensive design, manufacturing, supply chain and product management services.
SOURCE: Badger Technologies
classic-editor-remember:

classic-editor

abkw-text:
Tagged under