— Interview with Matt Beall —
How Bealls has streamlined its name and its brand identity, all while robustly growing its store count.
Spanning more than a century and four generations, Bealls Inc. has been owned and operated by its founding family in Bradenton, Florida, since 1915. This year, the veritable scion of retail is undergoing a significant rebranding of two of its largest chains. The company's 600 Bealls Outlet and Burkes Outlet locations in 23 states are uniting to become "bealls." Bealls, Inc. also operates a retail chain that exists only in the state of Florida and is commonly referred to as Bealls Department Stores or just Bealls. This 68-store chain is becoming "Bealls Florida." At a time when many retailers have struggled, Bealls has experienced steady growth, adding over 150 store locations in the past 2.5 years. Following is an interview with CEO Matt Beall on the family business — where it's been, where it goes from here, and how to succeed in today's retail climate.
R&R: Bealls added 150 new locations during a tumultuous time that was stunted by the pandemic. What's your company's secret to success during a time when retailers are being hit hard?
Beall: We were hit hard in March 2020 as well. We continued to pay our people and our bills when we were shut down. With no sales coming in, we burned through a lot of cash and that can't go on forever. Fortunately, our guests love Bealls and they came back strong and ready to get back to normal once we reopened. The last 3 years have been 3 of the best years that we've ever had.
The trick to opening the 150 stores is that we took advantage of the closing of Stage Stores. Stage vacated around 800 store locations, and we picked up some of the best ones. For us, they were the perfect size boxes, and they were in great markets. We knew the difficult economic times would pass — as would the affordable rent opportunity for great new stores. We acted quickly. The market is more competitive now.
R&R: Tell me about your new portfolio rebranding initiative for Bealls Outlet and Burkes Outlet. How did the decision to unite them under one name — bealls — come about?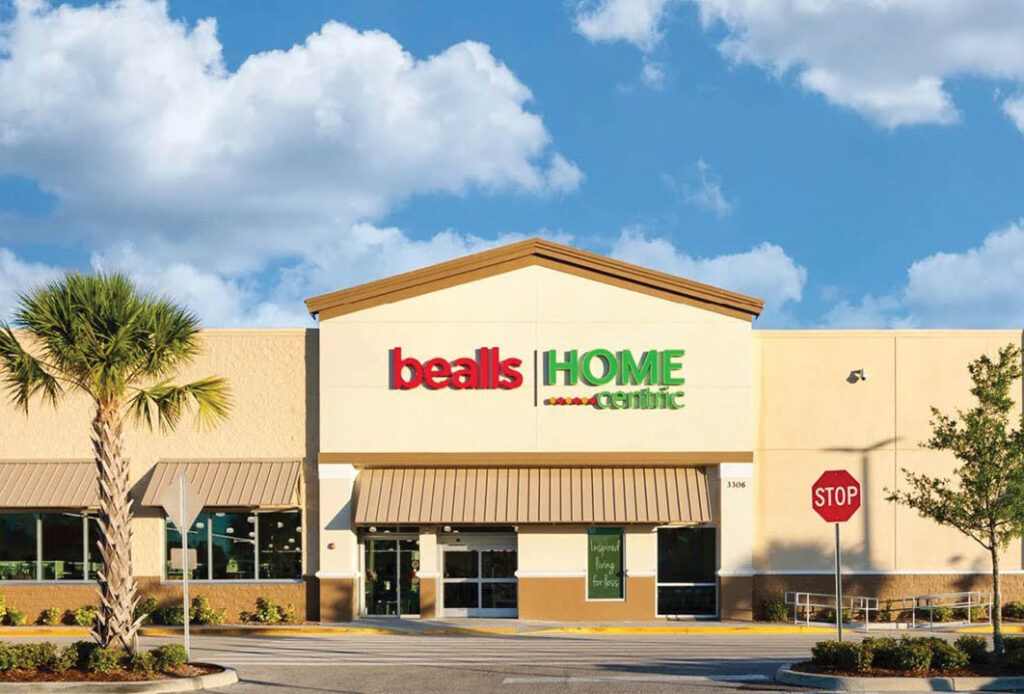 Beall: The name Burkes was created because Stage Stores owned the Bealls name in all 23 states we operated in, except for Florida, Georgia and Arizona. When they went bankrupt in 2020, we bought their Texas distribution center and all their intellectual property, including the national rights to our name. From then on, we had the ability to rename from Burke's to Bealls. Bealls Outlet and Burkes Outlet have always been one chain, but they operated under two different names because we didn't own the Bealls name nationally. Operating one chain under one name seems like the only option so we went ahead with it.
Dropping the word Outlet came about through acceptance that the word implied cheap, or seconds, to many people. We felt that we were limiting ourselves with a self-definition and a misnomer. We have first quality goods and we are mostly better or best brands, so Outlet needed to go. If you aren't reinventing yourself, you are dying a slow death. The stores that have been converted have seen a nice increase in sales and in new guests. We are more than an outlet; we have limitless potential. The name Outlet served us well for many years, and it's a beautiful part of our history.
R&R: Bealls' stores in Florida are also set to become "Bealls Florida." Discuss how this aligns with your e-commerce business and with your complementary marketing campaign of Live.Life.Local?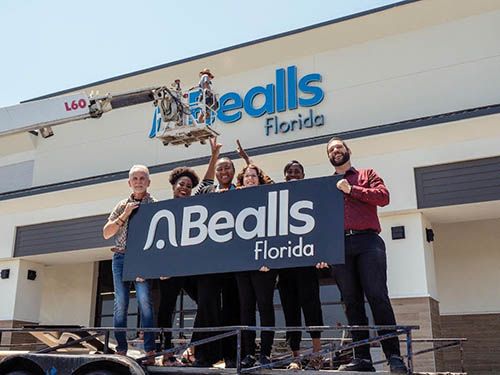 Beall: This chain of stores has operated solely in Florida for 108 years under various names. In 1915 it started as "The Dollar Limit." With inflation in the late 1920s, the name changed to "The Five Dollar Limit." In 1946 it became Bealls Department Stores. The chain has had a different name than the website since the launch of Beallsflorida.com in 1998 and it was time to fix that and distance from the department stores. We have become much more of a specialty retailer over the last several years. We no longer have huge promotions and prices that move from high to low; our value is consistent.
We feel like Live.Life.Local is inspirational and it challenges us to continue to curate localized assortments to match our guests' unique needs. Every market in Florida is different from the last, and we know them very well after 108 years. Lastly, it didn't make much sense to have two chains called Bealls.
R&R: When will all stores be converted with new signage, etc.?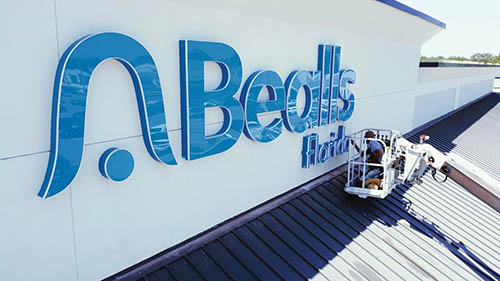 Beall: The current plan has 100% of stores converted on November 10th. 380 stores [had] been converted as of early August.
R&R: Bealls Inc. has been headquartered in Bradenton, Florida, since 1915 and is still family owned and operated. Do you find this is a rare, unique model in the modern retail industry? What benefits do you see from this business model? Do you have more operational flexibility, being privately owned?
Beall: There are competitive advantages, such as economies of scale, to being a large public corporation. There are also benefits to being smaller and more nimble like less bureaucracy, more empowerment, and being able to make change happen faster.
If you have a great family, there are benefits to being a family business. If you don't, it becomes a barrier to success. We have a great family group that consists not just of the Bealls, but also the Szymanskis. I'm fourth generation and I'm fortunate to have two great third generation family members serve on our Board from the Szymanski side of the family. We have a lot of mutual respect and gratitude.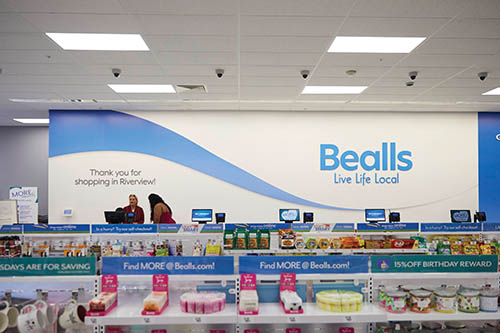 Statistically it's very rare for a family business to be able to compete with larger national corporations for so long. Eventually you get a weak or toxic leader, someone sells out, or family members disagree on the path forward. We've been fortunate not to have any of that. Our shareholders have respected and trusted our leaders.
Being private is kind of like being married — you have to wake up every day and decide you still want it. You only have to decide once to get a divorce. I really respect the people that came before me and decided every day to remain married to the company. I respect our shareholders and the amount of pride that they have in being a part of something special. That motivates me. It is a big part of the reason why this place is so special and why I'm here.
R&R: What is your preferred type of real estate?
Beall: We typically stay away from malls and freestanding locations; almost all of our locations are in open-air centers. Our prototype for the new Bealls Florida is about 50,000 square feet; bealls is about 25,000 square feet.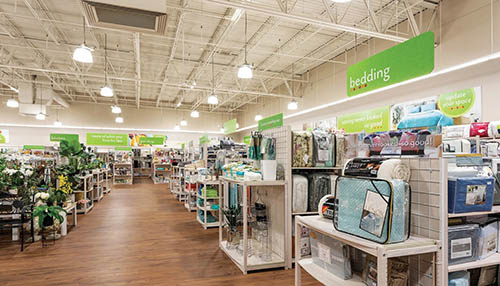 R&R: Do you rely primarily on national vendors? Or a mixture of national and regional/local service providers?
Beall: For plumbing and electrical work we use local companies to service our stores. Wherever we can take advantage of a local service, that's our first choice.
R&R: What do you enjoy most about your job on a daily basis?
Beall: The history is cool and I have tremendous appreciation for the people who came before us, but they would want us focused on the present moment. I enjoy being a part of a team, providing jobs, leading people the way I would want to be led, and knowing that we are a rare family business who's made it to generation four. We have a unique culture that is focused on personal growth and self-awareness. The one thing I enjoy most is seeing our people grow personally and therefore professionally.
— This article originally appeared as the cover story of the August 2023 issue of Retail & Restaurant Facility Business magazine. Email the editor, Katie Lee, at [email protected].