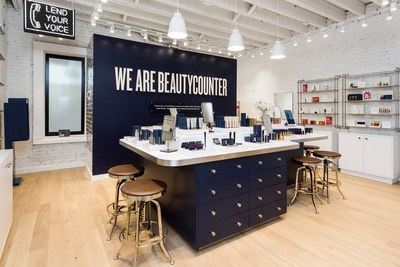 Los Angeles — Beautycounter, a Santa Monica, Calif.-based leader in safer skin care and cleaner cosmetics, will open its first brick-and-mortar store at 51 Prince St. in New York City. Beautycounter develops and distributes its own high-performing products — including skin care, color cosmetics, advanced anti-aging, kids, baby and personal care collections.
"If our mission is to get safer products into the hands of everyone, we have to be able to meet customers wherever they are shopping. We know that our story is best told person-to-person, and we are thrilled to add a physical retail store to the progress we've made in educating consumers and advocating for better beauty," says Gregg Renfrew, founder and CEO.
Since its launch in 2013, Beautycounter has attracted national attention as the first brand to take a meaningful position on cosmetic reform. Beautycounter has prohibited the use of more than 1,500 questionable or harmful ingredients, well beyond the 30 banned by U.S. law.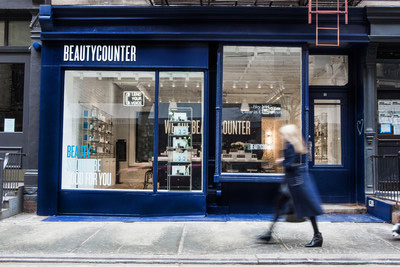 Design elements inside the 540-square-foot store are borrowed from the brand's modern California headquarters, mixed with references to vintage New York. Visitors will have the opportunity to converse and sample brand favorites while seated at an old-school beauty counter (a nod to the brand's name and reminiscent of stores past). Also, customers are invited to join in Beautycounter's advocacy efforts. A neon sign that reads "It's Your Call" will point to a custom New York phone booth, complete with a branded "blue pages" phone book with the names and numbers of every member of Congress. In under a minute, customers are automatically connected and can read a provided script to lend their voices in support of better beauty laws.
Within the store, iPads will highlight facts on the clean beauty industry and give a deeper dive into Beautycounter's rigorous ingredient selection process, product reviews, FAQs and new launches. To help customers establish a cleaner routine in their own homes, Beautycounter staged a museum-like washroom to see suggested replacements from like-minded personal-care product brands, and will supply takeaway "clean maps" to suggest similar businesses in the area.
Beautycounter is currently sold at www.beautycounter.com, in seasonal pop-up shops on Nantucket and in East Hampton, and through a network of approximately 35,000 independent consultants. Past and present strategic partnerships include Target, J.Crew and goop.
Founded by Gregg Renfrew in 2011, Beautycounter launched in 2013 as a direct-retail brand (direct to consumer through multiple channels) that is now available online, in the New York City boutique, in seasonal East Hampton and Nantucket pop-ups, through strategic partnerships, and approximately 35,000 consultants across North America. For more information, visit www.beautycounter.com.
SOURCE: Beautycounter
Tagged under