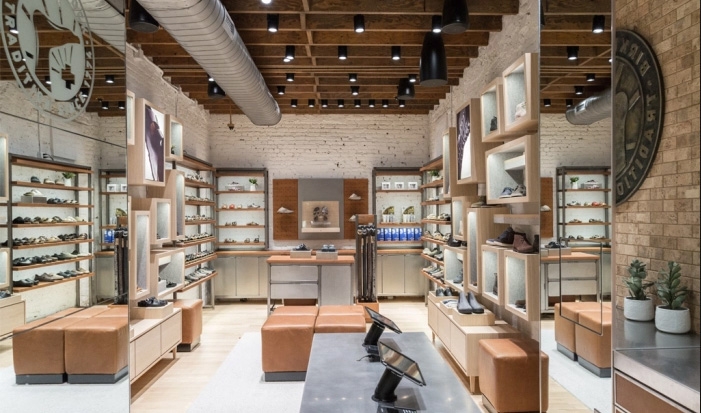 New York City — BIRKENSTOCK has opened its first company-owned retail store in the United States. The store is located in the historic SoHo neighborhood of lower Manhattan. Celebrating over 50 years of distribution in the U.S., the SoHo store gives the German brand a new home in the heart of New York, laying the groundwork for the continued growth of BIRKENSTOCK in the U.S. market.
The New York landmark building at 120 Spring St. (located between Greene and Mercer streets) provides an appropriate backdrop to showcase this heritage brand with German shoemaking roots dating back to 1774.
The store also shows a new direction in retail design for BIRKENSTOCK that is bespoke to this historic location. The bright and naturally comfortable store interior focuses on core materials including cork and leather and creates a relaxed atmosphere with its open atrium and second floor lounge area that will feature special projects and collaborations.
"It is an important part of our ambition to open our own retail stores in strategic locations and vibrant neighborhoods. New York is a key market for us. Thanks to the dedication of our retail partners in the U.S., our brand has been around here for decades," says Oliver Reichert, CEO of BIRKENSTOCK. "The opening of our own retail store in New York is also a bow to one of the few remaining fashion capitals in the world that shapes global cultural and consumer trends. Being here will keep our brand vivid and will also create visibility for all the innovations in our collection towards a group of enlightened, highly influential consumers."
The opening of the SoHo store marks the 47th BIRKENSTOCK owned store globally and the first in the United States.
BIRKENSTOCK is a global footwear brand. With more than 4,000 employees worldwide, this traditional, sixth-generation family-run business is also one of the German footwear industry's biggest employers. The company's historic roots can be traced as far back as 1774. Manufactured in Germany, sandals are now sold in more than 100 countries on all continents. BIRKENSTOCK also has a growing range of enclosed shoes, children's shoes and occupational footwear, as well as specialist products for orthopedic retailers, socks, bags and belts. In 2017, BIRKENSTOCK added sleep systems and natural cosmetics (BIRKENSTOCK NATURAL SKIN CARE) to its portfolio of products. The company is headquartered in Neustadt (Wied). BIRKENSTOCK has 10 sites in Germany, in the states of North Rhine-Westphalia, Rhineland-Palatinate, Hesse, Bavaria and Saxony.
For more information, visit www.birkenstock-group.com.
SOURCE: BIRKENSTOCK
Tagged under