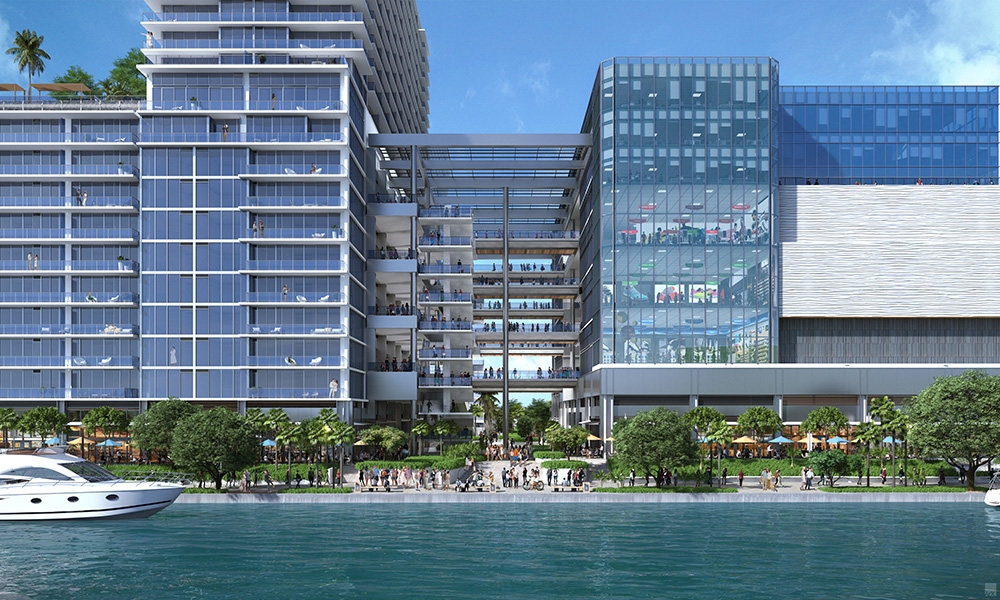 Miami, Fla. — Focusing on the Miami River and breathtaking views of downtown Miami and the sunset, River Landing has unveiled plans for a 'restaurant row' along the river. The 25,500-square-foot restaurant space on the ground floor can be divided into seven concept restaurants, including fine dining, fast-casual, café or bistro, and family-style dining. Restaurant Row will reinforce the Miami River's identity as an experiential dining destination. The river is currently home to some of Miami's most popular restaurants.
River Landing Shops & Residences, a mixed-use development rising just west of downtown Miami, will anchor one of the few waterfront restaurant rows in South Florida, a region renowned internationally for its on-the-water lifestyle.
"This is a strategic location for a restaurant hub because it serves the second largest health district in the United States, provides a remarkable waterfront experience to the community and is accessible from the water, nearby highways and mass transit," says Andrew Hellinger, a principal with Coral Gables, Fla.-based UrbanX Group. Hellinger and partner Coralee Penabad are developing River Landing. "During the planning process, we met with neighbors and city officials. Everyone agreed that the area was starving for well-positioned concept restaurants on the water."
The 2 million-square-foot development includes an urban multi-level retail center with Publix Super Markets, Burlington Stores, TJ Maxx, West Marine, Ross Dress For Less, AT&T, Chase Bank and Hobby Lobby as tenants. It also includes 528 market-rate apartments, more than 2,200 parking spaces, green space and a 50-foot-wide linear park along the riverfront. River Landing is scheduled to open in early 2020.
"Three important factors set us apart from other developments: the expansive riverwalk and green space, convenient access and ample parking," adds Hellinger.
The 5.5-mile Miami River, one of the shortest working rivers in the U.S., has emerged in recent years as a magnet for high-end residential towers and hotels. Between River Landing to the west and downtown Miami to the east, the river has been experiencing a wave of redevelopment. At least 15,000 residential units and 1,161 luxury hotel rooms have been built on the river between the previous and current real estate cycles.
"The area's daytime population and the river's growing popularity as a dining and nightlife destination are generating a lot of interest," Hellinger says. "We look forward to Restaurant Row solidifying the Miami River as an vibrant waterfront dining destination for all."