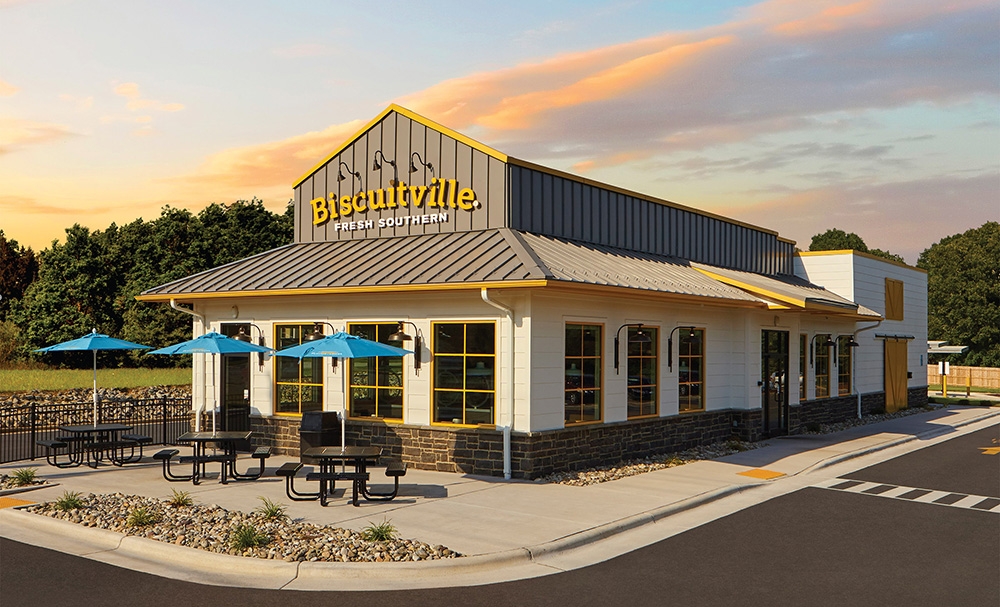 Greensboro, N.C. — Biscuitville FRESH SOUTHERN® will enter the Fayetteville, N.C., market — its first new market expansion in 10 years — with two restaurants to open mid-year 2019 followed by an additional two restaurants later in the year, pending approval by local authorities. The first restaurant will open in the Spout Springs area late spring 2019, and the second will open mid-summer in Fayetteville.
"My father Maurice founded our company in 1966, and stores originally sold bread and pizza. Years later, the company introduced biscuits during the morning hours. The reception of the homemade biscuits was so great that my dad decided to transition the restaurant's core product from pizza to biscuits, and the Biscuitville brand was born," says Burney Jennings, Biscuitville's CEO. "Biscuitville remains family owned today, and we're headquartered not too far away from Fayetteville in Greensboro."
Biscuitville, which has 55 restaurants in North Carolina and Virginia, has remodeled dozens of its existing locations during the last 3 years as part of a growth phase for the company and has also introduced several new menu items. All of Biscuitville's new restaurants, the remodeled locations and new menu items are built on Biscuitville's foundation of serving fresh, scratch-made food using locally sourced ingredients, including custom-milled flour from Henderson, N.C.; country ham cured in Wilkesboro, N.C.; coffee from Concord, N.C.; eggs from western North Carolina; all-natural chicken from Mt. Airy, Ga.; and pickles from Mt. Olive, N.C.
"Our company has been on a growth trajectory for several years, including opening new restaurants in existing markets," says Kathie Niven, Biscuitville's president. "We very carefully evaluated several markets for possible expansion and concluded that Fayetteville is the perfect place to continue our growth. The Fayetteville market is our first new market in a decade, and we plan to open four Biscuitville restaurants in this market by the end of 2019."
As part of its new restaurant design, which Biscuitville introduced in 2015, Biscuitville features a large biscuit window, which allows guests to view the biscuit-making process. This feature is so iconic to Biscuitville's brand, the company proudly posts Home of the Biscuit Window Since 1966®in front of its biscuit makers. In addition to the biscuit window, other highlights of the new Biscuitville restaurants in the Fayetteville market will include:
Exterior features resembling a reclaimed southern barn, with a tin roof, barn doors and gooseneck lights.
Interior features that combine a modern look and feel with southern heritage through industrial hardware, blue painted ceilings inspired by southern porches, and mixed materials like wood, metal and tile.
Large photos and artwork that capture scenes of the local neighborhood and community.
New cushioned seating and custom wallpaper.
An enhanced beverage area with expanded drink options, including Salisbury, N.C.-based Cheerwine®.
Conveniences such as free Wi-Fi, electrical access for devices and large-screen TVs.
For more information, visit www.Biscuitville.com.
SOURCE: Biscuitville