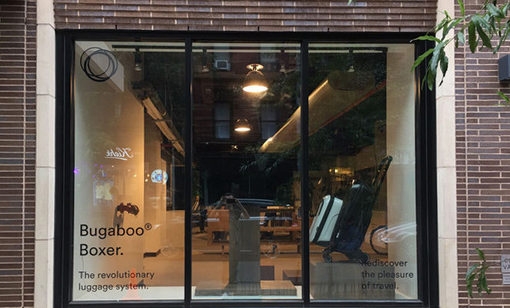 New York City — Bugaboo, a global mobility company whose products enable people to explore and move freely through their world, has opened the company's first U.S. pop-up store in New York City. Open through November 20, 2016, the store will showcase the brand's recently launched luggage system, the Bugaboo Boxer, as well as its signature stroller line.
Bugaboo's pop-up store simulates a traveler's journey with the Bugaboo Boxer from packing at home, to airport security, all the way to the airplane aisle. Upon walking into the SoHo location, guests are welcomed into their "home" where the shopping experience and packing with the Bugaboo Boxer are explained through a live demo. The next stop on the journey takes place in a staged airport security entrance where the ease of moving with the Bugaboo Boxer is showcased. Finally, guests will be transported to the aisle of an airplane to get a firsthand feel for the effortlessness of stowing away the lightweight Cabin Case.
"We are incredibly excited to bring the Bugaboo experience to the U.S. market in a new and engaging way," says Max Barenbrug, Bugaboo's co-founder and chief design officer. "Through the Bugaboo pop-up store, our goal is to create unique way for consumers to experience the Bugaboo Boxer, so they can understand how much easier traveling can and should be."
Gray oak colors and life-size product imagery shot by renowned German photographer Ramon Haindl decorate the four walls of the store's 3,250-square-foot SoHo location. The pop-up store is also designed by the Bugaboo team to reflect the brand's global aesthetic and provide a guided sales experience. Experts will be available to walk guests through the digital customization experience for the Bugaboo stroller, select their products, choose their configurations, and pay online.
The Bugaboo pop-up store is located at 224 Mulberry St., New York, N.Y.
Bugaboo International is a Dutch design company that develops and produces mobility products. Best known for revolutionizing the stroller market with the launch of their iconic stroller in 1999, Bugaboo designs products that make life on the road easier. For more information, visit www.bugaboo.com. 
SOURCE: Bugaboo
Tagged under