— Interview with Tana Davila —
Upgrades to P.F. Chang's ambiance, design and decor drive traffic and sales — even during the pandemic.
This month [September 2021], P.F. Chang's opened a new flagship in Hawaii, following a 6-month renovation to upgrade its design, decor and ambiance to flagship level. The new look is part of P.F. Chang's overall brand refresh currently underway. The company is on track to refresh all U.S. restaurants by the end of next year. Editor Katie Lee recently interviewed P.F. Chang's marketing chief, Tana Davila, to learn more.
R&R: How many restaurants does P.F. Chang's operate today? What was the growth forecast for 2020 prior to the pandemic — did that change? What is your growth forecast for 2021 and beyond?
Tana Davila: P.F. Chang's has more than 300 restaurants across 23 countries around the globe. Prior to the pandemic, we had a specific sales target; however, once we heard of mandatory shutdowns, we revised our comps knowing that the year was not going to go as initially forecasted. We have had a great 2021 so far and are expecting to see significant growth versus 2019. Additionally, our 5-year strategic plan includes opening more full-size P.F. Chang's as well as more P.F. Chang's To Go locations.
R&R: You recently opened a new flagship restaurant in Honolulu that had been under renovation for 6 months. Tell me about the upgrades.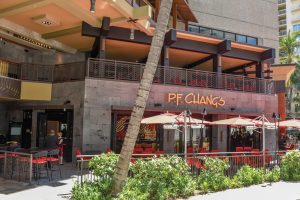 Davila: We're really excited about adding our second flagship. P.F. Chang's Royal Hawaiian joins our Las Vegas Planet Hollywood location, which was the first flagship for the brand. We know P.F. Chang's does well in high-volume, tourist markets with guests who want to explore tastes and flavors, and Hawaii certainly offers that. This specific restaurant is significant in size with various special touches like hand-painted murals, two patios and large windows and doors offering an open-air dining experience. The exterior is made entirely of puka lava stone, which is native to the island. We pride ourselves on being a destination for celebrations, and we think this spot offers great food and an experience that is memorable.
R&R: Who did you work with on the design? Outsourced third-party or do you have an in-house design team?
Davila: We have an in-house creative team that works with an outside agency, Zebra Projects, on architectural design. Zebra has been working with us for 10+ years on our international business and over 2 years on domestic projects. Collectively, we have designed 120 P.F. Chang's locations. They were instrumental in our brand refresh project (an update to the fleet's décor and ambiance), development of the P.F. Chang's To Go design concept, and the enhanced design of our flagship locations. They are based in the UK, Dubai and here in Scottsdale, Arizona. Additionally, we have partnerships with artists such as Nyla Lee, a Phoenix-based artist, who hand-painted the murals at the Hawaii flagship.
R&R: What renovations were made to the Las Vegas flagship?
Davila: Our Planet Hollywood location has been on the Strip for 20 years. This past spring, we reopened with an entirely new look and feel, which we think demonstrates who we are as a brand today. Our Vegas flagship location has multi-level seating for 400 guests, as well as a private dining room and open-air patio with fire pits, a water feature and amazing views of the Strip. Every location has a unique mural — this flagship features a hand-painted mural on the staircase with the words, "Viva Las Vegas" translated into Japanese. At the center of the restaurant is a signature cherry blossom tree that is attention grabbing and plays into the overall ambiance. We also have signature food and beverage items that can only be ordered at our flagship locations.
R&R: The new flagship redesign is part of a larger brand refresh across the U.S., correct? How long has it been in the works? Are you on track to have all restaurants updated by the end of 2022?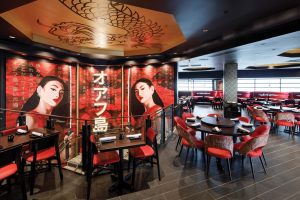 Davila: The objective of brand refresh is to deliver a best-in-class dining experience centered around restaurant ambiance, hospitality and food and beverage "theater" at the table in all 200+ locations. Brand refresh components include a holistic overhaul of all major facets of the guest experience: music, lighting, decor, uniforms, hospitality model and celebration programming. P.F. Chang's has seen the refreshed locations performing +11.2% better than the rest of system in total sales versus 2019 — despite the setbacks presented by a global pandemic. The full fleet is scheduled to be complete by the end of 2022.
R&R: You also have many To Go locations opening soon. Where are your current To Go operations besides New York City? And you're expecting to open 50 of them by the end of next year?
Davila: We've been rolling out P.F. Chang's To Go restaurants across the country, starting with Chicago in early 2020, where we now have three locations. We also have five To Gos in New York, two in Texas, and one in Florida. More are in the pipeline, including an expansion into more suburban markets in 2022.
R&R: I read that your To Go concept was actually a pre-pandemic idea. How did you guys know where the industry was heading?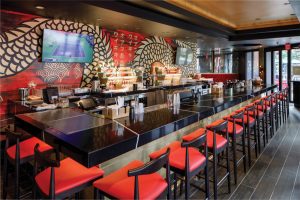 Davila: We have been one of the early movers in the off-premises space (takeout, delivery, catering) and had been focused on building that business for several years when the idea of P.F. Chang's To Go was born. Consumers were looking for dining options that fit their changing habits, so we wanted to ensure we were part of the consideration set. We have a sizeable and rapidly growing OPD business out of our Bistros, and P.F. Chang's To Go was the next natural evolution — allowing us to penetrate markets faster and ultimately reach more guests. We launched in early 2020, pre-pandemic, and have continued a steady rollout since. The smaller footprint is a great fit in high-density metros and lets us meet guests who may not have a full-scale restaurant, or Bistro, nearby.
R&R: Tell me how P.F. Chang's regular locations adapted during the dining room shutdowns. 
Davila: COVID-19 obviously impacted our dine-in business. As soon as shutdowns went into effect, we quickly pivoted all aspects of the business to focus solely on delivering the same great experience we are known for in off-premise offerings. We were fortunate to be able to adapt as quickly as we did, which is largely attributed to the investments in digital technology that the company has made over the last 5 years, positioning us to weather the storm and come out stronger than before.
R&R: What changes have you made to employee and customer safety and sanitation?
Davila: The safety of our guests and team members is priority, and we have taken several steps, in addition to following all updated health guidelines, to ensure we are providing a safe and comfortable experience. Initiatives include:
Employee Wellness Checks: We screen employees for COVID-19 symptoms and exposure and conduct temperature checks prior to each shift.
Enhanced Sanitation: We disinfect tables after each use and disinfect high-touch surfaces every 2 hours. We also have hand sanitizer available throughout each restaurant for our guests to use.
Face Coverings: We require face coverings for unvaccinated employees nationally and follow all local mandates regarding face coverings for employees and guests.
Vaccines: We encourage employees to get vaccinated and follow all local mandates for vaccine and testing requirements for employees and guests.
R&R: Which pandemic-era changes in the restaurant world do you anticipate lasting even past the present crisis?
Davila: I think consumer expectations are higher — particularly around speed of service. Experience matters. It's going to be a fight to be the best at delivering faster because you can get any type of food, anywhere, at any time with the click of a button. The concepts that will win are those that understand this.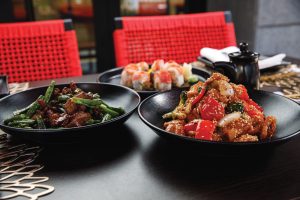 And now that you can get your favorite foods for takeout or delivery anytime, guests expect an experience and something memorable when they choose to dine out. Having good food just isn't enough anymore. Service and ambiance are becoming even more important, hence the focus on our brand refresh work.
R&R: Tell me a little about the history of the company.
Davila: While the first P.F. Chang's restaurant opened in 1993, our story really starts in the early 1960s with Cecilia Chiang, mother of our co-founder, Philip Chiang, and the success of her Chinese restaurant, The Mandarin. She was a James Beard Lifetime Achievement award winner and largely credited with bringing Chinese food to mainstream America. Philip later opened his own restaurant, The Mandarette, where he met restauranter Paul Fleming. Paul wanted to bring the magic of Cecilia and Philip's recipes to customers at a greater scale. In 1993, the first P.F. Chang's opened in Scottsdale, Arizona. It is the first multi-unit restaurant concept to honor and celebrate the 2,000-year-old tradition of wok cooking at the center of the guest experience. With roots in Chinese cooking, today's menu spans across all of Asia, honoring cultures and recipes from Japan, Korea, Thailand and beyond.
R&R: How many international locations does P.F. Chang's have? 
Davila: We have 97 open, as of September 20. We are expanding in both established and new markets and continue to look for partners to join us in that expansion.
R&R: What kind of feedback are you getting from customers about the new looks at the restaurants?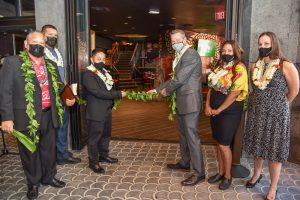 Davila: It's been overwhelmingly positive. We're still offering the cuisine our guests know and love, but we've expanded to allow them some culinary adventure. Things like dumplings that sizzle on a plate and beverages with smoky aromatics really create a moment. And the upgrades to atmosphere and ambiance are getting great reviews.
R&R: What goals have you set for your team, short term and long?
Davila: Our goal is to drive traffic and sales. However, at the end of the day our goals really mirror those of the organization overall. We obviously have business performance targets (sales and EBITDA), but our other goal is really to build our culture — we want to be the best place to work because, at the end of the day, our brand is 20,000 team members deep, and it's a people business at its core.
— This article originally appeared as the cover story of the September 2021 issue of Retail & Restaurant Facility Business magazine. Email the editor, Katie Lee, at [email protected].