Houston — Fashion jewelry and accessories retailer announces its first New York City flagship, international expansion and recent additions to its executive team.
Houston — Launched 10 years ago, fashion jewelry and accessories retailer Charming Charlie is on the move. With nearly $500 million in sales and over 330 domestic stores across 42 states, now the company has new strategic initiatives to drive continuous growth.
Charming Charlie will be opening another 55 stores next year, including its first New York City store in April 2015. At 16,000 square feet, the three-level flagship is set to be the largest of the brand's stores worldwide. Situated at 445 Fifth Ave. at 39th Street, the Charming Charlie flagship will be a showcase for the retailer's new store concept. Designed in partnership with Callison Architects, key elements will include a two-story, 30-foot-tall glass façade with an LED illuminated exterior that adds vivid color and movement to the storefront, 20-foot-tall double doors in the brand's signature vibrant pink lacquer, and a classic residential-style interior that mixes feminine, mid-century accents with luxe materials and whimsical details.
Known for offering a wide array of affordable fashion accessories merchandised by color, the New York City store will also house the brand's PR office and showroom.
"We are thrilled to announce our move into New York City," says Charlie Chanaratsopon, chief executive officer and founder of Charming Charlie. "It is especially fitting that this announcement comes as we celebrate our 10-year anniversary."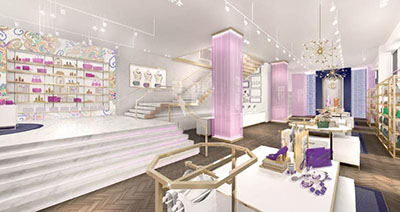 Charming Charlie also has news regarding its global expansion. The retailer opened its first stores outside of the U.S. in November, both in Canada's Ontario province (Brampton and Vaughn). Two additional Canadian stores are scheduled to open imminently in British Columbia (Victoria and Surrey). The company has also signed its first international licensing agreement to open stores outside of North America in a partnership deal with Apparel Group UAE. The agreement will result in Charming Charlie stores opening throughout the Middle East in 2015, within the countries of the United Arab Emirates, Saudi Arabia, Kuwait, Qatar, Bahrain and Oman. Apparel Group UAE is a leading fashion conglomerate headquartered in Dubai that operates over 950 retail stores. This partnership marks an important step in Charming Charlie's international strategy and signals the beginning of a significant transformation to come as the company evolves from a U.S. retailer into a global brand with a worldwide audience.
To fuel the company's growth, Chanaratsopon has put a strong leadership team in place. In addition to Steve Lovell, who joined the company as president in 2006 and who has been an instrumental force in its rapid growth and success, Chanaratsopon has made several new additions to the company's leadership team, including retail veterans Tom Fitzgerald (CFO/CAO), Toni Robinson (senior vice president, planning & allocation), Britton Russell (chief supply chain officer), Kristen Dykstra (chief marketing officer) and, most recently, Jody Austin (chief merchandising officer). Rounding out the executive team are Melissa Whitehead who joined in 2012 as senior vice president of stores after serving in various leadership roles at Ulta, Banana Republic and Victoria's Secret, and John Hnanicek who also joined in 2012 as chief information officer.
"We are delighted to welcome these strong leaders to the Charming Charlie team," says Chanaratsopon. "We are certain that their combined expertise will be invaluable during this next phase of growth and expansion."
For more information, visit www.charmingcharlie.com.
SOURCE: Charming Charlie