— By Wade Christensen —
Preserve the value of your concrete floor.
One of the most valuable assets of any commercial building is the concrete floor. It's also the most likely abused. From restaurants and supermarkets to shopping malls and hospitals and everything in between, new and existing concrete floors need to be protected from everyday wear and potentially damaging substances.
In 2018, Tin Roof Bars, a chain of popular restaurants in the South that is recognized for exceptional live music, an amazing culinary experience and a lively, eclectic venue, opened its newest location in Myrtle Beach, South Carolina.
When opening this new restaurant, Tin Roof chose a site located on the renowned seashore boardwalk on Ocean Boulevard. The location ensured patrons a panoramic ocean view, but at the same time posed a special challenge: managing the floor abrasion from heavy foot traffic laden with beach sand. A floor coating was needed that not only could withstand heavy abrasion, but also the staining, mold and mildew inherent to restaurants and foodservice operations. The coating also had to ensure easy cleaning each night after hours.
UV Concrete Floor Coatings Are Remarkably Durable and Resistant to Wear
The architect for the site chose a durable, chemical- and stain-resistant urethane coating that protects concrete floors from physical, chemical and microbial attack and wear.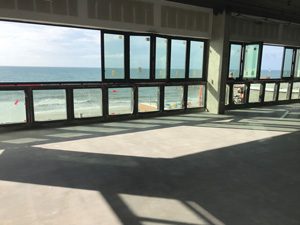 Unlike conventional concrete coatings, with a UV-cured coating there is no downtime waiting for chemical curing, and there are no potentially harmful fumes. As a portable UV light passes over the wet coating, a photo-initiator reacts with the UV light to instantly cure the film. The floor can immediately be put into service allowing tradesmen or employees to resume their activities without harming the surface.
In a restaurant environment where flooring is subject to food and drink spills, preventing the growth of bacteria, mold and mildew is critical, particularly at sites in hot, humid climates. A UV coating with Microban® eliminates microbial growth by preventing their ability to multiply. The floor remains cleaner between routine cleanings, even after exposure to harsh or caustic agents.
Easy maintenance is a huge factor when deciding on a floor coating solution. Luckily for Tin Roof, the architect chose a coating that would only require routine scrubbing, sweeping or mopping.
Coating Provides a Safe and Aesthetically Appealing Surface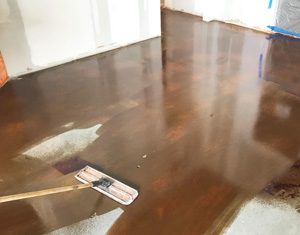 The floor coating exceeds National Floor Safety Institute certifications for coefficient of friction, ensuring employee and customer safety. It has a low VOC (volatile organic compounds) content of 3.0 g/l that fulfills state standards and it is completely environmentally safe. It's a coating that protects the floor for years to come, along with the value of investment. It will not chip, crack or form crevices like epoxies, which allow everyday encounters such as spills, foot traffic and sand to eat away at the floor coating.
The coating can also be used with floor colorants and dyes, an integral part of the interior design. At Tin Roof, a waterborne dye was applied to the floor to produce a deep, mottled brown color. In turn, the color was enhanced when coated with UV-HS Plus, and the finish had an aesthetically appealing, reflective sheen.
The flooring contractor for the Myrtle Beach Tin Roof encountered a problem concerning the water tightness of the building. Heavy rains had occurred during construction before window caulking was completed, and water was seeping onto the floor. Fortunately, once UV-HS Plus is cured it is impervious to water damage. This enabled the installer to apply and cure the coating between rainstorms, completing the floor within the allotted time frame. If a chemically cured urethane had been selected, significant delays would have occurred due to extended curing times.
UV Can Be Used for Countertops as Well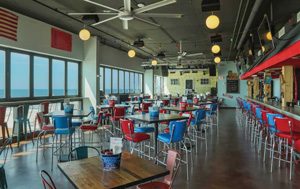 When the floor coating process was completed, it was asked if the UV coating could be used to coat the concrete bar tops. Workers stripped the existing acrylic sealer, ground the surface, and applied and cured two coats of the floor coating. The expansive bar area was completed within the 24-hour timeframe allotted for this add-on project. Tin Roof now has a bar surface and floor that will not absorb water or stain, stops the growth of bacteria, and is easy to clean.
When it comes to finding a concrete floor coating that will not crack or peel under vehicular and pedestrian traffic and that's also chemical- and stain-resistant, the choices become limited. However, these benefits and more — including low maintenance, slip resistance, and no lost production time — can be found on the new floor at Tin Roof, as well as many others.
— Wade Christensen is vice president of Niagara Machine, Inc., concrete surface preparation specialists with four showroom/service locations and nine sales locations.
abkw-text:
Tagged under