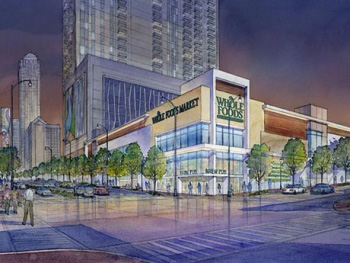 Atlanta — Whole Foods Market will celebrate its 500th store on April 5, 2019 with the opening of Whole Foods Market Midtown, a 70,000-square-foot, four-story location situated at 22 W. 14th St. in Midtown Atlanta, about 1 mile north of downtown Atlanta.
The newest location will be the 12th in Atlanta and the flagship store of the Southeast region. The Whole Foods Midtown location will offer four fast-casual eateries across the store's four levels, as well as a rooftop bar. The Atlanta Business Chronicle reports the new store will include new locations of Farmburger and Dtox Juice.
"We can't wait to welcome customers into this one-of-a-kind Whole Foods Market," says Abibou N'Diaye, store team leader. "From its extensive selection of responsibly-sourced, local, and innovative product offerings, to its four unique dining spaces, to its Atlanta-inspired design elements that capture the spirit of the community, we are confident that this store will offer something for a variety of tastes, preferences and purposes."
According to the Atlanta Business Chronicle, the development team comprises developer Related Group, general contractor Balfour Beatty and architect Phillips Partnership.
For more information, visit https://www.wholefoodsmarket.com/stores/midtownatlanta.
SOURCE: Whole Foods. Market / Atlanta Business Chronicle
abkw-text: