Custom-made concrete is leading Linron Commercial Flooring into the future, while signature service keeps the company connected to its roots.
By Lynn Peisner
Quality control, one-of-a-kind products and never saying no are the top three reasons Linron Commercial Flooring has been going strong for 25 years.
Founders Linda Krienke and Ron Harris, the "Lin" and the "Ron" collectively, came to the business in 1993 with some 60 years of prior flooring experience between them. They know and love floors so well that Krienke jokes about the video footage of her granddaughter's birth capturing as much of the hospital room's floor detailing as the blessed event itself.
Family is a priority at Linron. The founders' children work for the company, and employees who aren't blood-related are treated as if they were. Krienke and Harris have even been known to surprise employees with new cars or by paying family medical bills.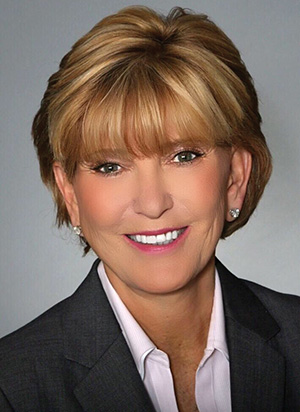 "If our employees can't get to work or have a good quality of life, then nobody benefits from that," Krienke says. "In our company, we treat our employees really well because we don't want turnover."
Keeping its 32 employees happy so they stay for the long haul pays off in the company's dedication to customer service and in the knowledge the staff brings to the job. Employees who feel valued around the office are more likely to bring passion and determination to their work. And when problems arise, which Krienke likes to call "opportunities," employees get a chance to demonstrate their strengths and earn repeat customers.
"In my mind, nobody provides customer service like we do," she says. "Our service is bar none. If we have an opportunity, we resolve it quickly, within 48 hours max. And we never tell our customers 'no.'"
Krienke recalls a job in Sebring, Florida, about a decade ago, when Linron needed to deliver 20,000 feet of material to a store during a hurricane. "We air freighted the material. We sent our tech specialist to be onsite during the installation. We were flying people and material in while everyone in the state was evacuating."
Houston-based Linron has provided and installed flooring for more than 18,000 retail stores nationwide, covering 2.2 billion square feet in 25 years in business. Its primary manufacturing partner is Lancaster, Pennsylvania-based Armstrong Flooring, who has twice in the past 2 years awarded Linron the title of Recycler of the Year for having recycled more than 50 million pounds of post consumer materials through the Armstrong Flooring On&On program.
What are the biggest obstacles to success in the commercial flooring business today? If you ask Linron, they'll tell you it's a lack of qualified installation specialists. Krienke says there are contractors throughout the United States who claim to know flooring, but when the time comes, their performance comes up short more often than not.
"We would ship a product to a store for installation," explains Krienke, "and we'd get calls claiming the material was defective. However, 98% of the time, it was the installation. Because we were going through this so often, I got together with a buyer I was working with and said, there's got to be a better way."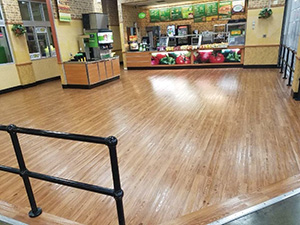 In 2013, Linron launched its "preferred" team to head off problems and ensure proper installation. This meant assembling about six contractors based in different regions throughout the United States, certifying these teams on Linron's products and providing education on the nuances and specifics of their installation technique.
"We monitor installation from beginning to end," she says. The process typically begins 12 to 6 weeks before a retailer or restaurant is set to open. This timeframe allows for the ordering of materials, setting up the flooring team and meeting with general contractors.
Linron's clients are primarily retailers, but Krienke says the company has started a division focused on restaurants, a sector that is increasingly demanding polished concrete floors and decorative concrete floors. This type of flooring, Krienke says, is the future of the company and is expected to comprise approximately 35% of business within the next 2 years.
Concrete overlay floors cover existing concrete and can be dressed up in endless styles. Epoxies in any color or materials, such as stone, glass, seashells or granite and marble aggregates, can be added to the design.
"Some big boxes and grocery chains started leaning toward polished concrete, but I've noticed the trend strengthening in the past few years," Krienke says. "A lot of restaurants, coffee shops and small boutique stores tend to want their own look. With polished concrete and the overlays, that's what we're able to provide."
Krienke says a recent client, a dance studio, wanted something with pizazz. So Linron delivered a floor with pink and silver colors, flecked with clear glass. The final result produced a shimmering effect in the way the studio's lighting system interacts with the reflections in the glass chips.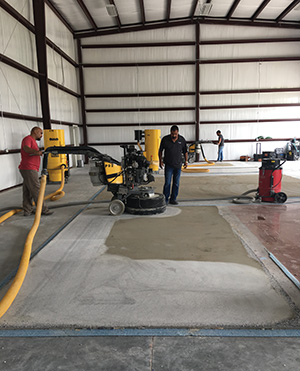 And at a marine dealership on the West Coast, Linron concocted a mix of epoxies that that gave the floor the look of seawater underfoot.
Some clients, such as universities or alumni associations, are logo-bound to their color palettes and know exactly what they want, while others can be overwhelmed by virtually endless options. So Linron developed a library of creative flooring samples to help clients visualize what's possible for their business.
"We've done a lot of research and found that the overlays and decorative concrete are the way to go," Krienke says. "The medium is open to anything. It's a whole new look. It's amazing. We've taken our product to a few trade shows and had a strong response."
Getting the looks down involves creative experimentation with different materials and finishes at the Wayne Nix Research & Development Center, located onsite adjacent to Linron's corporate headquarters.
The strong company culture within Linron translates outwardly to clients. "We see ourselves as one big family," Krienke says. "Our goal is to build relationships with the customer. If I do work for one account, one time, I still want that client walking away feeling they're part of our group. We believe in integrity, loyalty and relationships, and we want our customers to feel that."
For more information, visit www.linron.com.
— Lynn Peisner is a staff writer with France Media, Inc. Email the author at [email protected].