New York City — CRISP & GREEN is set to open in New York City on June 1. Debuting in the popular NoMad neighborhood, this location also marks the company's entry into its 10th state, with 10 additional states scheduled to open before the end of the year. Since its inception in 2016, the Minnesota-based company has consistently doubled its location count year-over-year, and the entry into this particular market symbolizes a very important turning point for the growth of the brand.
Founded by wellness industry veteran and franchising expert Steele Smiley, CRISP & GREEN serves chef-crafted salads, grain bowls, smoothies, acai bowls and breakfast — as well as provides complimentary fitness programming to its guests by partnering with local fitness instructors.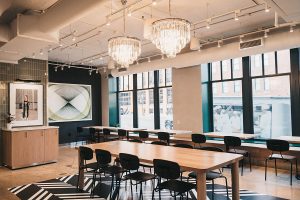 "Entering into New York City is a huge moment for any brand. For us, it's an incredible opportunity to lean into our foundation of hospitality and show this influential community why CRISP & GREEN is different from other healthy fast casual restaurants," says Smiley. "Not only are we introducing our delicious food to active New Yorkers, but we're creating a unique guest experience through our wellness events hosted on the rooftop of our NoMad location. This unique element, along with our exceptional food and world-class hospitality, will make us a neighborhood staple."
The restaurant brand is slated to reach 65 locations open across 20 states before the end of this year, and a total of 130 locations open before the end of 2024. The rapid growth is fueled by CRISP & GREEN's franchise system. Recently, CRISP & GREEN's real estate team identified over 1,700 additional territories that fit the brand's specific site criteria, giving the company room to maneuver in the pursuit of more than 1,000 units.
CRISP & GREEN'S first New York location is located at 1145 Broadway. For more information, visit www.crispandgreen.com.
Parent company STEELE BRANDS is the brand development company created by Smiley. Steele Brands' portfolio includes some of the fastest growing franchises in America including three fast-casual restaurant brands: CRISP & GREEN, STALK & SPADE and PACO & LIME. The company has more than 200 restaurants built and in development across all three brands in 20 states and growing. For more information, visit www.steelebrands.com.
SOURCE: CRISP & GREEN