— By Jayson Hill —
Five store redesigns and upgrades retailers will implement in 2021.
If 2020 was a year of survival and adaptation for retailers, 2021 will be the year they make sense of the seismic shifts they've endured, fine tuning various strategies as they embed them into the DNA of their companies and storefronts.
North Highland's 2021 Beacon survey helps reveal what senior retail managers are thinking. Eighty-nine percent of respondents said operational efficiency was a high or very high priority, suggesting they intend to spend the year perfecting strategies they implemented hastily when the pandemic first struck. Fully maximizing these investments may not be that much of a stretch: A whopping 100% of respondents to our survey said operational efficiency was very or somewhat attainable.
As online and in-store shopping converge, expect retailers to redesign stores so they can effectively fulfill online orders while continuing to deliver a positive in-store experience. Among the retail leaders surveyed, 88% said store operations' effectiveness/innovation was a very high or high priority. Even more (94%) said store operations' effectiveness/innovation was very or somewhat attainable.
Data points are one thing, but how will this translate into actual changes? Following are five ways retailers will reimagine brick-and-mortar locations in 2021:
Dedicated space for BOPIS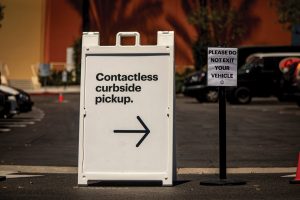 With the shift to increased online shopping and the convenience of "buy online, pickup in store" (BOPIS), more retailers are seeking to make the shopping experience — no matter how a customer engages with them — seamless. Implementing convenience factors like dedicated BOPIS pickup areas or lockers in stores will allow customers to quickly retrieve their goods with minimal friction. Implementation could be achieved in the following ways: placement of BOPIS areas/lockers in all of a retailer's stores; collaboration between online and brick-and-mortar retailers to fulfill online orders in partner retailer stores; and partnerships between retail and shipping/logistics partners to ship or receive items from other retailers, improving selection and increasing in-store traffic.
Closing the loop on the omnichannel experience
In recent years, increased consumer adoption of e-commerce solutions has driven an increase in the volume of returns and exchanges at brick-and-mortar locations. There is a multifaceted need to both improve the returns experience and increase attachment sales when customers are in stores. Operational efficiency to improve the returns experience can be achieved through robust training of associates to quickly manage all transaction types (e.g., online order return, online order from store, exchange for an in-store item, etc.) as well as through providing updated or dedicated space and systems to enable this transactional flexibility. Upgrading to modular and efficiently curated queuing spaces are imperative to both customer speed-of-service and increased attachment sales.
Continual flexibility of store spaces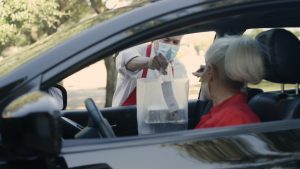 While specific types of long term upgrades to store layouts will be prevalent, retailers also need to maintain nimbleness. The pandemic has demonstrated that retailers must adapt to customer demands on product and space allocation quickly. Rapid adaptation in areas such as off-shelf space merchandising, based on continuous insights into consumer demands, is critical to maximizing sales/space efficiency.
Improving the checkout experience
Retailers that effectively redesign checkout areas for improved customer experience, labor efficiency and speed of checkout will be well positioned for future consumer behavior shifts. Focusing on improvements such as front end and cash-wrap redesigns to push more self-serve options will increase the speed of checkout and allow more room for pandemic adjustments and additional merchandising space after the new normal stabilizes. As the push for margin improvement becomes greater, efforts to keep rising store labor costs in check will position retailers to maintain brick-and-mortar profitability.
Curbside signage and pickup areas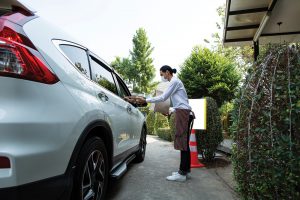 Convenience for the customer is a key to 2021 retail growth. Reducing the friction and time to pick up items (including adding more pickup options) goes a long way to establishing customer loyalty, even if it means foregoing impulse purchases. New curbside pickup options continue to emerge as retailers test and learn the process. Once they have mastered these, more permanent space will be dedicated to this fulfillment method, which customers will welcome. Adjacent industry disruptors, such as last-mile delivery options fulfilled through the gig economy, will also be able to leverage intelligent infrastructure investments such as curbside pickup systems and signage enhancements.
While many of the current shifts in the design of brick-and-mortar retail spaces have been driven by the current pandemic, the changes will position retailers well for the post-pandemic world. It is imperative to manage these near-term capital investments with the future in mind, realizing that sales and fulfillment channels each have their own respective optimization needs that impact the overarching goal: operational efficiency. Pragmatic and forward-looking planning, based on continuous analysis of consumer preferences, can be the difference between becoming an industry leader and an industry laggard.
— Jayson Hill is an associate vice president in the Retail & Consumer Products practice at North Highland, a change and transformation consulting firm.
classic-editor-remember:

classic-editor

abkw-text:
Tagged under