— By Chris Birkinshaw —
Limited-service concepts, high-quality food options take pole position for QSR buildouts.
The COVID-19 global pandemic changed the landscape of many businesses. As we move forward with vaccines and a stronger understanding of how the virus spreads, businesses are more confident in reopening. Some are returning to pre-COVID operations, while others have taken on a complete redesign of operations to survive. For the restaurant industry, re-examining all operational processes and costs is taking place at a rapid, reactive rate. For many, this includes re-examining the brick-and-mortar concept, and many quick-service restaurants (QSR) are finding they may not need the hassle and headache with lots of square footage. At Aloha Poke, we were re-conceptualizing our operations for the future well before the global pandemic. From what we learned, the pandemic left an entire industry to figure out new ways to re-capture sales and maintain brand integrity while trying to reach both loyal and new customers.
As many restaurant concepts were forced to abruptly pivot or re-conceptualize entirely, the model we were moving toward with Aloha Poke allowed us to lean in as COVID sharply accelerated trends that were already there. Here are a few lessons behind our philosophy and experience.
Being Honest About Commercial Real Estate Needs
Interestingly, the fast-casual marketplace had been subtly signaling new attitudes toward commercial real estate needs. The cost of a 2,400-square-foot end-cap had been on the rise exponentially, given the number of restaurants bidding for the same piece of real estate. So, it's not uncommon to see the end-cap in the strip side that maybe could accommodate a drive-thru or window and have four to five different fast-casual concepts running up the per square foot price because they're trying to out-bid each other to win the space. What isn't always considered is that the economics are different from the rent equations, placing higher demands on bottom lines to yield more significant profit margins.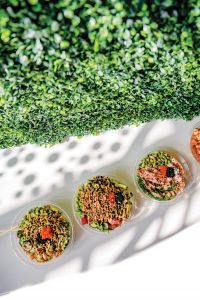 The Aloha Poke model evolved based on several factors that did not require the 2,400-square-foot end-cap. What we learned was that we didn't compromise brand integrity, food quality, or the customer experience by occupying less space. This has been an advantage of Aloha Poke's for some time because we don't require the back-of-house space that you need when you have a 25-foot line of custom equipment or when you have grills, fryers, ventilation systems, and fire suppression and all other equipment needs. We're able to move into spaces that other brands couldn't get into either because of their equipment needs or couldn't get into because of the per square footage needs. This allowed us more opportunities to capture high-profile spaces that were too small for other concepts.
Buildouts Built Better
Trends associated with convenience and quality have been around long before COVID and the departure from fast food to fast-casual became clearer. When fast-casual disrupted the QSR industry at the turn of the century, the differentiators were obvious: on one side were the fast-food giants offering the most calories per dollar, and on the other side, there were emerging concepts providing higher-quality food, a healthier experience, and re-defined the "hangout" space (think Starbucks). Then the QSR industry did what great companies do — they evolved to enhance convenience, embrace technology and dramatically modernize their builds and remodels to all but remove the distinctions.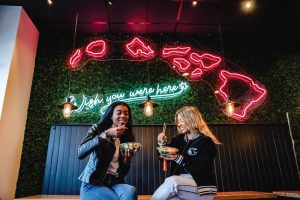 One distinction that gained more momentum than the others was the pay-last model. This model required a process of training customers on how to order. The comprehensive menu and "personalization" of food orders placed a strain on physical spaces needed to guide customers toward the first ordering point, then the "topping bar" followed by an exit-only path from the point-of-sale. Though thoughtful from a guest perspective, this concept was cumbersome, took up too much space, and didn't add to the guest experience. As new technologies emerged and pre-ordering, digital carry out and 3PD options became available, many fast-casual restaurants were left with wasteful spaces and surging overhead costs to maintain those spaces.
As the pandemic subsides, the challenge for restaurateurs and brands will be to capture what customers want in a dining experience. In some respects, it may be that they want to go back to experiential concepts because they haven't been able to for some time, but that will subside. I believe that the COVID effect will last for quite some time, and many people have found a new love of eating in with takeout.  I think the restaurant of the future will be oriented toward less friction between the customer and the ordering experience, less reliance on a differentiated physical brand experience, and more focused on the digital experience with a brand and functionality of the consumer's footprint. Seats in dining rooms will still have a place, but far less so than before. The restaurant of the future is being reimagined right now, and it will be interesting to see which trends fade and which trends remain. The winners will continue to focus on the off-premises experience while simultaneously providing high-quality foods, value, efficiency and rebalancing the amount of expensive square footage dedicated toward an in-person dining experience.
— Chris Birkinshaw is the CEO of Chicago-based Aloha Poke Co., a fast-casual franchise serving poke bowls filled with healthy, fresh, quality ingredients. Birkinshaw's 20 years of progressive positions and expertise working with national restaurant chains have earned him a reputation as a dynamic and incisive leader combined with unique industry knowledge. He started his career at Starbucks in store-level operations, eventually moving to Potbelly Sandwich Works, where he held senior management positions across departments including Operations Services, New Store Development, District and Regional Operations, and Franchising.
classic-editor-remember:

classic-editor

abkw-text:
Tagged under