Why air curtains blow vestibules out the door.
By Robin Zambrini
The ancient Greeks designed special entryways to their temples and the Romans built partially enclosed porches on the front of their homes, thus paving the way for this era's entryway vestibule. Through the ages this entrance area consisting of an outer door and inner door has served as a transition space intended to reduce infiltration from one side of the opening to the other — that is, until a device called an air curtain stepped forward to blow this tradition out the door.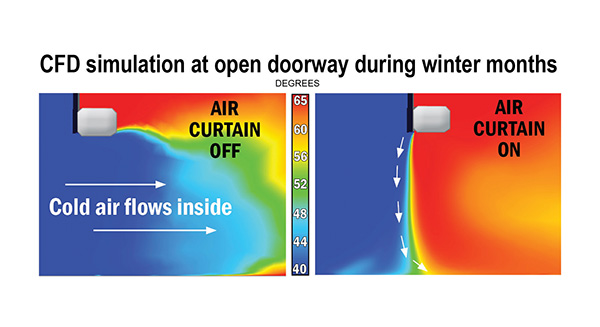 Doing more with less' is the catchphrase of the modern business world — less cost, less waste, more effort on strategically defined usage and ROI. The retail construction world has been tasked with designing stores with smaller footprints that provide better services to lure shoppers inside, and the only way to get there is through that front door.
Customers, however, aren't the only movement through an entrance door. Infiltration of outside air during cold winter months spikes heating costs and causes unpleasantness for cashiers or others stationed near the doors.
"Investigation of the Impact of Building Entrance Air Curtain on Whole Building Energy Use" is the title of an independent study commissioned by the Air Movement and Control Association International, Inc.(AMCA). Phase one (2013) of the study by Liangzhu (Leon) Wang, Ph.D., assistant professor at the Department of Building, Civil and Environmental Engineering of Concordia University, Canada, and member of Centre for Zero Energy Building Studies, states that:
"For commercial buildings, air infiltrations can be as high as 18% of the total heat loss. Air infiltrations (or air leakages) are often caused by unintentional or accidental introduction of outside air into a building through cracks in the building envelope and/or entrance doors. Infiltrations through door openings become quite significant when the doors are used frequently such as in restaurants, retail stores, supermarkets, offices and hospitals (DOE 2012)."
The Vestibule Emerges
Recognizing the significance that air infiltration at entrance doors has on energy usage, American Society of Heating, Refrigerating and Air-conditioning Engineers (ASHRAE) Standard 90.1 and International Energy Conservation Code (IECC) mandated that vestibules be required in commercial construction with some exceptions such as doors that open into a space less than 3,000 square feet.
Since then, retailers have often turned to air curtains to augment vestibules. Air curtains installed above a doorway discharge a 'curtain' of downward moving air over the full length and width of an opening to prevent infiltration from entering — the first line of defense so to speak.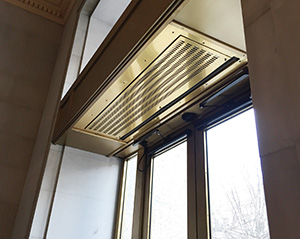 But it also begs the question, "Do we really need both?" Vestibules aren't inexpensive to construct and have other disadvantages. According to the Wang study, "A vestibule could cost anywhere from $20,000 to $60,000. In addition, a vestibule becomes ineffective when both entrance doors open simultaneously during heavy traffic periods so as to allow cold outdoor air to penetrate."
Vestibules also consume valuable floor space that could be used, well, to sell product! They also require additional doors that create maintenance costs and safety issues.
The vestibule versus air curtain theme plays a major role in Wang's study involving a modeled medium-size building and his findings support the benefits of air curtains, as evidenced in part:
The whole building annual energy use when the air curtain is installed is less in all the climate zones: it is less than the single door in the climate zone 1-3, and less than the vestibule door in the climate zone 3-8.
The modeled air curtain door is shown to reduce air infiltration significantly under the same conditions when compared to either the single door or the vestibule door.
The modeled air curtain door is shown to provide comparable performance as the modeled vestibule door for the climate zone 3-8. Compared to the vestibule door, the air curtain door can save 0.3% to 2.2% energy for zone 3-8, corresponding to 1146 kWh ~ 18986 kWh. Better performance will be achieved for colder climate.
The Air Curtain Exception
Presented with Wang's evidence and an appeal from the air curtain industry to revisit its stance on vestibules, the International Code Council (ICC) voted to change the 2015 version of the IECC code to include the following EXCEPTION to the vestibule rule:
(6)   Doors that have an AIR CURTAIN with a minimum velocity of 2 m/s at the floor have been tested in accordance with ANSI/AMCA 220 and installed in accordance with manufacturer's instructions. Manual or automatic controls shall be provided that will operate the air curtain with the opening and closing of the door. Air curtains and their controls shall comply with Section C408.2.3.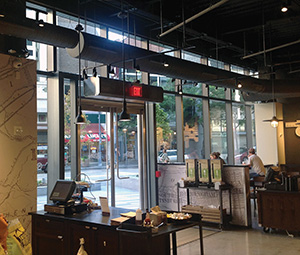 This change is especially relevant in Climate Zones 3-8 where colder climates prevail. Climate Zones 1-2, representing warmer year-round temperatures, are originally listed as an exception to the vestibule rule since infiltration of cold air is not an issue. However, Wang's study documents energy savings for air conditioning when an air curtain is used at single door in Climate Zones 1-2, thus supporting air curtain benefits in all climates.
As of February 2017 there were 12 U.S. states that have adopted IECC 2015 as a standard code allowing for air curtains of a specific design and construction to replace vestibules. Those states include Alabama, Illinois, Maryland, Massachusetts, Michigan, New Jersey, New York, North Dakota, Texas, Utah, Vermont and the state of Washington.
In addition to serving as a replacement for vestibules and the benefits derived from energy savings, air curtains also provide a cooling effect upon those entering establishments located in warmer climates, and help to prevent flying insects, automobile fumes, cigarette smoke or other odors from entering in all climates.
References:
Wang, Liangzhu (Leon) Ph.D, "Investigation of the Impact of Building Entrance Air Curtain on Whole Building Energy Use," retrieved from: http://www.amca.org/UserFiles/file/Energy%20Initiative%20Web%20Pages/Air%20Curtain%20Study(1).pdf
U.S. Dept. of Energy, Vestibule Requirements in Commercial Buildings, retrieved from: https://www.energycodes.gov/sites/default/files/documents/cn_commercial_vestibules.pdf
International Codes-Adoption by State (Feb 2017), retrieved from: https://www.iccsafe.org/wp-content/uploads/Master-I-Code-Adoption-Chart-Feb-2017.pdf
— Robin Zambrini is the marketing manager for Greenville, Pennsylvania-based Powered Aire Inc., a global manufacturer of high performance stainless steel air curtains for the commercial, industrial, material handling, overhead door, cold storage and foodservice industries. For more information, visit poweredaire.com.