Conshohocken, Pa. — David's Bridal plans to debut a new store format in select locations. Following the momentum the bridal chain built earlier in the year with the soft launch of this concept in select locations including Torrance, Calif.; West Chester Township, Ohio; Lexington, Ky., and Cool Springs, Tenn., the retailer anticipates roughly 30 new format stores in 2023 including 12 brand new locations. Moving forward, the majority of the remodeled stores will follow this same concept and format. The opening and reopening of these locations is part of a continuing commitment to update and improve David's existing store base and its physical footprint to better serve the modern customer.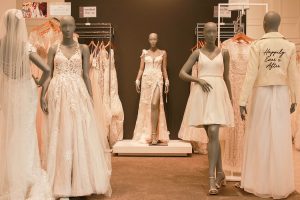 The retailer developed a newly updated store layout that caters to one-on-one customer experiences. The enhancements create a completely personalized and interactive shopping experience for customers of any occasion. At these new locations, customers can walk in or make an appointment to have a one-on-one shopping experience with an expertly trained stylist and in-house alterations artisan for all of life's special occasions. Select stores will also feature new brand offerings including a customization lounge and try-on bar. The stores emphasize inclusion and carry thousands of dresses in sizes 0-30W with options for different body types, heights and skin tones.
"Our vast retail footprint and team of expertly trained stylists coupled with our personal in-store experience is why millions of customers trust us every day to help them find their dream dress," says Jim Marcum, CEO of David's Bridal's. "We remain focused on continuing to expand and enhance our customers' shopping experience. Serving her is what we do, and we are committed to offering the best in-store experience from the moment she steps into our stores to when she finds her dress and beyond."
As is the trend in retail, David's continually assesses its store fleet to be sure to stay ahead of changing needs of the modern woman. This includes ensuring stores are equipped to provide their consumers with whatever they may need for their special day, from designer shoes and jewelry to intimates and gifting. The retailer's newest addition of in-store shimmer and shine shops and try on bars allows for a seamless shopping experience to guarantee the perfect look.
David's Bridal has more than 300 stores across the U.S., Canada, UK and franchise locations in Mexico. For more information, visit www.DavidsBridal.com.
SOURCE: David's Bridal, Inc.