— By Ahmed Abouelenein —
Today, ghost kitchens are more important than ever.
Early on, The Halal Guys embraced the possibilities inherent in ghost kitchens as a tool to expand the reach of our business and grow revenue. We now have become one of their leading proponents for several reasons.
In essence, ghost kitchens are 100% delivery-only facilities, alleviating our brick-and-mortar and cart locations, especially during peak times. They help take the pressure off our retail businesses. As a result, our brick-and-mortar locations have been able to wholly focus on providing a high-level of hospitality and service to each and every guest who walks in the door or lines up for the carts. And at the commissary kitchens, we're able to take on large orders because we now have the bandwidth to expand our burgeoning catering business where there is huge potential to continue to grow.
Third-party kitchens also require much smaller crews without impacting levels of service. This type of kitchen format allows The Halal Guys to streamline its operations with a minimal amount of staff and staff contact with food and prep, all while giving us the ability to prepare food for large amounts of guests. Moreover, they allow us to focus, on a granular level, on kitchen operations from cleanliness, health safety and sanitation standpoints.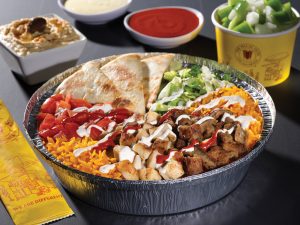 In addition, non-traditional sites like ghost kitchens are great avenues for testing new products to see how they are received by guests and troubleshoot any obstacles before they go live in a brick-and-mortar. They are great testing grounds for streamlining or enhancing operational issues as well.
The COVID-19 pandemic has affected the restaurant and food industry worldwide, and our restaurant and cart operations are no exception. Our 90+ brick-and-mortar locations now exclusively offer delivery, curbside and pickup, which is where we have recently pivoted our marketing and communications efforts. After an initial burst of cooking at home by consumers in the first weeks of the crisis, we have noticed they are now reverting to wanting takeout again. Now more than ever, our ghost kitchens are playing a huge part in serving our communities and providing them with fresh, delicious complete meals at very attractive price points.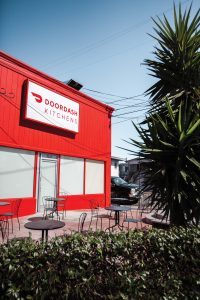 The restaurant industry has been severely impacted by COVID-19. With restaurants shutting down their dining rooms and limiting the ability for customers to come into the restaurants, ghost kitchens can not only survive but also thrive in this unprecedented time of increased delivery demand. COVID-19 will change the restaurant industry significantly; many impacts are still yet to be seen. So long as restaurants are delivering, ghost kitchens will continue to play a crucial role in serving our customers for as long as we can safely do so during COVID-19 and beyond.
— Ahmed Abouelenein is the CEO of The Halal Guys and son of one of The Halal Guys founders, Mohammed Abouelenein. Ahmed grew up working the original cart on 53rd and 6th in New York City in 1990 and, in 2009, became CEO. Since then, he has grown the concept to 95 locations within North America, Indonesia, the United Kingdom and South Korea through franchising with Fransmart. The Halal Guys currently operates within three ghost kitchens in California (Cloud Kitchen, Kitchen United and DoorDash Kitchen) and its own commissary delivery-only kitchen in New York City. For more information, visit www.thehalalguys.com.
classic-editor-remember:

classic-editor

abkw-text:
Tagged under