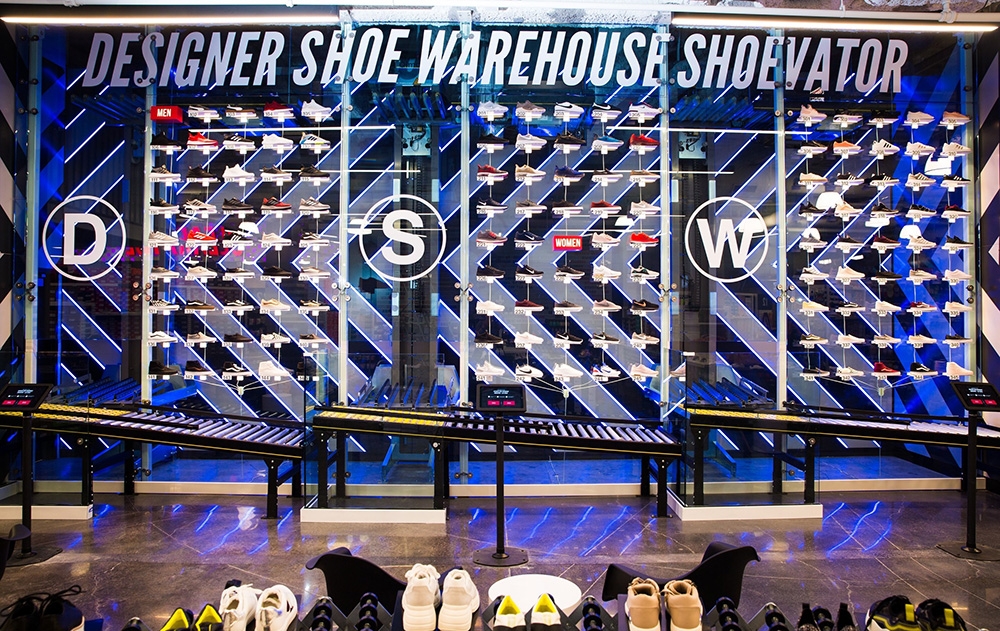 Columbus, Ohio — DSW Designer Shoe Warehouse has opened its newest store on the Las Vegas strip. Located in the Showcase Mall on S. Las Vegas Boulevard, the store is half the size of a typical DSW but delivers the experience and spectacle Vegas crowds expect. It builds on the company's recent moves to innovate with nail bars, repair services, custom performance inserts and a new store design, based on its Polaris lab store near Columbus, Ohio.
At the Las Vegas location, customers are drawn from the Strip into the store through a video-covered passageway creating a sensory experience of light and sound on three sides, giving the feel of being inside the visual display. "Our 'video tunnel' is an immersive and exciting feature that makes customers feel as if they're flying over a city, swimming under water, or walking through a desert," says DSW Inc. CEO Roger Rawlins. "In reality, they're travelling down an escalator into the new DSW sales floor, where more unique experiences await."
The store features a one-of-a-kind "Shoevator™," or shoe elevator (pictured here). The display wall of shoes includes three elevator lifts, serviced from a mezzanine over the sales floor. Customers order shoes from the wall via the DSW app or a tablet located at a nearby kiosk, which alerts an associate on the mezzanine. The associate receives the order, picks the ordered shoes, and sends it to the sales floor in a numbered bin via the "Shoevator™" where the customer picks it up.
"It's essentially a giant shoe vending machine," explains Rawlins, "inspired by the assembly line-style mechanisms that we use to move product around our actual warehouse."
DSW Designer Shoe Warehouse is a leading branded footwear and accessories retailer that operates more than 500 stores in 44 states. Founded in 1991, DSW is a division of Columbus, Ohio-based DSW Inc., which operates a portfolio of several value retail concepts under the DSW and Town Shoes Limited brands. Products are available across North America at close to 1,000 retail outlets and via e-commerce sites and a mobile app. For more information, visit www.dsw.com and www.dswinc.com.
SOURCE: DSW Inc.
Tagged under