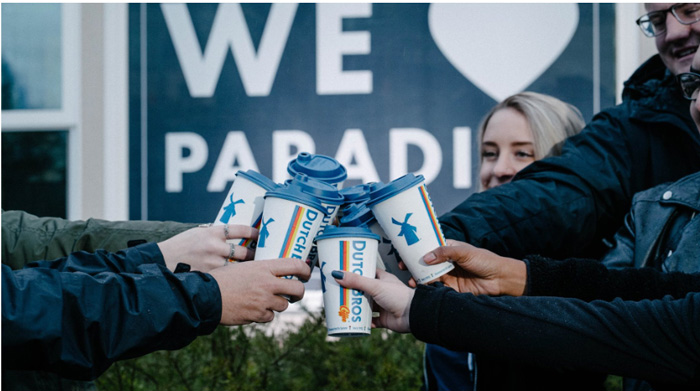 Paradise, Calif. — On April 1, 2019, Dutch Bros Coffee reopened its doors in Paradise, Calif., nearly 5 months after the community was devastated by wildfires. This was California's most destructive fire in history, with over 14,000 homes lost and approximately 25,000 people affected.
"The hope is that the reopening will help customers feel a sense of normalcy and comfort again, even if it's for 5 minutes going through the drive-thru," says Matt Long, operator of Dutch Bros Paradise. "Our community has been through so much, and whatever we can do to help our customers smile, we'll do it."
In November 2018, Dutch Bros held a companywide giveback campaign to support wildfire relief efforts in California, raising $401,530 for local non-profit organizations directly serving fire victims with immediate needs. Now, the employees of Dutch Bros Paradise are volunteering with the Neighborhood Church of Chico and Alliance Builders Foundation, helping families recover personal items from the ashes, such as jewelry, coins and other invaluable keepsakes that may have survived the flames.
"Reopening Dutch Bros means so much to us," says Casey Olson, shop manager of Dutch Bros Paradise. "After such a devastating event, where so many lost everything, we want to be a place where people can come together to have a genuine conversation and share a familiar friendly smile. Our community is strong, and we will be there to welcome everyone back!"
The recovery effort in Paradise is ongoing, and the town has been without clean water since the wildfires occurred. To ensure the safety and health of its customers, Dutch Bros is bringing in a permanent water tank and will utilize its existing canister water filter system, which is clean and meets health department standards.
Dutch Bros Coffee is the country's largest privately held drive-thru coffee company, with more than 330 locations in seven states. The company is headquartered in Grants Pass, Ore., where it was founded in 1992 by Dane and Travis Boersma. For more information, visit http://www.dutchbros.com.
SOURCE: Dutch Bros Coffee
classic-editor-remember:

classic-editor

abkw-text:
Tagged under