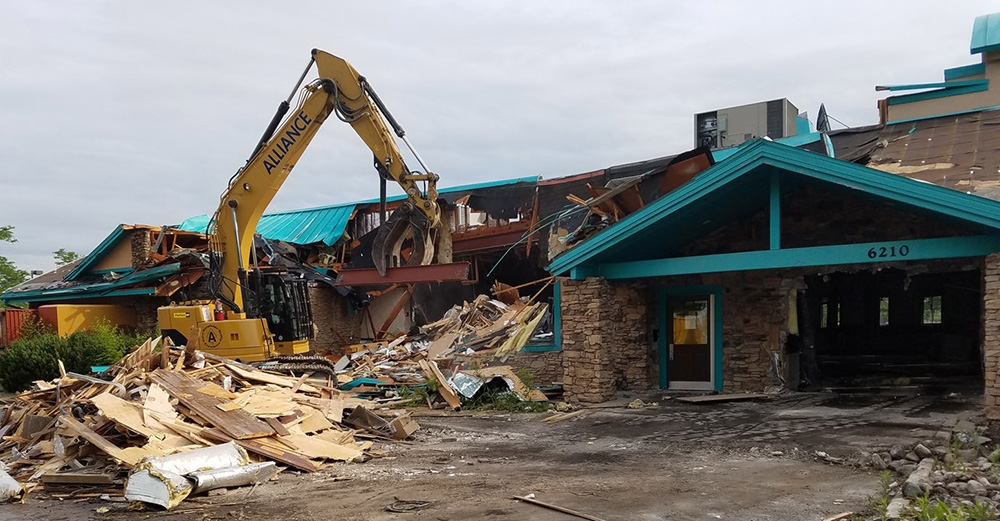 Chicago — Englewood Construction has begun work on six restaurant projects, including three new Wings Over restaurants in Athens, Ga., Clemson, S.C., and College Park, Md.; a new Outback Steakhouse in Gurnee, Ill.; the renovation of an existing Ruth's Chris in San Diego; and the construction of the base building and utility infrastructure for a planned CoreLife Eatery in a Springfield, Ill., retail center owned by Seritage Growth Properties.
"A prominent trend our team noted while attending ICSC RECon 2018 this spring was continued optimism among restaurant brands and developers thanks to sustained growth in the restaurant sector, which is prompting national and regional brands to capitalize on this momentum by introducing new concepts, expanding their footprints, or moving existing restaurants to more desirable locations," says William Di Santo, president of Lemont, Ill.-based Englewood Construction. "These new projects reflect the industry patterns discussed at RECon as well as trends Englewood's restaurant group has already experienced first-hand in our work. They also reinforce the value of partnering with a national contractor that can come into any market and deliver a seamless construction experience."
Wings Over Adds 3 Locations in Southeast
Based in Hadley, Mass., Wings Over, an aeronautical-themed takeout and delivery restaurant chain currently with locations in 12 states, has tapped Englewood Construction to build restaurants in three new states as it expands to markets across the Southeastern U.S., including Athens, Ga., Clemson, S.C. and College Park, Md. All were designed by Des Plaines, Ill.-based Chipman Design Architecture, Inc.
Outback Steakhouse to Relocate in Gurnee, Ill.
In Gurnee, Ill., Englewood has begun construction on a new 6,524-square-foot Outback Steakhouse for Tampa, Fla.-based Bloomin' Brands. Outback will relocate its current Gurnee restaurant at 5642 Northridge Dr. to the new location later this year. Lexington, Ky.-based Janet L. Pugh is the architect.
"To adapt to changing markets and demographics, some of our clients are taking advantage of available real estate deals and moving within the same market to improve their location," says Di Santo. "The new Gurnee restaurant is a perfect example of how adept Bloomin' Brands is at recognizing market trends and capitalizing on real estate opportunities as they arise. We are pleased to continue our partnership with this long term client, providing construction services to match their business goals."
Englewood's extensive history with Bloomin' Brands includes the recent completion of Outback restaurants in Downers Grove, Ill.; Merrillville, Ind.; and Springfield, Ill.; the company has also tapped Englewood for construction projects for other brands in its portfolio, including a Fleming's Prime Steakhouse and Wine Bar in Pasadena, Calif.
Ruth's Chris Remodels in San Diego
Winter Park, Fla.-based Ruth's Chris has embarked on a remodel of its existing 6,382-square foot location at 1355 North Harbor Dr. in San Diego. Doral, Fla.-based HMD Group Architects is the project architect. The renovation project entails updates to millwork, flooring, tile, lighting, paint and wall coverings.
"We've had the opportunity to work with Ruth's Chris on several interior remodels, including most recently at the brand's downtown Chicago location," Di Santo says. "We're pleased to continue our relationship with this client as we bring our restaurant group's expertise in luxury dining to this renovation project."
Retail Center Preps for CoreLife Eatery in Springfield, Ill.
Englewood has been selected by Seritage Growth Properties for the ground-up construction of the base building and utility infrastructure for a new restaurant location in the Sherwood Plaza retail center in Springfield, Ill. CoreLife Eatery, a Syracuse, N.Y.-based fast-casual restaurant chain specializing in healthy food, is slated as the new tenant. Sherwood Plaza has recently undergone a major renovation and is adding several new tenants in addition to CoreLife. The retail center, formerly home to big box retailers Kmart and Staples, has been converted to a multi-tenant shopping center anchored by Burlington Coat Factory, Binny's Beverage Depot and Orangetheory Fitness.
"As developers and owners look to bolster traffic at existing retail centers, restaurant options continue to be a solid addition to their tenant mix, whether they are adding new frontage properties or converting existing space," says Di Santo.
The 3,200-square-foot restaurant, designed by Cleveland-based KA Architecture, is one of two stand-alone buildings at Sherwood Plaza. The second, which was also built by Englewood, is a 6,524-square-foot Outback Steakhouse completed earlier this year.
Englewood Construction, Inc. is a commercial general contractor specializing in the construction of retail, restaurant, shopping center, hotel, education and office/industrial projects throughout the United States. Established in 2001, Englewood Construction has managed over 500 projects in 36 states and amassed a national qualified vendor base exceeding 20,000 subcontractors and suppliers. For more information, visit www.eci.build.
SOURCE: Englewood Construction, Inc.