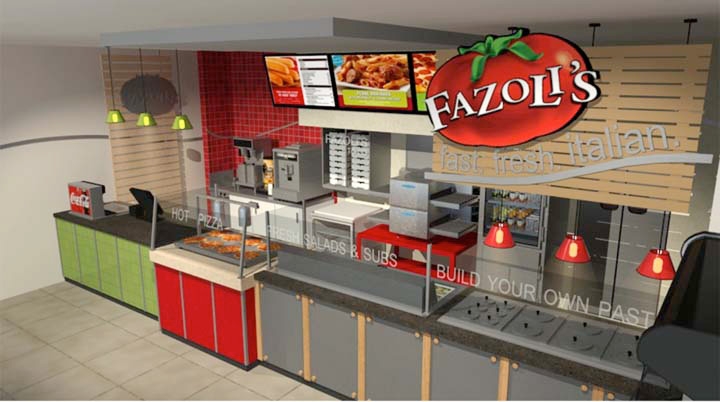 Lexington, Ky. — Fazoli's, an elevated QSR Italian chain, has signed a multi-unit deal with new franchisee Impact Hospitality Group. In addition to acquiring two existing locations in Columbia, S.C., the group also plans to develop five additional restaurants in and around the Columbia area over the next few years, with the first location slated to open in 2019.
"As we look back on the success Fazoli's has achieved in 2018, and ahead to the many exciting initiatives and campaigns we have in place for 2019, we are thrilled to be welcoming an esteemed group of franchisees like Impact Hospitality Group to help us make those plans a reality," says Carl Howard, president and chief executive officer of Fazoli's. "Being able to attract this level of talent to the brand continues to speak volumes to the momentum and trajectory of the company. We look forward to the heights this group is capable of taking the Fazoli's brand in the coming years."
Franchise and foodservice veteran Mike Lokhandwala will lead Impact Hospitality Group's efforts. Lokhandwala is a current multi-unit and multi-concept franchise owner of Wingstop, Huddle House and Church's Chicken. Having experience in nearly every facet of the foodservice industry, Lokhandwala began his career as a chef at Popeye's, working his way up the ladder to managerial positions, until eventually pursuing an entrepreneurial career in franchising. Today, Lokhandwala owns and operates over 35 restaurants across all four brands. Impact Hospitality Group plans to keep the two Columbia Fazoli's restaurants open, preserving the existing management team to ensure a smooth and seamless transition.
Fazoli's has nearly 220 restaurants in 28 states and is targeting new U.S. markets. For more information, visit www.ownafazolis.com.
SOURCE: Fazoli's