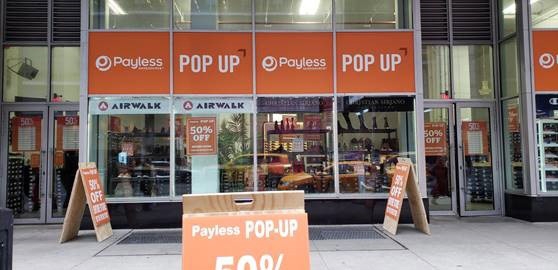 New York City — Payless, a trusted name in footwear and accessories for over 60 years, recently opened its first ever holiday pop-up location in New York City. The temporary store, which opened just before Thanksgiving, is located at 136 W. 42nd Ave., between Times Square and Bryant Park.
"We wanted to try a new approach and a different store layout to showcase our product offering and better highlight our top brands," says Darren Haddock, senior vice president of retail operations for Payless. "What better place to try out this concept than the hub of holiday shopping excitement, right in the heart of New York."
In addition to the New York location, the company opened eight additional pop-up stores across the country. The temporary locations, many of which are housed in large, open industrial spaces, have a more modern look and feel than traditional Payless brick-and-mortar stores.
"We've got some exciting things going on at Payless, and the pop-ups are just one of the many projects we've been working on," says Sara Couch, head of marketing for Payless. "This is what it looks like when a 60-year-old company starts to step out of its comfort zone and have a little fun."
Payless is one of the largest specialty footwear retailers in the Western Hemisphere. Founded in in 1956, today Payless has over 3,400 stores and an increasing e-commerce presence. For more information, visit www.payless.com.
SOURCE: Payless