Boston — Figs by Todd English, the casual dining concept founded by award-winning celebrity chef and restaurateur Todd English, is now franchising with the help of Fransmart, an industry-leading franchise development company, to bring its original thin crust pizza and authentic Italian cuisine across the globe.
Originally launched in the historic Charlestown neighborhood in Boston, Figs already has a successful international footprint to build from, with four existing corporate locations throughout the United States and three in the United Arab Emirates and Kuwait. Together with Fransmart, the concept is seeking experienced franchisees to expand the concept to major markets worldwide.
"I first saw Figs 10 years ago and saw it as a 1,000-plus unit neighborhood pizza, pasta, wine bar and have been chasing Todd ever since," says Dan Rowe, CEO of Fransmart. "Figs is already a successful international brand with a footprint that will be easy to build on."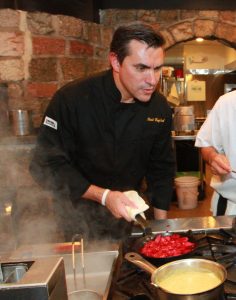 Renowned celebrity chef Todd English (pictured) envisions Figs as a replication of his humble beginnings in Italy while delivering on his passion for pizza, of which he describes as a pizza obsession. With a neighborhood feel, Figs is designed to be a place where you can frequent a high-quality pizza at a reasonable price.
The concept's claim to fame is that it never serves a perfectly round pizza, but rather an imperfectly perfected dough that creates the quintessential thin crust Italian pizza. According to English, pizza is all about the crust. The freeform shape and finely crisped quality is achieved with special dough-making technique and precise cooking time at a very high temperature.
Figs currently operates seven corporate locations: four in the United States throughout Massachusetts, New York and Florida, and three internationally in the United Arab Emirates and Kuwait. Figs founder Todd English is a recipient of three James Beard Foundation awards, including National Rising Star Chef, Best Chef in the Northeast and Who's Who in Food and Beverage in America. For more information, visit www.toddenglishfigs.com.
Founded by Dan Rowe, the man who identified and grew brands such as Five Guys Burgers & Fries and Qdoba Mexican Grill from single unit businesses to the powerhouse chains they are today, Fransmart's current and past franchise development portfolio brands have opened more than 5,000 restaurants worldwide. For more information, visit www.fransmart.com.
SOURCE: Figs by Todd English
classic-editor-remember:

classic-editor

abkw-text:
Tagged under