— By Katie Lee —
At Mamoun's Falafel, it's one big, happy (growing) family — with over 40 new franchises soon to join the fold.
As one of the oldest falafel restaurants in New York City, Mamoun's Falafel has long held the title of being the most authentic and flavorful falafel in the city. The first location opened in Greenwich Village in 1971 and has been family owned and operated for over 45 years. Founder Mamoun Chater, who had emigrated from Damascus, Syria, had little time for the pipe dream of franchising — he was too busy working day in and day out.
The 200-square-foot flagship in the Village was followed 5 years later by an opening in New Haven, Connecticut, which was designed for Mamoun's brother to run and is still operated by Mamoun's nephews today. Decades passed, and it wasn't until 2004 that Mamoun's opened a third restaurant, this time in the East Village at St. Mark's Place. Years later, three New Jersey locations opened in relatively quick succession in Hoboken (2011), New Brunswick (2012) and Princeton (2014). Still, franchising was not a focus.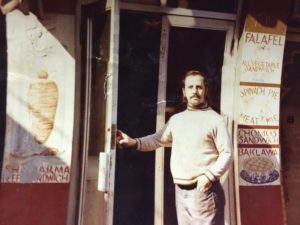 "There was always a strong demand for us to franchise, but up until 2014 it was always a tightly run, family owned and operated business," says Hussam Chater, co-owner and CEO (and youngest son of Mamoun). "There always had to be a family member working at all hours of operation. We knew that was never a recipe that you could use to franchise."
However, by 2014-2015, enough operational and technological systems were in place — including the addition of a point-of-sale system — that other people outside of the family could be relied upon to execute the systems.
"One of the biggest challenge for me and my brothers was letting go of control and learning to delegate, but we soon learned that by developing standardized systems and incorporating technology into those systems, we can successfully do so without compromising the integrity of the brand," Chater says.
Today the company is busy rolling out additional technology, such as a mobile ordering app, an online training platform called 'Mamouniversity,' and integrations with third-party ordering apps like UberEats, GrubHub and Door Dash.
Also, in 2015, Fransmart, an industry-leading franchise development company behind the growth of brands like Five Guys Burgers and Qdoba Mexican Grill, was seeking to add a Middle Eastern/Mediterranean concept to its portfolio and approached Mam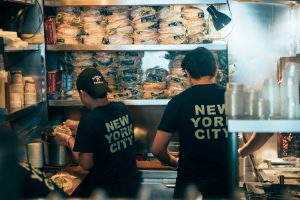 oun's about franchising. With shiny new systems in place, the timing was finally right.
In 2015, Mamoun's officially partnered with Fransmart and since then, has sold over 50 units and almost doubled its store count, with 10 locations now operating between New York City, New Jersey, Pennsylvania and Connecticut.  And with units currently under development in L.A. and Chicago, Chater and his brothers plan to expand the legacy of their father coast to coast.
"We want to grow the brand while still respecting the history that we have," he says. "And that's what drives us."
The goal, according to Chater, is to replicate on a national basis the same quality and standards that his father stood for during his lifetime and which have defined and sustained the brand for over 45 years.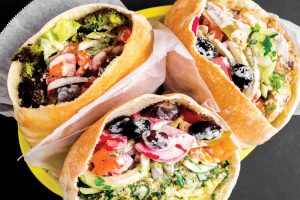 "It's a traditional immigrant story," says Chater. "My father came to this country very poor. He started the business simply as a means to an end, as a way to feed and support his family. Through his hard work, dedication and passion, my father built an iconic brand from a tiny, 200-square-foot space in New York City."
Over the years, Mamoun's four sons — Nedal, Galal, Kinan and Hussam — worked alongside their father and gradually took over the business.
"My brothers and I essentially grew up in the business; it was a rite of passage," Chater says. "We lived in an apartment just a few doors down from the restaurant and our daily lives were intertwined with the business.  My mother would prepare pastries in our kitchen and my brothers would run it down to the restaurant. As kids, we would spend time helping with daily prep, such as skewering chicken and cutting vegetables, and then as we grew older, we would take on more responsibilities. Growing up in the business was not easy and it certainly took its toll on my family, but looking back, my brothers and I are very proud of these experiences and extremely grateful for the opportunity to carry on the legacy of our father."
One of the first things the Chater brothers did, before their father passed away in December 201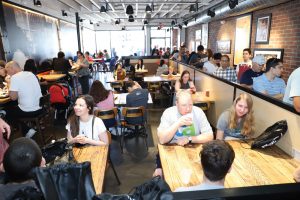 5 and before they began franchising, was build a 10,000-square-foot commissary to ensure quality control of Mamoun's proprietary recipes.
"Everything we serve is proprietary — our falafel, our hummus, our babaganoush. Those proprietary recipes give us our competitive edge. We never wanted to compromise that," Chater says.
From one centralized facility, Mamoun's manufactures all of its family recipes to ensure consistency and quality. From there, US Foods has the capacity and the warehouses nationwide to transport the food from metropolitan New York to wherever it needs to go.
The Chater brothers also hired a design architect, Washington, D.C.-based Grupo77, to analyze all of Mamoun's existing prototypes. To date, three of Mamoun's existing corporate locations have been renovated, and all new locations will have the same look and feel. Certain design elements in the new 1,500-square-foot prototype were required, such as black-and-white photos of Mamoun Chater working in the flagship restaurant in the old days.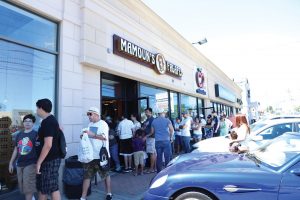 "We told them, 'We want you to appreciate and understand our brand, its history, and also look at our core functionality and develop a prototype that incorporates our history while also making sure we get the operational efficiency that we've developed over the years,'" Chater explains.
As part of its systems, the company is incorporating CrunchTime's inventory management platform. "CrunchTime provides a very robust system for managing your inventory and making sure that everything between your expected variances in food and what your actual inventory is match up," Chater says. "It is integrated with our POS system and provides real time analytics."
CrunchTime also offers e-metrics at the swipe of your fingertips, allowing Chater and his brothers the ability to access sales data remotely. "From a franchise perspective, that's very helpful because it allows us to establish benchmarks for all of our franchisees," Chater says. "It's everybody doing the same input and getting the same output."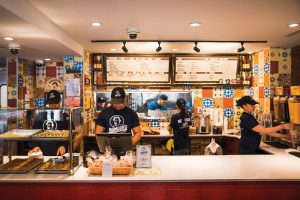 Lastly, CrunchTime allows operators to manage employee schedules and offer a dashboard where employees can ask for time off or switch shifts. "From a management perspective, that's key in terms of (a) developing schedules and (b) managing the labor cost," Chater says. "This platform gives you that 3-in-1 functionality that I think is critical in terms of streamlining operations and really making it efficient."
Another system under development by the company is its new 'Mamouniversity' online training and communications platform, which will help get new employees up to speed when it officially launches early next year.
"Training is a critical component to setting up a franchise for success," Chater says. "Mamouniversity will create a curriculum for training hourly staff members — it will be a very dynamic platform with interactive modules and training videos. I think it's going to be a very helpful tool."
The company also has added third-party delivery services like GrubHub and Door Dash to its offerings, but not without some hiccups. "With us having high-volume, low-ticket times, things were starting to bottleneck," Chater says. "Having multiple different third party platforms was driving me crazy — it was starting to look more like a pilot's cockpit than a restaurant counter."
To solve this problem, Mamoun's has been rolling out an 'aggregator' that integrates all of these different platforms into a single tablet and works directly with the POS, which streamlines operations and saves labor costs. "It's very rewarding when you put these systems in place and they start working," Chater notes.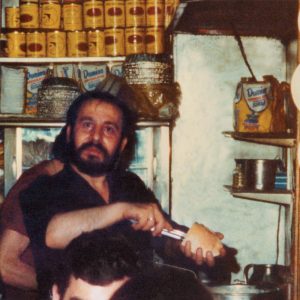 Mamoun's currently has over 40 franchise locations in development, including multi-unit deals in New Jersey, Philadelphia, Atlanta, Chicago and Los Angeles. The first of six new units in the Atlanta metro area is expected to open by year-end, while the first of five units in Chicago is expected to open early next year. The first of eight units in the Los Angeles area is expected to open in June 2020.
"Our ultimate goal is to become the premier Middle Eastern/Mediterranean brand," Chater says. "To be not only the biggest brand in the Middle Eastern/Mediterranean space, but also to be the Gold Star for national QSR brands. For people to say, 'Not only do they have 500+ units, but they do it the right way.' That, to us, is what's going to drive us long term."
Also driving Chater and his brothers long term is expanding the legacy of their father, across the U.S. and beyond. "He understood what we were working toward and he was very proud of it," Chater says. "I think really the thing my father would be most proud of is that his four sons are working together."
— This article originally appeared as the cover story of the November 2019 issue of Retail & Restaurant Facility Business magazine. Contact the editor, Katie Lee, at [email protected].