— Interview by Katie Lee —
At Blink Fitness, it's not just another gym — it's a better approach to customers, to franchisees and to facility operations overall.
As Thomas Flaherty of Blink Fitness likes to say: "There's always a better way for everything. Find it!" In Blink, the founders seem to have created that "better way." From understanding why people join gyms — because it makes them feel good — to utilizing technology to keep customers happy and labor demands low, the New York City-based concept differentiates itself in the fitness market by simplifying its operations and helping members lift their moods, not just weights.
Currently Blink has nearly 100 company- and franchise-owned locations open. Within the next 3 years, the 8-year-old concept aims to raise that number to 300. Retail & Restaurant Facility Business recently interviewed Todd Magazine, CEO; Thomas Flaherty, president of franchising; and David Collignon, senior vice president, operations, to get the scoop on what lies in store for Blink Fitness, from expansion plans to how it operates and maintains its gyms.
R&R: How do you differentiate yourself in the fitness market?
Todd Magazine: Our unique approach of putting Mood Above Muscle® positions us favorably in the health and wellness sector. Many of today's consumers are shifting toward prioritizing the way exercise makes them feel over how it makes them look. Blink's philosophy is exactly that — we're creating inclusive, high-quality and affordable spaces for everyone to work out in across the country. For example, our staff members are called Mood Lifters and our brand colors are scientifically proven to enhance mood.
R&R: According to you, Blink is growing "strategically and quickly." This year, you've inked multi-unit deals in markets such as Nashville, Tennessee (6 units); Boston (10 units); and Sacramento, California (20 units). How many new gyms are expected to open in 2019? What is your growth forecast for 2020?
Magazine: The wind is at our back. We're excited to be growing faster than ever and plan to open 25 to 30 this year in markets such as South Florida; Jacksonville, Florida; Houston; and Dallas and nearly 50 per year in the near future.
R&R: You have increased your franchise footprint by 50% this year. Tell me about your franchise model and what makes it attractive.
Thomas Flaherty: The fitness industry continues to expand as consumers look for ways to live a healthy lifestyle. Blink Fitness is also a tech-centric organization and will continue to be focused on technology and other innovations within our Blink locations and business. Our experience in company-owned Blink locations is also very important, showing that we are also operators and that we use our corporate locations to test initiatives before rolling them out to our franchisees.
R&R: Tell me about the low-labor business model from which Blink — and its operators — benefit.
Flaherty: The value fitness segment was late to the game with integrating technology into the operation of the business. We identified this early on and leveraged tech to allow us to automate certain tasks — like using kiosks for members to manage memberships — that allow us to keep headcount low at our gyms. This is a huge differentiator for us as multi-unit groups seek out low-labor models as alternatives to restaurants, for example.
R&R: Is Blink on track to reach more than 300 gyms in the next 3 years?
Flaherty: We are well on our way and, with the enthusiasm of our existing and prospective franchisees, it's going to be a really fun journey, both in the U.S. and globally. Our focus will continue to be on growth, while we also focus on solid locations, one site at a time.
R&R: Target markets include Charlotte and Raleigh, North Carolina; Dallas-Fort Worth; Phoenix; Las Vegas; and Kansas City. What draws Blink to those markets?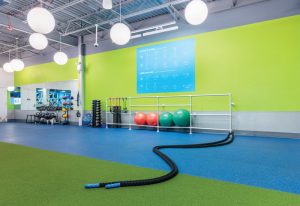 Flaherty: These are energetic, fast-growing markets with consumers who are seeking high-quality, affordable fitness options. We're very selective in the markets to which we expand, while part of being a nascent franchisor is the excitement of having so many "green-field" opportunities.
R&R: Please describe your typical prototype and what type of real estate you prefer to go into.
Magazine: Blink's standard approach is about 15,000 square feet in areas with daily needs and with great access and visibility.
R&R: Let's discuss the innovative technology used inside Blink gyms. How does it help customers and how does it help operators?
Magazine: We use technology to enhance the member experience and to simplify operations for our Mood Lifters. Some examples include the Blink app, which offers hundreds of workout videos, including HIIT, strength, yoga, stretching, Pilates and meditations, as well as nutrition advice and recipes. We have a towel vending machine in some locations that enables member access via the bar code on their phone or key fob. All of our equipment has bar codes that enable us to quickly log repairs into our system and track the time it takes to get them fixed — the goal is 24 hours. We use a tech-enabled floor cleaner that dries as it cleans so there are no "Wet Floor" signs. All of this tech integration is the future of retail, and we're leading the charge in the fitness segment.
R&R: Describe how your maintenance department is organized. Do you handle maintenance in-house or outsource to third-party service providers?
David Collignon: To start, we have an 'everyone cleans' philosophy — no matter their level or position. If I'm in a gym working out, I'll clean if I see something that needs tidying up. This helps keep our gyms nice spaces people enjoy working out in.
Repairs and maintenance are handled both in-house and with third-party providers. It's important that we have people on our team that are familiar with maintenance needs and are capable of working through issues, internally and/or with third-party providers, to keep our Blink locations running smoothly. This is a critical differentiator for us.
R&R: How do you handle a typical maintenance call?
Collignon: Calls are entered into our work order management system by our gym staff. From there, the work order is either routed directly to a vendor or sent to someone on our team to review and determine if a vendor is needed. If a vendor is dispatched, they will schedule their visit directly with the gym management. Our team monitors the work order and work with our service partners to resolve matters quickly. Once completed, the gym management can leave feedback, which is important as we are always looking for ways to optimize systems and processes.
R&R: Do you rely primarily on national vendors? Or a mixture of national and regional/local service providers?
Collignon: We use a mixture of both. We have a strong network of local and regional service providers and, as the company has grown into new markets around the country, we have expanded to national providers in some cases.
R&R: By what criteria do you choose your vendors?
Collignon: We focus on quality, consistency and cost and communication and transparency are also very important. Our vendors work well with our team and franchisees to perform their functions capably and quickly, with an eye on great customer service.
R&R: Does your company have any "green" initiatives in place or in the works?
Collignon: All of our newer gyms exclusively use LED lighting and sustainable finishes are used wherever possible, including recycled rubber floors and low VOC paints. We're constantly evaluating areas for improvement here, as a forward-looking approach is part of our DNA.
R&R: What is unique about your FM department as compared to more traditional retailers?
Collignon: The space itself is used very differently from a retail space. Nearly any surface can become a place to stretch or work out on, so the level of contact — which leads to wear and tear — is much higher. Protecting our finishes with wall coverings or corner guards is very important. Also, because the space and the fitness equipment within it are the product we sell to our members, there are certain standards we can't let slip. The gym must always be clean, comfortable and inviting. This means issues with plumbing and mechanical systems always must be treated as urgent.
R&R: What do you enjoy most about your job on a daily basis?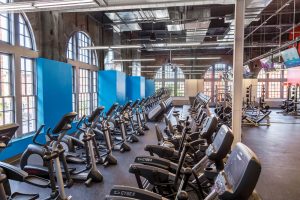 Flaherty: I am in a continuous state of awe when it comes to the investment of time, energy and treasure that franchisees commit to their businesses, their teams and their communities. I am humbled by — and enjoy beyond description — the ability to assist franchisees in starting businesses with families, friends and partners, and to refine those businesses over time.
R&R: Future goals?
Flaherty: Future goals for my teams always include being students of servant leadership (I certainly am…), growing the business with integrity and striving for nothing short of excellence! Goals should include ways to continuously improve the business and self.  One of my favorite quotes is: "There's always a better way for everything. Find it!"
— This article originally appeared as the cover story of the October 2019 issue of Retail & Restaurant Facility Business magazine. Email the editor, Katie Lee, at katie@francemediainc.com.
classic-editor-remember:

classic-editor

abkw-text:
Tagged under