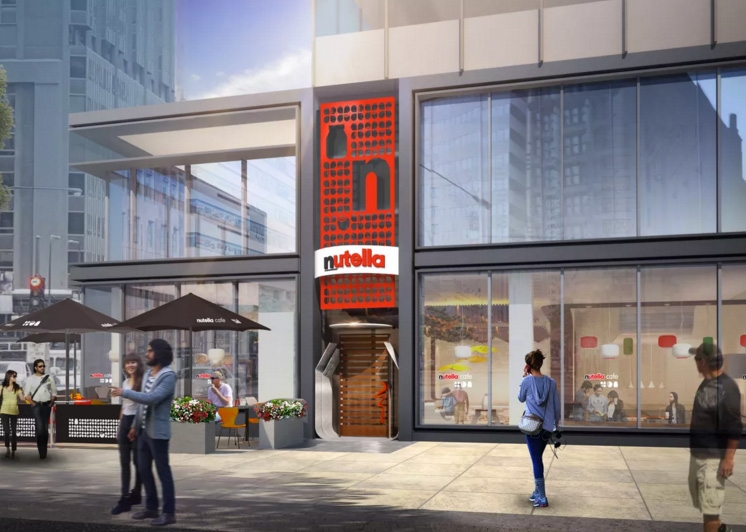 Parsippany, N.J. — Ferrero, the makers of Nutella®, The Original Hazelnut Spread®, plans to open its first owned and operated restaurant, the Nutella Café, one block from Millennium Park in Chicago. The new cafe will offer all-day dishes and to-go options when it opens on May 31, 2017.
The permanent cafe is the first restaurant owned and operated by Ferrero, promising an authentic Nutella experience complete with a specially curated menu. Exclusive menu items include warm, grilled baguettes with Nutella, fresh-roasted hazelnut and blueberry granola with yogurt and Nutella, and Italian specialties like "Panzanella" fruit salad, and Gelato Affogato, a tasty dollop of Fior di Latte topped with Nutella. There will also be a number of dishes available without the famous hazelnut spread, including a wide selection of savory dishes such as paninis, salads and other unique specialties.
"We wanted to create a world of Nutella for our fans that could truly capture the essence of the brand — not just in the dishes that will be served, but in the full experience from the moment you step into the space," says Noah Szporn, head of marketing, Nutella North America. "The Nutella Cafe offers something for everybody, and we encourage everyone to come in and try a dish or snack. We hope Nutella enthusiasts, Chicagoans and visitors enjoy the cafe as much as we enjoyed creating it."
Nutella® was created in 1964 by Michele Ferrero; it was based on the recipe for Giandujot developed in 1946 by his father, Pietro Ferrero — confectioner and founder of Ferrero — in Italy's Piedmont area. Introduced to the U.S. market in 1983, it has since become the Number 1 selling branded hazelnut spread in America.
SOURCE: Nutella
Tagged under