— By Mike Weber —
Improve your total finished floor care program.
They say that a first impression is usually what sticks, no matter what changes or upgrades are made later. When people enter your business, the first things they're likely to see are your floors, which, depending on how clean or dirty the floors look, can shape their perceptions. Floors that appear dirty, scuffed or dull can convey the impression that the facility's cleanliness standards are lacking. Studies have shown that facility appearance ratings can drop as much as 75% if the floor shine creates a negative impression.
The fundamentals of floor care include following a routine maintenance program that helps protect your floor investment and bottom line, as well as understanding the importance of floor cleaning when it comes to safety and appearance.
Why put finish on a floor?
Floor finish is used to provide a renewable, restorable, 'rejuvenate-able' wear layer on a resilient floor. The built-in, anti-slip properties are most effective if a finished floor is maintained at high shine, and the built-in waxes in the finish are able to yield a higher coefficient of friction to make the floor less slippery and to:
Add shine and beautify the floor.
Make the floor easier to clean.
Protect the floor, thus lowering the overall cost of care and repair.
The common myth that shiny finished floors are more slippery than dull finished floors is generally false. A good floor finish is designed to provide the right coefficient of friction for slip-resistant floors, but only if the finish is cleaned and maintained properly, which results in shiny floors.
Finished Floor Maintenance
Sticking to a regular maintenance schedule and using cleaning products that clean effectively with the least amount of labor is the most efficient way to maintain the look of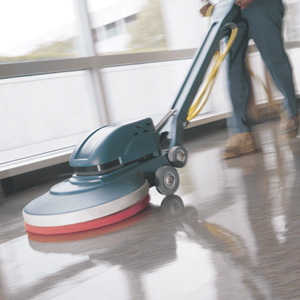 any finished floor. There are various levels of upkeep — from a daily routine to more interim maintenance that involves buffing/burnishing or a deep scrub and topcoat, to restorative maintenance, which gets more costly.
Dust Mopping: Always begin your daily routine with dust mopping to help remove the surface dirt so it doesn't become embedded into the finish. Before you begin, vacuum and pick up any walk-off mats. Avoid oil-based dust mop treatments, which cause streaking and can leave a haze on the floor that attracts even more dirt. For best results, use a clean dry dust mop, a broom and dust pan for soil pickup, and a putty knife to remove any gum from the floor.
Damp Mopping: Removes more particulates and oily soil, helping to prevent the floor's finish from darkening or yellowing. Use a clean mop head, clean water and follow the manufacturer's recommended dilution ratio for the cleaning product. Avoid overly wet mops which can leave floors too wet. Tip: For heavily soiled floors, add double the cleaning product to the mop bucket, then rinse afterward with fresh water.
Product Considerations: Use a floor cleaner that is effective on particulate/inorganic soils and other/greasy soils to help extend the life of the finish or floor surface. Most 'neutral' floor cleaners don't clean both soil types.
Auto Scrubbing: While not feasible for all facilities, auto scrubbing is effective and efficient. It removes soil better than damp mopping and can use less chemicals. Most floors should be cleaned with an auto scrubber at least once daily. Occasionally, two-pass scrubbing is needed for heavily soiled floors, such as winter soils and salt.
Low Speed Buffing: Helping to repair the finish to a smooth shine and delay the need for a recoat, buffing is a great option if budget doesn't allow for a burnisher. For durable finishes use a spray buff to aid "repair," a mop-on maintainer for efficiency and the appropriate pad for spray buffing.
High Speed Burnishing: Burnishing helps restore shine and creates a glossy appearance, as well as helps repair imperfections on a floor's finish that can't be repaired with daily maintenance. More efficient than low speed buffing, these machines tend to have higher rotation speeds, and more aggressive pads can be used to help repair a worn, dull finish to a smooth shine, delaying the need for a recoat.
When applying floor finish, remember the 20/40 rule: If a coat of finish dries in less than 20 minutes, the finish has been applied too thin. If a coat of finish takes more than 40 minutes to dry, it has been applied too thick.
Safety
Another important reason to maintain your finished floors is for safety. Some of the top hazards leading to accidents are:
Contaminants: Water, grease and other fluids can make walking surfaces slippery.
Improper use of floor mats and runners: Mats are only effective if properly used, cleaned and maintained. Old or poorly placed mats can cause slips, trips and falls.
By developing a regular maintenance program, including proper cleaning techniques and products, your facility can create an environment with high visual appeal, that is inviting and safe for your visitors, guest and employees.
— Mike Weber is a technical and science liaison for P&G Professional. His focus has been on in-depth industry understanding for finished floor care, carpet care and daily cleaning, and applying this understanding toward training the industry to achieve better results. In his past roles at P&G, Weber led the development of new products based on consumer insights. For more information, visit http://pgpro.com/product-categories/floor-care/
classic-editor-remember:

classic-editor

abkw-text:
Tagged under