Nashville, Tenn. — Fogo de Chão has signed a lease agreement to open its first location in the state of Tennessee. The new 8,500-square-foot restaurant is scheduled to open in 2025 at Nashville Yards, a 19-acre mixed-use development in Nashville that is being developed by Southwest Value Partners and AEG.
2023 has proven to be another strong year for Fogo with 22 new domestic and international leases signed and recent openings in key markets including Paramus, N.J., Providence, R.I., Huntington Beach, Calif., Thousand Oaks, Calif., Irving, Texas, and Emeryville, Calif., with more planned for later this year.
"We are eager to enter the Tennessee market and expand our Southeast footprint with our first restaurant at Nashville Yards," says Barry McGowan, chief executive officer of Fogo de Chão. "As a prime destination for visitors from around the world, our restaurant will serve as a memorable addition to the lively experiences Nashville has to offer."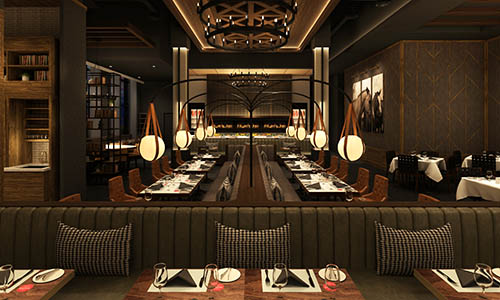 Designed in partnership with global architecture and design agency Harrison, the Nashville restaurant will showcase Fogo's recent brand transformation with enhanced design and innovation platforms in a warm, timeless and approachable setting that reflects the local Nashville community. The restaurant will feature an expansive dining room centered around an open churrasco grill, offering guests a view of gaucho chefs butchering, hand carving and grilling high-quality cuts of protein over an open flame. A Market Table will anchor the front of the grill and feature seasonal salads, fresh superfoods, cured meats, antipasti and more. In the new restaurant, engaging social gathering spaces will be layered throughout Bar Fogo and the dining room to further enhance the guest experience and ambiance.
"We're excited to welcome Fogo de Chão to Nashville Yards," says Cary Mack, managing partner of Southwest Value Partners. "Fogo presents its food in uniquely fun and interesting ways, and it's fresh, flavorful and offers something for everyone. Their specialty prime meats butcher shop, curated wine program, and lounge are all fantastic additions to the amenities we are curating for our tenants, residents and visitors."
Founded in Southern Brazil in 1979, Fogo de Chão elevates the centuries-old cooking technique of churrasco — the art of roasting high-quality cuts of meat over an open flame — into a cultural dining experience of discovery. For more information, visit https://fogo.com/.
Southwest Value Partners is a privately held real estate investment company that invests in institutional quality real estate located in growth markets throughout the United States. For more information, visit www.swvp.com.
Nashville Yards is a 19-acre project located in the heart of downtown Nashville, Tenn. When complete, the project will be a walkable, urban community featuring high-end hospitality offerings; exceptional retail and restaurant options; a world-class 4,500-capacity concert venue and entertainment offerings developed in partnership with AEG; and Class-A+ office towers and a creative office building anchored by Amazon Nashville and CAA. The development will also offer 7+ acres of open plazas, courtyards and green spaces. For more information, visit www.NashvilleYards.com.
Headquartered in Los Angeles, AEG is the world's leading sports and live entertainment company. Through its worldwide network of venues, portfolio of sports and music brands and its integrated entertainment districts, AEG entertains more than 160 million guests annually. For more information, visit www.aegworldwide.com.
SOURCE: Fogo de Chão