New York City — Crate & Barrel has launched its first immersive virtual store in partnership with experiential e-commerce platform Obsess. The fully shoppable virtual environment takes the form of Crate & Barrel's new flagship in New York City's Flatiron neighborhood, which opened Nov. 16 at 881 Broadway, and features engaging animations and interactive personalization tools that let customers visualize their own sofa and living room set and build their own bouquet using the brand's selection of vases and botanicals.
The virtual store is among the largest fully 3D-rendered spaces that Obsess has created to date, offering more than 450 products and eight interactive room environments, including separate dining, kitchen, living room, botanical shop and Crate & Kids areas.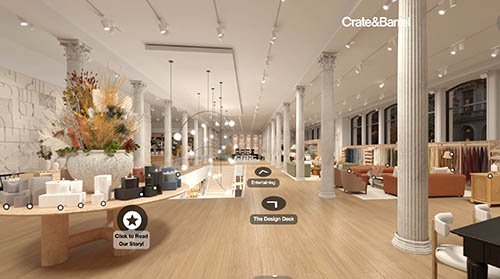 "Our virtual store in partnership with Obsess is a first-of-its-kind for us as a brand, and we're looking forward to helping our online global customers envision and experience our new physical flagship in NYC," says Sebastian Brauer, senior vice president of product design, visual and head of Web 3.0 Crate & Barrel. "We want to help our customers dream up their perfect space wherever they are, and this interactive tour allows them to find everything from tableware to furniture, lighting, decor and more."
Visitors to the virtual store will be immersed in a photorealistic, 360-degree re-creation of Crate & Barrel's new flagship store at 881 Broadway, a circa-1868 building once known as the Palace of Trade. The space features preserved neoclassical columns and an original volcanic ash tile wall that pays homage to the energy and dynamics of the city's present and future.
The Flatiron store opened on Nov. 16 at 881 Broadway. To experience the virtual store, visit https://virtualstore.crateandbarrel.com/flagship/.
Obsess is a leading experiential e-commerce platform that enables brands and retailers to create immersive, branded, discovery-driven 3D virtual stores on their websites. The company has launched over 300 immersive experiences for brands and retailers across the fashion, beauty, luxury, home, retail, CPG, grocery and media verticals. The company is headquartered in New York City, with additional offices across the U.S. and Europe. For more information, visit www.ObsessAR.com.
Global specialty retailer Crate & Barrel Holdings Inc. includes lifestyle brands Crate & Barrel, CB2, Crate & Kids and Hudson Grace. Today, the company is a member of the Otto Group and operates over 100 Crate & Barrel, CB2 and Hudson Grace stores throughout the U.S. and Canada, with franchise locations in nine countries. For more information, visit www.crateandbarrel.com.
SOURCE: Obsess