— By Katie Lee —
Coming off its second highest expansion year to date, Freddy's Frozen Custard & Steakburgers now eyes non-traditional venues such as colleges, stadiums and, eventually, airports.
When fast-casual brand Freddy's Frozen Custard & Steakburgers first opened in Wichita, Kansas, in 2002, its co-founders never intended to open a second. Scott Redler, along with brothers Bill and Randy Simon, simply missed frozen custard — a treat they remembered from their childhoods. The Simon brothers named the restaurant after their father, Freddy, who had always wanted to open a hamburger stand but was too busy with his career in the hospitality industry. When the first Freddy's opened in west Wichita, there was no indication it would be the first of a franchise.
"We only opened one restaurant to start, with no intention of ever opening a second," says Redler, co-founder and chief operating officer of Freddy's Frozen Custard & Steakburgers. "The first restaurant opened at reasonable numbers and then just kept growing. A second location became available [on the east side of Wichita] without a drive-thru — one of six in the country without a drive-thru. At that point, other restaurateurs said, 'Hey, I want to build a Freddy's.'"
The first franchised restaurant opened in 2004 in Hutchinson, Kansas. Next a Pizza Hut franchisee started opening Freddy's units in Oklahoma, and another group expanded into Texas. "The growth just started naturally," Redler says.
Today, Freddy's Frozen Custard & Steakburgers has 28 corporate locations out of 346. In 2018, the company built six corporate locations out of 54 new restaurants — the second highest number of openings in one year in company history. In 2019, Freddy's will cool its construction starts slightly but still open 45 to 50 new restaurants. Its primary franchise focus will be on the Northeast. Currently the company has three restaurants open in Philadelphia with two more under development. In addition to traditional restaurants, a key area of new development for Freddy's are venues such as college campuses, sports stadiums and, eventually, airports. The company will also open its first international locations later this year.
The first Freddy's on a college campus opened in August 2018 at Wichita State University, alma mater to Freddy and Randy Simon. The second will open this summer at Missouri State University in Springfield, Missouri.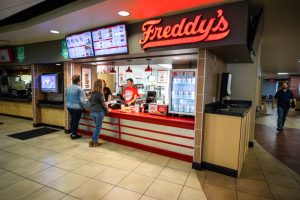 For the campus locations, which have been "extremely well received," Redler explains how they streamlined the menu more so than the equipment, but insured, ergonomically, that the layout and design flowed properly.
Testing its ability to do more with less space and a limited menu, this year the company also opened non-traditional locations in Stillwater, Oklahoma, at OSU's football stadium and its basketball arena. "We significantly limited our menu at these locations to be able to execute at stadium speed," Redler says. "When you think about a line at a stadium, we have to be able to crank out high-quality food and fast, friendly service. One thing we'll never do is compromise our quality standards. We'd rather take a menu and make it smaller and do what we do and do it well than try to offer everything and do a very average job."
While equipment specs for a non-traditional location are fairly similar to a traditional location, the design and layout are what must be modified. In its new 3030 prototype, Freddy's Frozen Custard & Steakburgers has a modified cook line, still with two grills but a tighter, more efficient cooking area. The new design was able to shave about 350 square feet off its predecessor, saving $200 to $300 per square foot in construction costs. "You're not only saving money, you're saving time. By doing that, you save a lot of half-seconds," Redler says. "They add up and make us more efficient and able to get our made-to-order food out of our kitchens faster."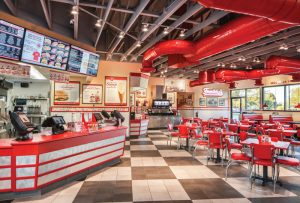 For example, Freddy's is currently testing software that, if it works, should save the company at least 20 seconds in its cook time. When cashiers are ordering, cooks will know immediately what's being ordered instead of waiting for the full order to be completed. "You'd think that 20 or 30 seconds while an order is being completed doesn't make a significant difference, but it really does," Redler says. "It's a lot of half-seconds."
As for catering to more guests on the go, such as in airports, stay tuned. "We think we would do very well in an airport," Redler says. "It's a little longer on-ramp than we're used to because of the partnerships and regulations, but we're in conversations with two different groups on two different airport possibilities. While I can't say anything yet, I'm confident that airports will definitely be in our future."
Another new area of development for Freddy's Frozen Custard & Steakburgers is international locations. This year, the company will open at least two new locations in Dubai, United Arab Emirates. "It's taken a lot of energy to get going; it's like having your first child because there are a lot of decisions that have to be made to get that operating the way it should," Redler explains. "Supply chain, culture and systems… We have a great partner in Dubai, and we're very excited to get that one open."
Redler himself is a restaurant guy who is extremely passionate about every aspect of the business. He's a manager who handles the recipes for Freddy's and also gets excited if efficiencies can be gained by changing kitchen layouts or equipment. In recent years the company switched to a new fryer that saves $3,500 a year in gas usage. The next challenge Redler is tackling is testing a table base that doesn't rock. As he sees it, these operational efficiencies gained by focusing on the details make Freddy's better every day.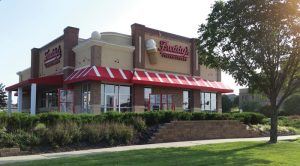 Also making Freddy's better every day are its people. The "Freddy's family," as its founders call it, is a key component to the company's success. "We've got an amazing team with very low turnover," Redler says. "It's kind of a unique situation in our industry."
Redler attributes the low turnover to the respectful attitude and team-building culture of the company. Also, he and his partners have been in a franchisee's shoes before, so franchisees always have a seat at the decision-making table.
"We understand the good, the bad and the ugly of a franchisor/franchisee relationship," he explains. "We try to make decisions that err on the side of the franchisee to help them succeed. We have the attitude that if our franchisees are succeeding, they'll build more restaurants and we'll all win together."
Redler continues: "When we make these decisions, we definitely have a teamwork approach that everybody's ideas mean something, and we'll test just about anything. A lot of our best ideas have come from our franchisees, and we absolutely welcome that."
Another thing that sets Freddy's apart in the industry is that, unlike many chain restaurants, it is not beholden to any particular manufacturer over another when choosing equipment or food. "Everything we do, we work on the best deal and every penny we get is shared with our franchisees through their purchasing programs," Redler explains. "We won't have Manufacturer A come in and say, 'Use our fryer and we'll give you $1,000 back.' We don't do that. Everything goes back to the franchisees."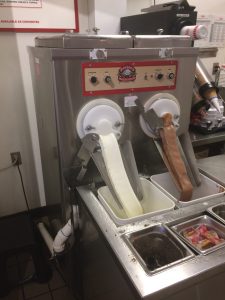 Franchisees are also given the green light to make decisions regarding repair and maintenance in their stores. And, quality counts more than price when selecting equipment. "We'd rather spend the money up front and buy the right equipment," Redler says. He also acknowledges it's great to get the longest life possible out of your equipment before repairing or replacing. "The best repair is the one that occurred the day before it was needed," he adds.
Vinyl, says Redler, is the main thing that shows wear and tear in Freddy's restaurants. With some of the facilities aging to 13, 14 years old, vinyl booths can be vulnerable.
Solid-surface tabletops are used in Freddy's restaurants because, even though laminate would be a couple thousand dollars cheaper, laminate tabletops peel over time and end up looking terrible. Solid-surface tables, Redler says, look the same in year 10 as they did on day one.
The same goes for stainless steel custard counters. Freddy's first chose a laminate counter, which wore down quickly due to constant use of the custard machine. To solve this, the company added a stainless steel top to the laminate counter, which ended up around the same price had the company started with an all-stainless steel countertop from the beginning. "We put it in today and 10 years from now it's going to look exactly the same," Redler says. "We'd rather spend the extra money up front and not have it be a concern, not only for managers but for capital expenses down the road."
Down the road, Freddy's plans to continue doing things "the Freddy's Way" and open great restaurants….one restaurant at a time. "We never had the vision at the beginning to open 54 restaurants in 2018," Redler says. "Our goal here is to make decisions for the long term benefit of our guests, our franchisees and, eventually, Freddy's corporate. But we have to take care of our guests first for everything else to flow."
— This article originally published as the cover story in the July 2019 issue of Retail & Restaurant Facility Business magazine. Email the editor, Katie Lee, at [email protected].