Wichita, Kan. — Fast-casual restaurant concept Freddy's Frozen Custard & Steakburgers® has opened its 500th restaurant, located at 608 SW Wilshire Blvd, in Burleson, Texas. This milestone underscores Freddy's accelerated growth since its inception in 2002.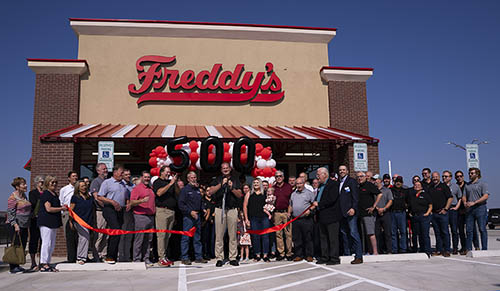 "As we celebrate this milestone, I am filled with an overwhelming sense of pride and gratitude. Reaching 500 locations was made possible first and foremost through the commitment of our passionate franchise partners, which we believe are the best group of franchisees in the country. Over the years we have had thousands of devoted team members that have contributed greatly to Freddy's success and we have enjoyed the support of our valued guests who have become part of the Freddy's family," says Chris Dull, president & CEO of Freddy's Frozen Custard & Steakburgers.
Throughout 2023, Freddy's has added more than 70 new development commitments to its pipeline through several franchise development agreements, and is anticipating more than 60 new open locations across the country. Earlier this year, the brand also opened its first restaurant within a Major League Baseball stadium at the St. Louis Cardinals' Busch Stadium and unveiled a new restaurant prototype at its corporate-owned location in Belleville, Ill. The brand offers a wide variety of traditional and non-traditional restaurants.
Founded in Wichita, Kan., in 2002, Freddy's Frozen Custard & Steakburgers is a leading fast-casual franchise concept with 500 locations across 36 states nationwide. For more information, visit https://freddysfranchising.com/.
SOURCE: Freddy's Frozen Custard & Steakburgers