— By Sonja Berry —
From LED retrofits to lighting controls and daylight harvesting, this is where efficient, cutting-edge commercial lighting is headed.
It is well known that upgrading your company's lighting system to LED greatly reduces energy consumption as well as utility bill costs. LEDs can save 60% to 80% over other energy saving or standard retail lighting. A straight replacement of halogen or incandescent bulbs with LEDs — called an "LED retrofit" — can dramatically reduce a building's lighting energy consumption and thereby reducing utility bill costs. Furthermore, lighting efficiency can also be improved through controls, using products like occupancy sensors, timers and daylight harvesting. Lighting controls can respond to movement, automatically dim and operate on pre-programmed schedules so that energy is not wasted when people are not in the area utilizing the lighting. Daylight harvesting controls and sensors detect the amount of natural light that is available and dim/brighten the lights accordingly.
One of the major objections many have had to upgrading to LED lighting in the past has been the investment cost. Certainly, this has been a concern for small businesses working with limited capital. However, there are incentives that can abate the investment cost. Our company, for example, has been offering 179D tax deductions since 2007 and has found that incentives can sometimes pay up to 70% of your upgrade costs. In August, the Inflation Reduction Act of 2022 was passed by Congress which allows qualified buildings completed in 2023 to receive up to $5.00-per-square-foot 179D tax deduction. That's an estimated $500,000 in a tax deduction on a 100,000-square-foot building! Other incentives to reduce your payback period are state & utility rebates, tax incentives, grants, cost segregation, ENERGY STAR benchmarking and other IRS-related studies that are offered at the federal, state and local levels for energy-efficient design (including property or payroll tax incentives) to assist with your ROI.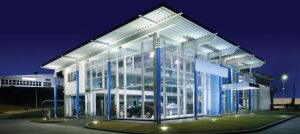 Another component to consider when upgrading lighting systems is site-lighting (exterior lighting). Control systems that automatically turn on lights as the light diminishes, can greatly increase visibility of the building's exterior and can be customized to include motion sensors, high-lo lighting or energy management systems to offer the best lighting specific to clients' needs. Creating the ideal lighting environment will transform the way businesses operate. Benefits to upgrading site lighting vary by client. Auto dealerships benefit by showcasing their vehicles in the best light and grabbing customers' attention. Retail customers benefit from site lighting upgrades for employee and customer safety when entering, exiting or locking up the building at night. The University of Chicago conducted a study on lighting in developments, finding that "the lighting upgrades that the developments received experienced crime rates that were significantly lower than what would have been the case without the new lights." Among other findings, the study concluded that "increased levels of lighting led to a 36% reduction in index crimes that took place outdoors at night in developments that received new lighting, with an overall 4% percent reduction in index crimes."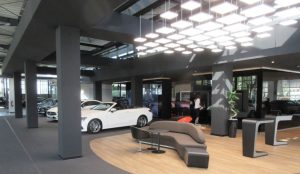 What to consider when upgrading? Find an expert in the lighting industry that stays on the cutting edge for new lighting products including UV anti-bacterial fighting lights. These new lights are being used in medical facilities as well as office buildings to kill harmful bacteria in the air. Certain UV lights effectively kill/inactivate 99.9% of surface and airborne bacteria and viruses in a room. Other cutting-edge lighting features include fixtures that now include various wattages and color temps on the same unit. This equates to a simple purchase of the same fixture for the whole facility but can produce a different look throughout the facility by choosing different color temperatures. Other current lighting trends include solar lighting for site-lighting. Solar lighting works by absorbing energy from the sun during the day, storing the energy in a battery, and then using the energy after the light diminishes. Solar lighting has become more popular as businesses seek reusable energy sources to reduce their environmental footprint.
— Sonja Berry is the COO of Energy Design Service Systems (EDSS), headquartered in Detroit. EDSS offers lighting and energy services that provide clients with a unique brand experience and improved aesthetics, while saving energy and money. Contact EDSS at 810-227-3377 or [email protected] to discuss your lighting solutions and a free consultation.