Santa Monica, Calif. — Genesis is continuing its retail expansion with the opening of Genesis Santa Monica, the brand's fifth standalone retail facility in the U.S. and first in California. Several more U.S. locations are currently under development with additional openings planned this year.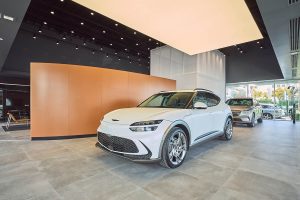 Genesis Santa Monica, located not far from Genesis Motor America's U.S. headquarters, features an elegant showroom with an open floorplan. It also offers at-home test drives and vehicle delivery to customers' residence or place of business.
Genesis Santa Monica is owned and operated by dealer principal Mike Sullivan and the LAcarGuy Family of Dealerships.
"We are pleased to celebrate the continued progress we are making in redefining our retail experience as we open our first standalone facility in California," says Claudia Marquez, chief operating officer of Genesis Motor North America. "Opening a dedicated showroom in a key market like West Los Angeles represents a significant milestone for the brand."
Genesis is a global automotive brand that delivers the highest standards of performance, design, safety and innovation while looking towards a more sustainable future. Genesis aims to lead the age of electrification, starting with its Electrified G80, GV60 and Electrified GV70 models. Genesis has stated its commitment to becoming an all-electric vehicle brand by 2030 and to pursuing carbon neutrality by 2035.
For more information, visit www.genesisnewsusa.com (United States) and www.genesisnews.ca (Canada).
SOURCE: Genesis Motor America