Denver — Smashburger, a leading fast-casual restaurant chain known for its smashed-to-order-burgers, has launched its first Virtual Drive-Thru located at the newest corporate-owned restaurant in Houston. An extension of the traditional drive-thru experience, the Virtual Drive-Thru allows customers to seamlessly place an order online or through the Smashburger app, then pull through the designated parking lane where their food will be delivered to the driver by a Smashburger team member.
First introduced at the beginning of 2022, the Virtual Drive-Thru prototype, coupled with Smashburger's refreshed kitchen design, reinforces the brand's commitment to innovation and staying in lockstep with the increased consumer demand for convenience and accessibility.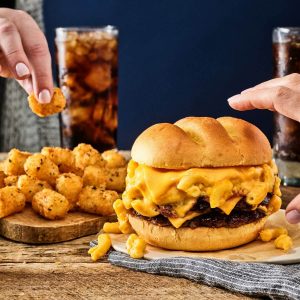 "Smashburger has always been committed to providing our customers with the best possible experience. This is why we are thrilled to be introducing our new prototype offering a more convenient way for our customers to order their favorite burgers. Smashburger wants to meet our customers where they want to be met, and the increased use of mobile ordering has led us to this new Virtual Drive Thru design," says Carl Bachman, president of Smashburger. "We understand consumers' need for convenience, and speed of service as a result of ever-evolving dining habits stemming from the pandemic. This design provides both. By adding this element, our franchisees have more flexibility in their site selection process, and assurance that guest demand is consistently being met. We are excited to partner with experienced operators to open additional Smashburger Virtual Drive-Thrus across the country."
Smashburger's Virtual Drive-Thru implements Curbit's digital ordering system that gives guests an exact wait time for their order and ability to track the order accurately from start to finish. With the wait time reduction, the technology increases customer satisfaction with a 30% lift in customer repeat rate. The introduction of the Virtual Drive-Thru not only allows a streamlined operation, but also offers a more contactless experience. Additionally, the Virtual Drive-Thru is more environmentally friendly than the standard drive-thru, as it reduces traffic congestion and carbon emissions by minimizing the amount of time customers spend idling in the car.
"Although this new technology will work to streamline the customer experience, it will also provide significant benefits to our franchisees including increased speed of service, improved order accuracy and reduced labor costs," says Veronica Luna, director of digital business channels at Smashburger.
Founded in 2007 in Denver, Smashburger is a better-burger brand with over 340 locations, across 38 states and nine countries. This past year, Smashburger signed three new development agreements to add 21 new restaurants to its growth pipeline. Additionally, the brand has redefined its portfolio with the launch of a new restaurant design with some locations offering a full-service bar.
Smashburger is looking to expand within Southern California, North and South Carolina, as well as Florida. Smashburger provides franchise operators site selection criteria, construction, decor, as well as opening support. For more information, visit https://smashburger.com/franchising/ and www.smashburger.com.
SOURCE: Smashburger