— By Katie Lee —
How Slim Chickens is not only surviving — but thriving — during COVID-19.
During the onset of the coronavirus pandemic, Slim Chickens was able to turn on a dime: transforming its parking lots into dining rooms, boosting digital channels, investing in marketing and operations, as well as new safety protocols, and continuing to sell franchise locations — tallying almost 50 new units so far this year. While the Fayetteville, Arkansas-based fast-casual brand had to scale back its original 2020 development plans to open 30 new restaurants, it still expects to open at least 20 new units this year — and, despite a global pandemic, comp sales continue to grow more than 20% systemwide.
"We've been lucky — that momentum has not slowed down," notes Tom Gordon, CEO and cofounder of Slim Chickens.
So what's their secret?
"It all comes down to the food," says Jackie Lobdell, executive director of franchise development. "We have an amazing product that we think is better than anything else out there — and the interest from our fans represents that and it keeps attracting some of the bigger multi-unit groups in the industry."
Slim Chickens is known for its loyal fans, called 'Slimthusiasts,' who fuel the brand's growing demand for hand-breaded, cooked-to-order chicken tenders. With a broader menu compared to others in the 'better chicken' segment, Slim Chickens distinguishes itself through high-quality chicken, fresh salads, sandwiches, chicken and waffles, and 17 house-made dipping sauces. When the food is this great, demand for it will remain high — even during a pandemic.
Pandemic Pivot
When COVID-19 hit this past spring, Slim Chickens' operations and marketing teams worked around the clock to meet evolving customer demands, adhere to local guidelines and make sure teams and guests remained safe. During the dining room shutdowns, Slim Chickens was already well positioned due to its drive-thru model, but in addition it opened its parking lots to curbside pickup.
"Once COVID hit and we were told to close dining rooms, we noticed really quickly an uptick in our takeout," says Sam Rothschild, chief operating officer of Slim Chickens. "So we understood that our parking lot was going to become our new dining room."
Almost immediately, the company invested hundreds of thousands of dollars into marketing for its franchisees — optimizing app and online platforms (tweaking both to drive business through new channels), boosting social media posts, adding new signage and shade tents to parking lots for curbside pickup, revamping its entire To Go procedures, and adding staff. The extra efforts paid off.
"What we saw was the dining rooms were shut, but there was still high demand for our product," Rothschild says. "We quickly pivoted all our standard operating procedures."
One big focal point for Slim Chickens was its smartphone app. Within the first week of the pandemic, the company deployed bag stuffers in its drive-thrus to instruct people how to download the app.
"[When dining rooms reopened], it actually became a little more interesting when you added the third dimension of value: curbside service, drive-thru and now dine-in service," Rothschild says. "Dining room service had to be redone as far as how we are interacting with customers. It really added a layer of complexity."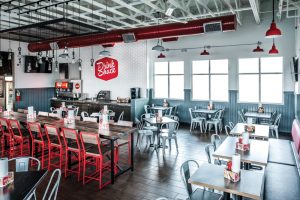 According to Gordon, most guests are now pleased the dining rooms are open. As are franchisees, although most dining rooms are still at 33% to 50% capacity so that 6-foot social distancing can be maintained. "Everyone is still being very careful and cautious about how we open dining rooms," Gordon says. "That's always going to be a fluid situation until COVID is gone. We'll have to assess week by week, month by month, and store by store in how we best manage — and safely deliver — our products."
To keep employees and guests safe, guests are asked to wear a mask when they enter a restaurant. Employees should be dressed in proper personal protective equipment, including masks and gloves, and hand sanitizer is always at the ready. Adds Rothschild: "We're really just trying to follow all the good guidelines that we've been given through the National Restaurant Association, through our state and local governments, and our goal is to keep our employees and our customers safe and comfortable about being in the restaurant. We're doing everything we can to accommodate that."
When it comes to everyday janitorial maintenance, Rothschild says there's a heightened sense of awareness overall. "We were always really good at sanitization; we have high standards," he says. "But we're just more aware of things have to be neat, clean, organized, in good repair. Customers are looking for that."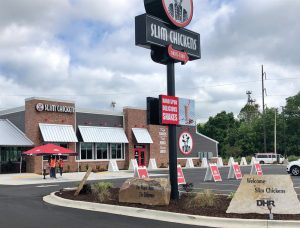 Rothschild anticipates that curbside service is here to stay, even post-pandemic, and he predicts drive-thrus will remain busy as well. Less clear is a picture of what dining rooms and delivery service in a post-COVID world might look like. "I don't know where customers are going to be as far as going into dining rooms," he says. "Personally, I think there's a lot of pent-up demand and people will want to go out and socialize, but I also think we will have more incidences of drive-thru and curbside service. The big question mark is delivery — I don't know where that's going to go."
Still Growing
Slim Chickens was founded in 2003 in Fayetteville, Arkansas, by Tom Gordon and Greg Smart. As Gordon recalls, "We developed the first recipes in Greg's garage, and my mom came up with the brand name." Today, the concept has two prototypes for ground-up development: 2,400 square feet and 2,800 square feet with a drive-thru. The company is also very adept at conversions in the 1,800- to 3,000-square-foot range.
"We have converted many different types of restaurants like Dunkin' Donuts, Wendy's, Bojangles' and even independent restaurants," Lobdell says.
Slim Chickens launched its franchising initiative after Rothschild was brought on board as COO in 2014. In 2018, Lobdell joined to head up franchise development.
"Jackie spearheaded a multi-unit franchising strategy that quickly grew our pipeline," Gordon says. "With nine franchise locations in 2014 to 400 franchise locations in our pipeline today is explosive growth and very exciting."
In 2019, Slim Chickens attracted an investment from 10 Point Capital, the private equity firm behind Tropical Smoothie Cafe. Today, the company has 100 restaurants open with a long term goal to reach 600 open restaurants in the next 10 years.
"Restaurants are always a moving target, but we believe that goal is intact," Gordon says. "We believe that we have the momentum to get there. We've been able to drive through COVID; in fact, it's created some great energy around the brand. We've done some great openings in the last few months, even without dining rooms. That's just been proof in the pudding for franchisees, maybe those who have wanted to watch our growth and acceleration before they jumped in. Those partners are coming to us now, and we are getting deals done and stores on the ground."
According to Lobdell, Slim Chickens also has franchise restaurants in 12 non-traditional locations: airports, malls, universities, stadiums, train stations and military bases, with several more in the pipeline.
International growth remains a priority as well. Currently the company has nine units open abroad — seven in the United Kingdom and two in Kuwait — with 100 in various stages of development. "It's really kind of a different world now," Rothschild says. "We anticipate, post-COVID in the UK, we're going to get back on track. We may get two more in 2020; we just had slight delays with everything being shut down, and then we're building a pretty significant pipeline for 2021."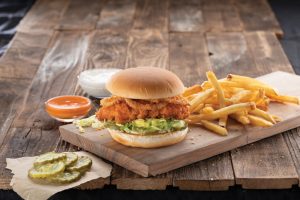 Gordon credits the quick and decisive action Slim Chickens took immediately when COVID closings began. "I think that everybody was challenged by the COVID situation in 2020, but we took some aggressive action early in the pandemic, at the end of March and early April: buying media and working with franchisees and deploying a plan to drive sales outside of a dining room," he says. "And that made a huge impact. There was a lot of collaboration with the franchisees, and we've been able to survive and thrive through the pandemic. Because of that, we're getting a lot of attention from other franchisees; we're getting a lot of recognition for our efforts. We believe we can ride that wave and continue to deliver the quality products and services that we're known for."
"We're built to last," Gordon continues. "In the near term and as the pandemic evolves over the next several months, we will work tirelessly to support our franchisees to continue serving customers safely, driving revenues and opening new restaurants. As long as we continue doing what we're doing and pivoting quickly when necessary, we will continue to thrive — both from a sales perspective and a development perspective."
— This article originally appeared as the cover story of the July 2020 issue of Retail & Restaurant Facility Business magazine. If your retail or restaurant company is interested in being profiled, please contact the editor, Katie Lee, at katie@francemediainc.com.
classic-editor-remember:

classic-editor

abkw-text:
Tagged under